Queen Rania at the WorldPost Conference: The West Should Invest in Arab Creative Talents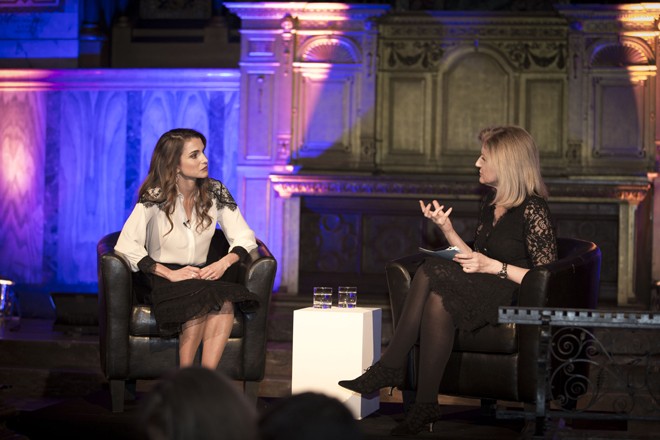 People call them ISIS, I would like to drop the first 'I'
It is absolutely critical to turn the online tide against ISIS
Her Majesty Queen Rania Al Abdullah called Thursday for investment in young Arab expertise and creative talent.

In a special Q & A session with Arianna Huffington, editor in chief of The Huffington Post, as part of the WorldPost Future of Work Conference in London, England, Her Majesty said, "Here are the facts: over 60% of my region's population is under 25 years old. And we have the highest youth unemployment rate in the world, at 25%." She added that 79% of millennials describe finding a job as the number one challenge.
The Queen went on to explain how the Arab world was addressing this issue by supporting entrepreneurship in tech start-ups, calling it "the start-up spring." She described the promising young generation as "a generation that is coming of age, a generation that is tech savvy at a time where the digital landscape is changing."
Queen Rania went on to explain, "Technology is being used in the playing field, Jordanians make up over 35% of the region's Internet entrepreneurs! To give some context, the global average is 10%. Technology is changing the opportunity landscape for many of our young people, and it is helping in tackling one of the biggest challenges in the region: unemployment."
"I am proud that Jordan's start-up ecosystem is one of the most developed in the Middle East. A few years ago, Amman was ranked the 10th best city in the world to launch a tech start-up," she added. Her Majesty revealed that the rising number of young entrepreneurs and the aforementioned statistics are not only indicators of a growing economy, "they are indicators of hope as well."
Queen Rania also touched on education, saying "Access to quality education is one of our toughest challenges… and many Arab online efforts are underway." Noting Edraak, she added, "Last spring, my foundation launched an Arabic Massive Open Online Courses platform, Edraak.org, in partner with edX."
"We launched with 10 courses and within a few weeks, we had over 85,000 registered users from across the region. Today, we have 20 courses and over 140,000 subscribers."
In response to a question about Her Majesty's views on the overwhelming amount of negative information about the Arab World in western media, highlighting acts of brutality, beheadings, and extreme examples, Her Majesty said, "It is always the case that the more dramatic and extreme and loud the voices are, the more they are heard. The good stories unfortunately don't get heard."
Queen Rania added, "What the extremists want is to divide our world along the fault lines of our religion and culture, so a lot of people in the West may have stereotypes against Arabs and Muslims – but really what this is, is a fight between the civilized world and a bunch of crazy people who want to take us back to Medieval times – and we need to see it that way, this is about all of us."
"People call them ISIS, and I would like to drop the first 'I' because there is nothing Islamic about them. They have nothing to do with Islam and everything to do with fanaticism," she said. "They want to be called Islamic because it gives them legitimacy and helps with their recruitment," she added, explaining that they wanted to position this as a war where the West was attacking Islam -a 'clash of civilizations' as some people might refer to the situation.
Queen Rania also said, "They are using social media to build and broadcast a global brand of true violence and terror, and in the process they are implicating Muslims and Islam." Her Majesty described the Internet as the biggest promoter of content and "probably one of the best inventions for promoting ideas that ever existed. But unfortunately, it doesn't distinguish between the good, the bad, and the ugly." She added, "Their bigotry and brutality may seem medieval, but their use of social media is very much up to speed."
Her Majesty explained that the current online portrayal of Islam was "ironic" since these technologies were designed to create a more connected world, but instead they were being used "to create a polarized one." She added that extremists are making "fear and intolerance go viral" and influencing people to have negative perceptions of who Arabs really were.
Queen Rania stressed that it was critical to try to turn the online tide against them by "generating our own content, our own narrative to counter theirs."
Commenting on Jordan's current fight, Queen Rania referred to His Majesty King Abdullah's recent description of Jordan as "a country that's used to being outgunned and outnumbered" and how "Jordanians always punched above their weight."
Her Majesty added, "This is not just a military battle. It cannot just be won on the battlefield. Because at the heart of this war is an ideology; and you cannot kill an ideology with a bullet. You can only kill it with a better idea."
The WorldPost Conference: Future of Work, held in London between the 5 and 6 of March, aims to break down visions of the future into three categories: examining the impact on the individual, the company and society.

Queen Rania's official website
This website does not support old browsers. To view this website, Please upgrade your browser to IE 9 or greater
Your browser is out of date. It has known security flaws and may not display all features of this and other websites. Learn how to update your browser