Queen Rania Meets Jordanian Filmmakers While Visiting the Royal Film Commission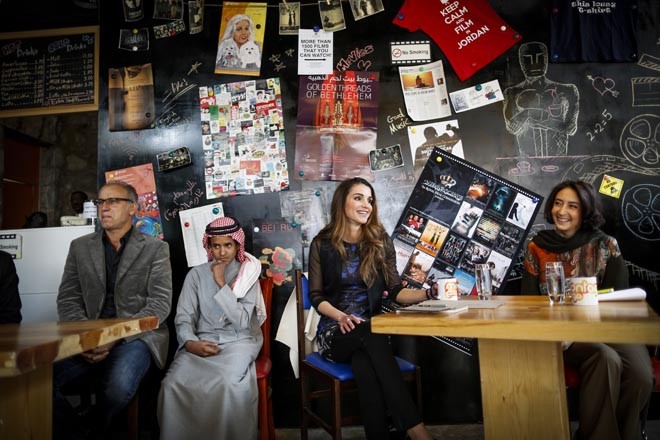 Her Majesty Queen Rania Al Abdullah visited today The Royal Film Commission – Jordan (RFC) in Amman, where she met representatives from the Commission, its board members, and Jordanian film and television artists.
During the visit, Her Majesty was briefed by RFC Board member Her Royal Highness Princess Rym Ali about its activities including the training of budding filmmakers in Jordan, facilitating foreign & local film production in Jordan and promoting the culture of cinema by organized Kingdom-wide screenings for people from various age groups and different backgrounds and interests.
Her Majesty congratulated the RFC and Jordanian filmmakers on their achievements thus far, particularly in the last few years including "Theeb" and "A 7-Hour Difference." "You should be proud of what you have achieved. Jordan is certainly proud of you," the Queen told them.
Her Majesty highlighted the positive impact of the cinema and television industry on the local economy and the need to support this very influential sector on the Kingdom, citing the reputation of Jordanian Bedouin drama and its footprint on the history of Arab drama.
HRH Princess Rym Ali thanked Her Majesty for supporting this sector, particularly for its important socio-cultural and economic role. "Since Prince Ali created the RFC, with the support and encouragement of His Majesty King Abdullah, huge efforts were deployed, offering opportunities to young talented Jordanian women and men to express themselves creatively in this, the seventh art, and audio-visual production generally speaking." Princess Rym added that in addition to supporting local filmmakers, the RFC also managed to attract several foreign productions, from the region and the world at large, creating new jobs and bringing in revenues to the Kingdom".
RFC General Manager George David indicated that some 500 young Jordanians are trained each year on the art of filmmaking all over the Kingdom. He underlined that the filmmaking industry is creating around 8,000 jobs per year, while foreign productions inject an average of 11 million Jordanian dinars in the local economy. "The RFC", added David, "is living up to its commitment not only by attracting foreign productions with an average of 10 per year, but also by supporting directly or indirectly Jordanian film and TV productions and by fostering film culture in Jordan".

During the discussion, the challenges facing the industry were addressed, including limited official support to this sector and the high cost of cinema tickets for the average Jordanian. The discussions also tackled the obstacles facing the promotion and financial support of Jordanian productions on a pan-Arab level.
The RFC was founded in 2003 with the aim of building a pioneering, modern Jordanian film industry. It is an administratively and financially independent government body governed by a Board of Commissioners headed by HRH Prince Ali Bin Al Hussein.
Since 2008, more than 60 feature, documentary and international films were produced in Jordan. For a more comprehensive list of productions filmed in Jordan, visit http://www.film.jo/ar/node/9183


Queen Rania's official website
This website does not support old browsers. To view this website, Please upgrade your browser to IE 9 or greater
Your browser is out of date. It has known security flaws and may not display all features of this and other websites. Learn how to update your browser