Queen Rania Visits Jordan University of Science and Technology, Inaugurates New Lecture Hall Complex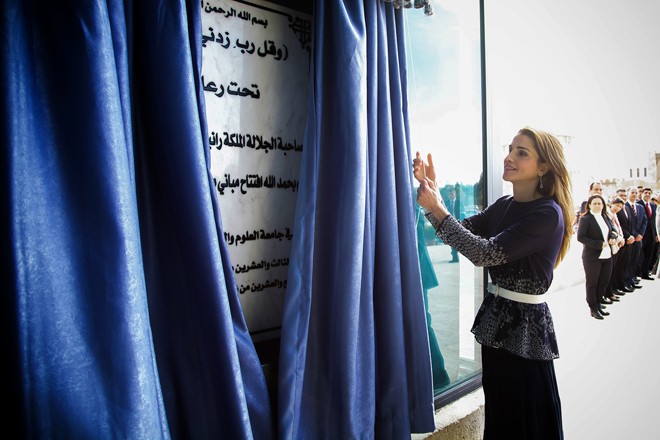 (Office of Her Majesty- Press Department- Irbid) Her Majesty Queen Rania al Abdullah visited today the Jordan University of Science and Technology (JUST) in Irbid and inaugurated the new Lecture Hall Complex. During her visit, Her Majesty also met with women academics from different faculties and administrative positions.
The Queen raised the curtain off the plaque and was briefed by the President of JUST, Professor Abdullah Malkawi, about the new complex established by engineers working at the university.
Her Majesty toured the facility that stretches over 15,900 square meters and which comprises of two buildings, each consisting of three floors. In addition to new study halls, the complex includes administration offices, parking spaces, gardens, and agricultural plots, along with other facilities.
Queen Rania stopped by the online computer lab equipped with technological infrastructure capable of hosting 180 students at a time.
During her tour, Her Majesty spoke to several faculty deans as well as to some students who had gathered to greet her.
At the university library, Queen Rania was briefed by its Acting Director, Eng. Raed K. Al-Zoubi, on the different services provided by the library to students. The vast library can accommodate around 2,500 users at a time and includes 180,000 books from all fields of knowledge. The library also has 50,000 volumes of issued scientific journals.
In addition, the library has an annual subscription to 69,000 eBooks and access to 41 databases, including about 36,000, full-text, electronic journals. Access to all these resources is provided to students and faculty members free of charge.
At the library, Her Majesty met with some students and listened to their feedback about the self- service borrowing system which allows students to borrow and return books online without the help of librarians. Students also explained how they can search for any resource using library computers, their own laptops, or even smart phones through a freely provided wireless internet access. Students talked about the benefits they reaped out of such services to Her Majesty and stressed the special importance of the 'Central Search Service', a service that allows them to find any electronic or printed publication using a single, inclusive index.

Her Majesty then had the chance to meet with a number of female academics from different faculties and different administrative positions at the university. During this meeting, which was also attended by Professor Malkawi, Queen Rania expressed her pride in the university and recalled His Majesty the Late King Hussein's words praising the university and its achievements.
Her Majesty commended female academics for being great role models to girls as they are able to strike a balance between the demands of having a career and raising a family at the same time. Activities and programs carried out by the university were also discussed and the topic of challenges faced by women when choosing career paths was also touched upon.
JUST is one of the Kingdom's 10 public universities and was established in 1986. To date, 44,000 students have graduated from the university out of which 24,411 were undergraduates, 1,199 were postgraduates, and 289 hold higher specialty degrees. A total of 5,851 of its graduates are non-Jordanians from 45 different nationalities.
According to the QS World University Ranking issued this month, the university ranks 362 out of 3,000 universities worldwide that specialize in engineering and technology. Among Arab universities, JUST is also ranked 6th in engineering.
The university has a number of Research Centers including Queen Rania Al Abdullah Center for Environmental Sciences & Technology, Princess Haya Biotechnology Center, Nanotechnology Center, Energy Center, Pharmaceutical Research Center, Consultative Center for Science & Technology, Health Center, and Dental Teaching Center.
Featured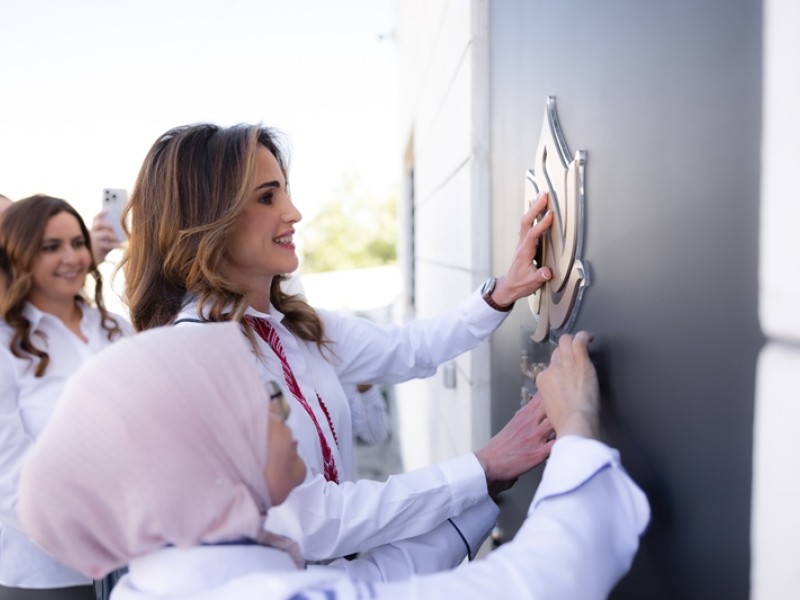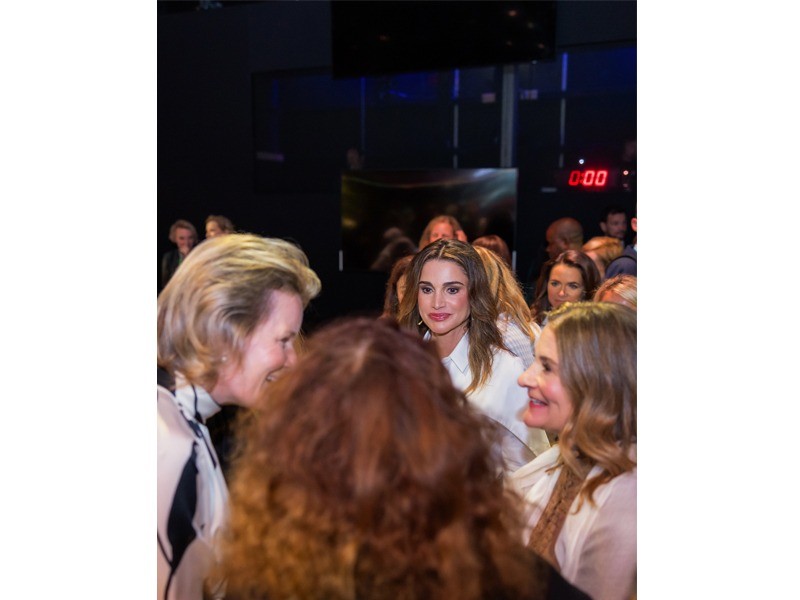 Queen Rania's official website
This website does not support old browsers. To view this website, Please upgrade your browser to IE 9 or greater
Your browser is out of date. It has known security flaws and may not display all features of this and other websites. Learn how to update your browser