Queen Rania Visits Homecare Center for the Elderly at Al Asirra Al Bayda's Society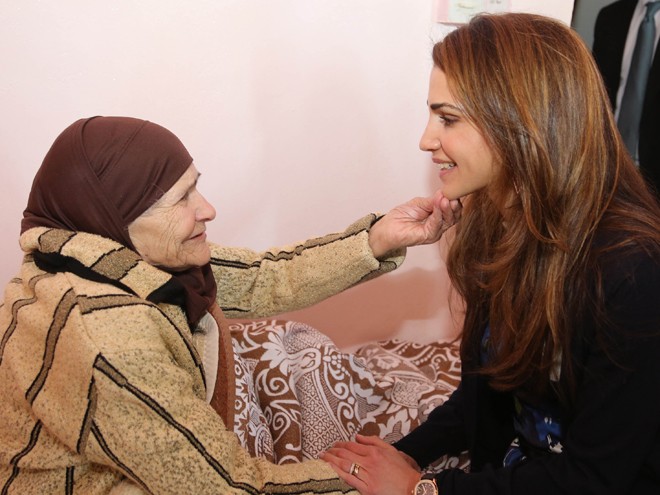 (Office of Her Majesty, Press Department-Amman) Her Majesty Queen Rania Al Abdullah visited today the elderly homecare center at Al Asirra Al Bayda'a Society and met with volunteers from the Jordan Volunteers group who provide psychological, social and medical services to the elderly.
In the meeting, which was also attended by board members of the society, Queen Rania listened to a brief about the services they provide, as well as the challenges they face.
Her Majesty thanked the volunteers for their hard work and professionalism. She also pointed out the importance of their voluntary work that benefits not just the elderly but also other members of the society as well as the volunteers themselves.
Queen Rania also said that voluntary work enriches one's experience by interacting with different people from various backgrounds.
Ms. Haifa Al Bashir, the Society's Board Chairman, explained that the homecare tries to provide the best possible care for its guests, which includes medical and nutritional services. She added that they are always more than happy to collaborate with other organizations such as Jordan Volunteers.

Director of the Society Ms. Mariam Mubaydeen said that the activities held by the volunteers had a great positive effect on the elderly, and that it complimented the efforts and services provided by the homecare center.
Founder of Jordan Volunteers Mr. Mohammad Jaber said that the group includes about 15,000 volunteers, most of whom are university students. He also added that they were able to reach beneficiaries in nine governorates across the Kingdom.
Volunteer Mo'tasem Masalmeh said that the volunteers believe in supporting the elderly in the best ways that meet their needs and have started a number of initiatives and programs based on their previous experiences with the elderly.
Volunteer Sheraz Herzallah talked about one of the initiatives they launched, "Give us a Chance", which aims at investing in the elders' skills to produce different handicrafts. Other volunteers briefed Her Majesty during the meeting about other initiatives which try to provide the guests with a family-like atmosphere and organize regular visits by orphans so as to compensate for living away from their own families

Queen Rania then toured the homecare and checked on its clinic and the medical services it provides. Her Majesty also visited some recently renovated rooms, and chatted with some of the guests and orphans.
At the end of her visit, Queen Rania checked on handicrafts made by some of the guests. She also listened to them explain how this helped them regain their confidence especially that some pieces of their work have been sold at a charity bazaar.

Queen Rania's official website
This website does not support old browsers. To view this website, Please upgrade your browser to IE 9 or greater
Your browser is out of date. It has known security flaws and may not display all features of this and other websites. Learn how to update your browser