Queen Rania Visits Darat Samir Shamma for the Elderly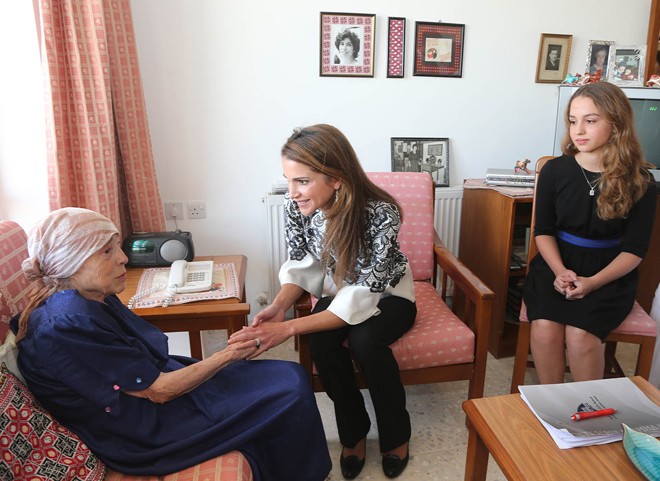 (Office of Her Majesty- Press Department- Amman) Her Majesty Queen Rania Al Abdullah visited today Darat Samir Shamma for the Elderly to check on the facility and to support youth who are volunteering as part of the Jordan River Foundation (JRF) Volunteer Summer Program.
Queen Rania, who was accompanied by HRH Princess Iman, started her visit at one of the society's apartments, where she stopped by youth volunteers who joined the elderly in planting flowers and taking care of their residential garden.
The Queen was also accompanied by Mr. Ehab Mish'al, Director of Darat Samir Shamma, Dr. Maha Shamma, Board Member of Darat Samir Shamma, and Ms. Muntaha Al Harasees, Head of Child Protection Program at JRF.
Her Majesty then checked on a number of residents in their apartments, and stopped by another group who were enjoying different activities such as making special Ramadan decorations, playing table tennis, billiards, chess, and foosball, while other residents were baking qatayef along with the volunteers.

The Queen also had the chance to speak to some of the elderly residents who were reminiscing about their life experiences, and she listened to the volunteers sharing their stories of working as part of the Volunteer Summer Program being implemented by JRF's Queen Rania Family and Child Center (QRFCC).
Towards the end of her visit, Queen Rania got a glimpse of some paintings done by one of the society's residents.
Darat Samir Shamma for the Elderly, a non-for-profit society established by the late Samir Shamma in 2001, currently accommodates 36 elderly, 17 of which were selected by the Ministry of Social Development. Darat Shamma also hosts 42 staff members including in-house nurses, elderly companions, a visiting doctor as well as administration staff.
The society consists of a medical center, indoor swimming pool, gym, library, prayer room, dining hall, laundry room, day club for the elderly, gardens and outdoor/indoor halls.

Queen Rania's official website
This website does not support old browsers. To view this website, Please upgrade your browser to IE 9 or greater
Your browser is out of date. It has known security flaws and may not display all features of this and other websites. Learn how to update your browser