Queen Rania Visits Darat Al Funun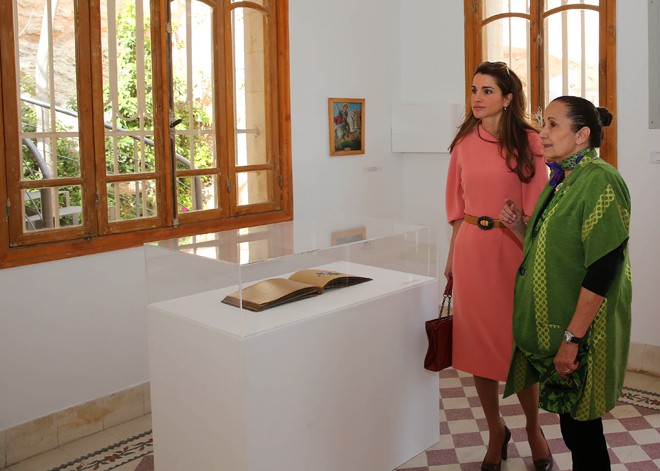 (Office of Her Majesty- Press Department- Amman) Her Majesty Queen Rania Al Abdullah visited today Darat al Funun and met with a number of women from Amman. The meeting was attended by a number of their Royal Highnesses.
The Queen's visit marks the 25th anniversary of establishing Darat al Funun as a home for the arts and the artists of Jordan and the Arab world. Darat al Funun is part of and serves as the headquarters of the Khalid Shoman Foundation.

Queen Rania toured the facility accompanied by Founder and Director of Darat al Funun Mrs. Suha Shoman who said that they celebrated this occasion by organizing a program called "HIWAR/ Conversations". This program brought together 14 artists from the Arab world, Africa, Asia, and Latin America who were offered two-month residencies in Amman in 2013. The program culminated in an exhibition showcasing the work done by the artists as well as pieces from the Khaled Shoman Foundation collection.
Darat al Funun consists of six historic buildings that were restored to attract talented and creative artists. These buildings are divided into several different sites, one of which is "Beit al Beiruti", a residential house built by the Lebanese Hafith Ghitani al Beiruti in the 1930s. "Beit al Beiruti" was restored in 2013 and is now open for the public. "Dar Khalid", another site, was dedicated to the memory and legacy of Khalid Shoman in October 2002. The site by the name "Blue House" was built by Circassian Ismail Haqqi Abdo in the 1920s and was named after the color of its porch, doors, and wrought iron window bars.
Also as part of the sites that make up Darat al Funun is the "Main Building", originally built in the 1920s and later renovated by architect Ammar Khammash in 1992. The site by the name "Ghorfa", serves as an art display room and the one called "The Lab" was inaugurated in 2011 as an experimental space and a hub for emerging artists and innovative projects.
The last two sites of Darat al Funun are the "Artist's Residence" and the "Archaeological Site". This residence is an apartment building adjacent to the lab which was added to the compound in 2013 to provide residency space for artists. The ground floor dates back to the late 1920s while the upper floors were built in 1949 by Sherif Fawaz Muhanna. The "Archaeological Site" is located in the southern gardens of the main building where the ruins of a 6th century Byzantine church and an old cave lay.
Darat al Funun also includes the "Headquarters of the Khalid Shoman Foundation (Al Maqar)" which is an old house built in the 1930s by Syrian Abdol Majeed Ajami where all art from the Khalid Shoman collection are usually on permanent display.

Queen Rania's official website
This website does not support old browsers. To view this website, Please upgrade your browser to IE 9 or greater
Your browser is out of date. It has known security flaws and may not display all features of this and other websites. Learn how to update your browser