Queen Rania: Third Most Influential Leader in Social Media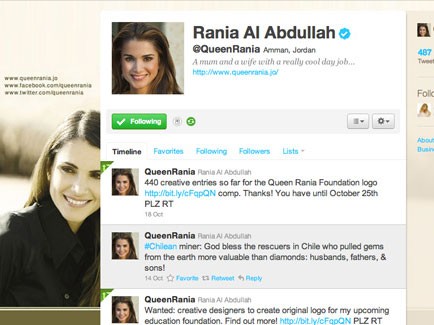 (Office of Her Majesty, Press Department- Amman) – Her Majesty Queen Rania came in third, following Barak Obama and 10 Downing Street in the list of most influential world leaders on the social network Twitter. The list was compiled as part of a report by the Digital Policy Council, according to which, 1 out of 5 heads of state are currently on Twitter and engaging in social networking on the internet.

In a recent interview with the Canadian Broadcast Company (CBC), Her Majesty spoke about the importance of staying connected saying: "online there are no barriers, people are just very natural, they say what is on their mind and it enables this natural and honest flow of communication to take place which is so important for me"

In that spirit, Her Majesty launched "Twisit" earlier this year. In cooperation with Twitvid, a twitter video application site, Twisit. A "tourist swap" with a twist. Chosen by the public, the lucky winner from Jordan will be travelling to Seattle USA, while the American winner enjoyed an all paid vacation in Jordan last week.

Her Majesty has more than 1.3 million followers on the social networking site, Twitter and over three hundred thousand fans on Her facebook page, as well as very successful Youtube channel, where Her Majesty had worked to promote issues such as breaking stereotypes and cross cultural dialogue.

The Digital Policy Council report addresses a strong movement towards open government as more world leaders are using social media as a type of direct communication with their citizens and the global community. The Digital Policy Council is an international, non-partisan think tank that investigates the impact new media technologies have on advancing good governance and reshaping political discourse.

The list also included leaders such as The UAE Vice President, Prime Minister and Ruler of Dubai His Highness Sheikh Mohammed bin Rashid Al Maktoum, President Hugo Chavez of Venezuela, President Abdullah Gul of Turkey and Japanese Prime Minister Yukio Hatoyama.

Queen Rania's official website
This website does not support old browsers. To view this website, Please upgrade your browser to IE 9 or greater
Your browser is out of date. It has known security flaws and may not display all features of this and other websites. Learn how to update your browser