Queen Rania Speaks about Refugee Children at IIFMENA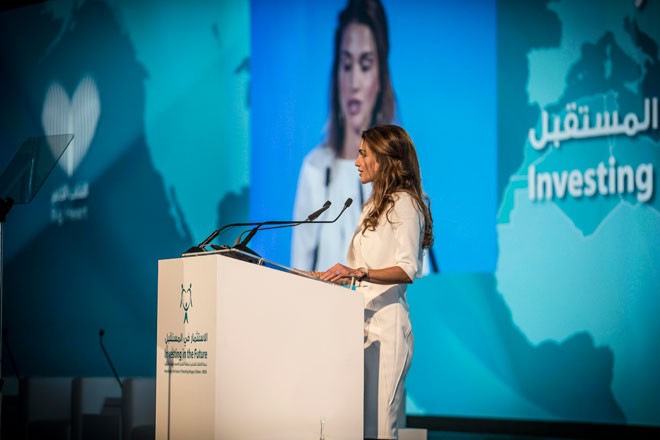 (Office of Her Majesty- Press Department- Sharjah) Her Majesty Queen Rania Al Abdullah took part today in the first regional conference on refugee children in the MENA region held in Sharjah, UAE.

Titled 'Investing In the Future: Protecting Refugee Children and Adolescents - MENA' (IIFMENA), the conference is organized under the patronage and in the presence of His Highness Sheikh Dr. Sultan bin Muhammad Al Qasimi, Member of the Supreme Council and Ruler of Sharjah, and upon the invitation of Her Highness Sheikha Jawaher bint Mohammad Al Qasimi, Wife of His Highness the Ruler of Sharjah and UNHCR Eminent Advocate for Refugee Children, who also attended the event.

Gathering over 300 international figures including leaders and top officials concerned with the issues of refugee children, the two day conference aims to develop mechanisms to unify efforts of the concerned international organizations to alleviate the suffering of refugees and improve their living conditions.
In her keynote speech at the opening ceremony, Queen Rania said that "The year 2014 has witnessed the largest human displacement; one disaster after another around the world have displaced millions of people. The number of people who left their homes exceeded fifty million for the first time since World War II, and Syria is the most affected."
Queen Rania then told the audience that eighty-five percent of displaced people in the world take refuge in neighboring developing countries, whose limited economic potential constrain their ability to provide from their resources and income. Still, they open their doors, and take in those seeking refuge, sharing the food, security, water, fuel, hospitals, schools and much more.
"In Jordan, we know this very well," the Queen noted, "the high numbers of Syrian refugees pose a great challenge to us, especially in the local host communities."
Talking about the humanitarian role Jordan played in helping Syrian refugees, Her Majesty said that "while Jordan is small in size, it is big in its national and humanitarian sense of responsibility (…) The world has come to know very well it can rely on Jordan in difficult humanitarian crises. And the world has a major role in supporting all countries hosting refugees, because that is a guarantee of our region's stability."
Queen Rania explained that the UN estimates the needs of the countries hosting Syrian refugees to exceed 3 billion dollars in 2014. However, until today, only 50% of the required figure has been secured.
Her Majesty also shed light on the situation of refugee children and said that there are hundreds of thousands of Arab children out of school because of conflicts.
The Queen stressed that the best way to help these children overcome the results of war is to provide them with quality education. "The most valuable thing we can offer these children is education, to protect them from loss and despair, and prevent the refugee crisis from crippling their future."
Queen Rania also thanked the United Arab Emirates, the Emirate of Sharjah, His Highness Sheikh Dr. Sultan bin Muhammad Al Qasimi, Her Highness Sheikha Jawaher Al Qasimi and the office of the UN High Commissioner for Refugees for hosting this conference.
His Highness Sheikh Dr. Sultan bin Mohammad Al Qasimi also addressed the audience at the event and stressed that holding conferences on protection and care of children and adolescents is not new, as the matter is directly related to human nature and high human values adopted by all peoples of the world, no matter how different their civilizations and identities are.
His Highness praised the efforts being exerted by the immediate neighboring countries of the conflict zones, along with some other countries as well as the United Nations High Commissioner for Refugees (UNHCR), the United Nations Children's Fund (UNICEF), some concerned organizations in the League of Arab States, and some civil society organizations, each in its own field, which all hurried to establish temporary camps to provide shelter to refugees and displaced people and to provide financial and moral aids as well as some basic services in the camps.
IIFMENA conference is held in collaboration with Big Heart campaign. the list of attendees include HE Dr. Nabil Elaraby, Secretary- General of the League of Arab States, Mr. Antonio Guterres, United Nations High Commissioner for Refugees, HH Sheikh Sultan bin Mohammed bin Sultan Al Qasimi, Crown Prince and Deputy Ruler of Sharjah, HH Sheikh Hazza bin Zayed Al Nahyan National Security Advisor and Deputy Chairman of Abu Dhabi Executive Council, Sheikha Bodour bint Sultan Al Qasimi, Chairperson of Sharjah Investment and Development Authority "Shurooq" and a number Their Highnesses Sheikhs, dignitaries, VIPs and senior diplomatic and media figures from inside the UAE and abroad.
The two day conference also includes a number of discussion panels and workshops that will discuss several issues including children protection, sexual and gender-based violence, children affected by armed conflict, and the importance of legal documentations.

Queen Rania's official website
This website does not support old browsers. To view this website, Please upgrade your browser to IE 9 or greater
Your browser is out of date. It has known security flaws and may not display all features of this and other websites. Learn how to update your browser