Queen Rania Meets Youth Competing in Challenge Cup Amman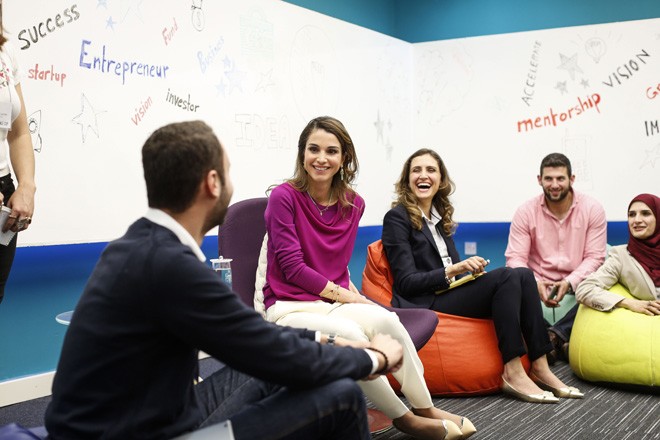 (Office of Her Majesty – Press Department – Amman) - Her Majesty Queen Rania Al Abdullah met today with youth participating in the Challenge Cup Amman competition held at the Oasis500 premises in Amman, Jordan.
In line with Her Majesty's desire to ensure that Jordanian startups get the best expertise, exposure, and training to grow their companies and compete globally, the Queen interacted with founders of various companies and learned more about their visions and challenges.
During the visit, The Queen was briefed on the Challenge Cup Amman competition by Mr. Yousef Hamidaddin, CEO of Oasis500 and Ms. Donna Harris, Co-Founder of 1776. The briefing was also attended by representatives from 1776 and Oasis500 as well as the competition judges.
Her Majesty then attended a round table discussion titled 'Mobility & Cities' which was attended by founders of 12 startups. The industry roundtables provide an opportunity for the participating startups to meet with experts in their field to talk about their challenges in an industry-focused setting.
The Queen listened to the founders explain the ideas behind their projects and engaged with them in a discussion about the challenges they faced and how they plan to overcome them.
Queen Rania also attended a workshop titled 'Pitch Coaching' where she got a chance to listen to a number of youth presenting one-minute pitches that briefly explained the reason behind starting their projects and why they think their ideas are capable of competing in today's market.
The Queen expressed her pride in the participants and said that she was impressed with their projects which have great potential. Her Majesty also encouraged them to keep on developing their projects and gave them advice on how to improve their presentation techniques when pitching their ideas to investors.
Held for the first time in Jordan, the global competition is run in 16 cities from 11 countries around the world in hopes to identify and celebrate the most promising startups tackling the biggest challenges in four categories: Mobility and Cities, Education, Energy, and Health.
The Amman edition of the competition is organized by Washington D.C. based incubator 1776 and Jordanian seed investment company Oasis500, and allows various businesses to participate in the two-day competition where four winners, selected out of 40 participants, will go on to participate in the Challenge Cup 2015 which is part of the Challenge Festival set to be held in Washington, D.C. next year.
The Challenge Festival in Washington, which will include 64 companies from different countries, is a weeklong opportunity for startups to connect with corporate partners, policymakers, and potential investors, as well as compete for $650,000 in prizes.
"Jordan has become a leading hub for innovators who are leveraging their creativity to drive positive change in complex, entrenched industries," said Donna Harris, co-founder of 1776. "We're thrilled to host the Challenge Cup here in Amman, and highlight the groundbreaking, potentially world-changing ideas flourishing in the region."
"We are very excited to hold the Challenge Cup competition in Jordan and the MENA region for the first time," said Yousef Hamiddadin, CEO of Oasis500. "This event is a continuation of Oasis500's efforts to build a sustainable entrepreneurial ecosystem in Jordan, and strengthen economic sectors in the MENA region."
"We strongly believe in the capability of Jordanian start-ups to compete internationally and we are hopeful that qualifying companies from Jordan and the region will reach the finals and benefit from international expertise in the field of entrepreneurship. This will be an opportunity for Jordanian companies to strengthen their product portfolio by accessing an international festival, presenting their ideas to leading global investors, and benefitting from expert guides and investment possibilities available in America," he added.
About Oasis500
Oasis500 is a leading early stage and seed investment company where it nurtures creative ideas in information technology, and mobile and digital media, and transforms them into startup companies.
Programs at Oasis500 include entrepreneurship training, mentorship guidance, and business incubation, transforming business ideas into startups, helping existing entrepreneurs grow their companies with the help of angel investors and mentor networks, as well as additional follow-up investment funding if needed.
About 1776
1776 is a business incubator in Washington, DC founded in 2013 by Donna Harris, former Managing Director of America Partnership, and Evan Burfield, founder of netDecide, and Synteractive. 1776 serves as a global hub for startups tackling major challenges in education, energy, health care, and cities.
Startups receive the raw materials critical for innovators to succeed including mentorship, corporate connections, top talent, access to capital, and media attention.
To date, 1776 assisted more than 250 startups grow and excel by connecting them to a 'swat team' of support from investors to mentors, government officials, and institutional market partners.
The organization has four primary initiatives: 1776 Campus, News & Events, 1776 School and its Accelerator program.
By using a different approach, 1776 is revolutionizing the startup landscape where it is generating a global movement of 'problem-solving' startups through its Challenge Cup and Startup Federation, the premiere network of incubators throughout the world.

Queen Rania's official website
This website does not support old browsers. To view this website, Please upgrade your browser to IE 9 or greater
Your browser is out of date. It has known security flaws and may not display all features of this and other websites. Learn how to update your browser