Queen Rania Meets with "Go Local, Support Local" Initiative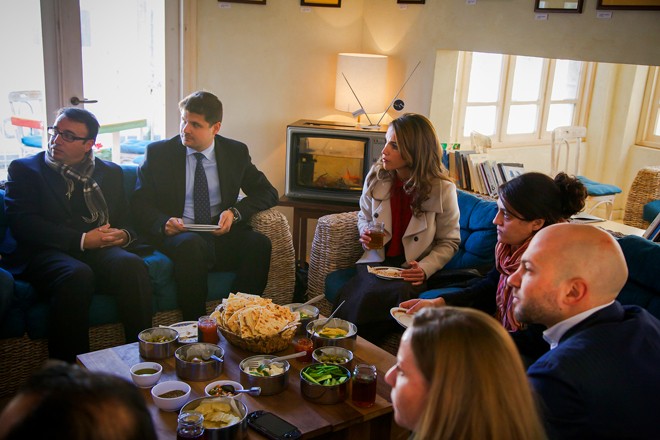 (Office of Her Majesty- Press Department- Amman) Her Majesty Queen Rania Al Abdullah met today with founder of "Go Local, Support Local", an initiative that aims to create awareness about the importance of supporting local industries and re-injecting money back into the Jordanian economy.
Held at the Fann Wa Chai Café in Al Weibdeh Amman, the meeting also included a number of representatives from the different sectors that the initiative supports.
Queen Rania asserted the importance of employing the energy of youth and their creativity to support and empower local industries, projects, and talents. Her Majesty noted that the initiative plays a vital role in increasing consumers' confidence in local products, and stated that she supports its goals and efforts.

Founder of "Go Local, Support Local " Luma Qadoumi explained that the initiative mainly supports four industries; businesses, services and startups, farmers and producers, community based organizations, as well as artists and musicians.
By supporting Jordan's economy, the initiative channels money back into the local economy, thus, creating more jobs. It also aims at diversifying opportunities for local employment and stopping brain drain, helping local entrepreneurships survive, pushing local businesses to outperform foreign competitors, and creating a connection between consumers and businesses with the local community.
The initiative also uses both traditional and social media to raise awareness about its mission and promote its goals. Through Facebook, Twitter, Instagram, billboards, magazines, TV spots, and different online campaigns, the initiative aims to spread and reach the largest number of people from across Jordan.

Also during the meeting, other attendees talked about their work, the challenges they face as well as the successes that they are proud of. They also discussed ways of building on their accomplishments so that they can include as many beneficiaries as possible.

Queen Rania's official website
This website does not support old browsers. To view this website, Please upgrade your browser to IE 9 or greater
Your browser is out of date. It has known security flaws and may not display all features of this and other websites. Learn how to update your browser