Queen Rania Meets with Beneficiaries of Poverty Pockets Project Phase III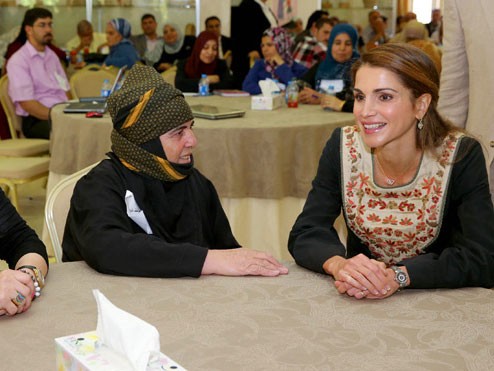 (Office of Her Majesty- Press Department- Amman) Her Majesty Queen Rania Al Abdullah met today with beneficiaries of the Poverty Pockets Project Phase III implemented by the Community Centers Association (CCA) and funded by the Ministry of Planning and International Coordination (MOPIC).
The meeting, held in Hai Nazzal area, was attended by about 170 beneficiaries from Al Taybeh, the North West Badia, Sahab, Rweished, Duleil, Hai Nazzal, and Disi.
After listening to attendees talk about their own success stories and how their economic situation has improved, Queen Rania stressed the importance of building on individuals' and families' qualifications and the abilities they already possess to ensure the establishment of long term and sustainable development projects.
The Queen also thanked CCA and the ministry for their flexibility and for reviewing their methodologies to take into account the differences and uniqueness of each poverty case and dealing with it directly.
Queen Rania told the beneficiaries that they have become role models with their ambition and self confidence, because although opportunities might present themselves to many people, only a few believe in their abilities to seize them.
"This project supported you because you helped yourselves first, and that's what His Majesty King Abdullah II wants; having self reliant families that can effectively participate in improving their communities," Her Majesty said.
She also praised the beneficiaries saying that their projects have greatly benefitted their surrounding communities, adding that the most important thing is how these projects have positively affected each of their lives.
Founder of CCA Dr. Sari Naser thanked Her Majesty for her continues support to empower local communities.
Dr. Yousef Ithnayyan. Manager of the Poverty Pockets Project- (MOPIC) said that their partnership with CCA has succeeded because of the great efforts and commitment of individuals. He added that these efforts are part of a special project implemented by the ministry in cooperation with 32 civil society institutions across the kingdom.

CCA President Dr. Firyal Saleh gave a presentation on the new methodology they are implementing within the third phase of their poverty pockets project. She explained that CCA started working with individual families rather than just supporting community-based organizations (CBO's).

Dr. Firyal added that they signed contracts with a number of underprivileged families after conducting a vast field survey to identify their needs. The project has so far reached 552 families out of 800 which they plan to work with through establishing development projects in the vocational, commercial, services and animal recourses fields.
Poverty Pockets Project Phase III also worked on renovating the infrastructure of 57 houses in Rweished, building a center for people with special needs, furnishing a kindergarten and equipping a center for one development project in Al Taybeh. The Poverty Pockets Project also transformed two vacant buildings in the North West Badia into a knowledge center and a children's library, and established a play ground in the area.

Queen Rania's official website
This website does not support old browsers. To view this website, Please upgrade your browser to IE 9 or greater
Your browser is out of date. It has known security flaws and may not display all features of this and other websites. Learn how to update your browser