Queen Rania Launches Madrasati Palestine Women's Network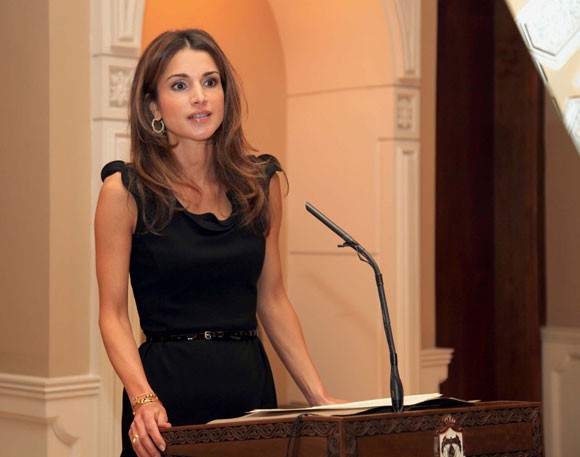 (Office of Her Majesty- Press Department- Amman) Her Majesty Queen Rania Al Abdullah launched, today, the Madrasati Palestine Women's Network, a group of women from the Arab World, who will, individually or collectively, organize functions and charity events to raise funds and help further Her Majesty Queen Rania Al Abdullah's initiative, Madrasati Palestine.
In an address, during a lunch held for members of the network at Basman Palace, Queen Rania expressed her thanks to the women for their efforts to ensure quality education for Jerusalem's children.
Talking about the crisis in the education sector in Palestine, Her Majesty said, " Throughout the years, the occupation has prevented schools in Palestine from expanding their buildings, thus, pushing students out onto the street and into casual jobs."
"10 thousand children in Jerusalem didn't go to school today, and they won't be going this year." Queen Rania added.
Urging the women to picture the daily hardship Palestinians face, Her Majesty said, "Imagine your son's or daughter's future diminished by the occupation, their education limited by the occupation, their house threatened by the occupation, and their land taken by the occupation. We think a lot about securing our children's futures, but, in Jerusalem, there is no safety or security."
"Children in Jerusalem", Queen Rania said, "raise their hands and pray for an education, their weapon and shield."
Her Majesty expressed her faith in the network's ability to support Madrasati Palestine.

Earlier in the day, the women, including, Lebanese singer, Majida Roumi and Al Arabiya Presenter, Muntaha Ramahi, watched a film that showcased the deteriorating state of education in Jerusalem.

The network will hold fundraising events in Bahrain, Egypt, Kuwait, Qatar, Oman, Morocco, Saudi Arabia, the United Arab Emirates, Palestine, and Lebanon.

If you would like to be a part of the Madrasati Palestine Women's Network, please call: +962 79 7990000 or send an email to: wnetwork@madrasati.org

Madrasati Palestine, launched by Her Majesty Queen Rania Al Abdullah, is an education initiative to renovate disadvantaged schools under the auspices of the Jordanian Ministry of Awqaf and Islamic Affairs, in East Jerusalem.

Queen Rania's official website
This website does not support old browsers. To view this website, Please upgrade your browser to IE 9 or greater
Your browser is out of date. It has known security flaws and may not display all features of this and other websites. Learn how to update your browser