Queen Rania Launches "I Am Change" Exhibit at Children's Museum, Raises Conservation Awareness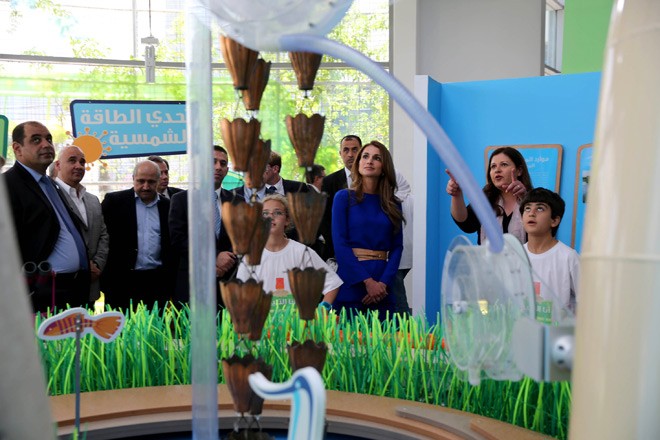 (Office of Her Majesty- Press Department- Amman) Her Majesty Queen Rania al Abdullah officially launched today the new "I Am Change" exhibit at the Children's Museum- Jordan which aims to raise children's awareness on water and energy conservation.
Funded by the United States Agency for International Development under its Public Action for Water, Energy and Environment Project, this modern and dynamic exhibit will challenge children's conceptions related to water and energy and orient them to a "new mindset" about the role every citizen can play to conserve water and energy. It will also introduce children to new ways of preserving these vital sources; teach them about alternative energy sources and environmental protection.
Her Majesty toured the new exhibit and watched, along with visitors, a presentation explaining the challenges Jordan faces when it comes to water and energy shortage, showing procedures individuals can take to improve the situation.
During her tour, the Queen chatted with children who were enjoying the learning experience offered by the facility's various sections including the "Water in Your Day" section which demonstrates the surprising amount of water that normal daily activities consume, and the "Turn It Off" section that explains how some common household appliances can consume power, even when seemingly powered off.
His Excellency US Ambassador Stuart E. Jones, His Excellency Hazem Nasser, Minister of Water and Irrigation, His Excellency Malek Kabariti Minister of Energy & Mineral Resources and representatives of government institutions and partners, as well as the international donor community, attended the inauguration.

During the opening ceremony, H.E. Ambassador Jones stated that he shares with Her Majesty her continuous and unwavering leadership, commitment, and support to provide the next generation with the tools and skills necessary to face different complex challenges such as water and energy shortage.

The "I Am Change" exhibit is also linked to a bilingual multilevel micro-site that provides an energized space for those who want to make a difference and help invent solutions to face the challenges of Jordan's water and energy scarcities. This user-friendly, informative micro-site can be accessed by students, teachers and parents and will prepare users for their exhibit experience by providing tools and educational games that introduce concepts related to water and energy. The material included in the micro-site is linked to the national teachers' training curricula and will enable teachers and parents to build on children's experiences gained during their visit to the exhibit.
Mrs. Sawsan Dalaq; Director of the Children's Museum Jordan expressed her happiness in launching this exhibit saying: "We are proud to have been able to construct and put together an enormous exhibit that tackles a very important and global issue worldwide. We are grateful for the help and support of our donors and partners in this project for helping us provide an interactive and fun beneficial experience to all visitors and children."
About the Children's Museum- Jordan
The Children's Museum Jordan is a non-profit educational organization launched by HM Queen Rania Al Abdullah in 2007. The Museum offers over 110 indoor and outdoor permanent exhibits and educational facilities such as the library and art studio along with year-round educational programs and events for children. Since its opening, the Children's Museum has welcomed over 900,000 visitors.

Queen Rania's official website
This website does not support old browsers. To view this website, Please upgrade your browser to IE 9 or greater
Your browser is out of date. It has known security flaws and may not display all features of this and other websites. Learn how to update your browser