Queen Rania Joins Youth Volunteers in Beautifying Amman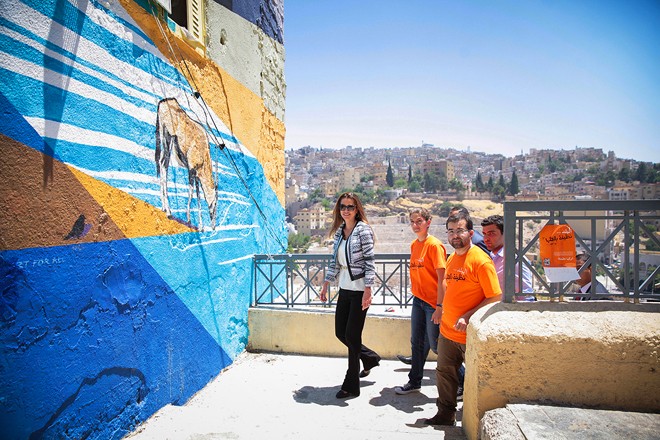 (Office of Her Majesty- Press Department- Amman) Her Majesty Queen Rania Al Abdullah joined today a group of youth taking part in volunteer activities being carried out in Al Mattal Citadel by two Jordanian initiatives, "Ahel Al Balad" and "Art for All".
"Ahel Al Balad", which is a non-political, community-based movement, aims to spread awareness and create positive change towards building safer and healthier communities in Jordan. While Ahel Al Balad's focus is to keep Amman clean through volunteer work, "Art for All" is a non-profit project that aims to beautify local areas by bringing in artists from around the world to paint street wall art in unprivileged communities in hopes to enhance tourism and invigorate the economy.
At Al Mattal, Queen Rania spoke with founders of both initiatives, Ms. Luma Qadumi and Mr. Mohammad Asfour Co-Founders of "Ahel Balad", and Mr. Zaid Derbi, Founder of "Art for All". The Queen was briefed on the progress of projects that have been implemented so far and was informed about future plans that the initiatives aspire to achieve.
Founders of the initiatives explained to the Queen that they encourage the participation of all Jordanians, helping promote a culture of volunteerism and social activism as well as instilling a sense of ownership to ones residential area which pushes them to keep it clean and beautiful.
During her tour of the area, Her Majesty stopped by to talk to a number of youth partaking in a cleanup campaign carried out by "Ahel Al Balad". Volunteers told Her Majesty that the project helped create awareness in different neighborhoods about the importance of cleanliness, increased the number of volunteers, and created an understanding among members of the community about the deficiencies that cause a serious littering problem in the country.
To date, "Ahel Al Balad" has organized seven clean-up campaigns at Citadel, Rainbow Street, Bader, Downtown Amman, Al Bayader, and Al Jubeiha.
The initiative has also launched the "Natheefeh B'ahelha" campaign, which aims to promote positive behavior towards combating littering in Jordan.
The Queen then checked on murals created by "Art for All" around the Citadel, and stopped by one of the latest murals being painted by a number of volunteers.
Mr. Zaid Derbi, who co-founded "Art for All" along with Peter Claison from Spain, explained that the initiative invites artists from all over the world to participate in transforming areas, beautifying them with color and art. He added that the local community members can also participate in the painting of the murals which could lead to the discovering of new local talents.
Besides the Amman Project, which started in November 2013 and executed in March 2014 and saw the completion of 8 murals, this project has been successfully implemented in Ecuador, Honduras and Silvia.

Queen Rania's official website
This website does not support old browsers. To view this website, Please upgrade your browser to IE 9 or greater
Your browser is out of date. It has known security flaws and may not display all features of this and other websites. Learn how to update your browser