Queen Rania Inaugurates the Entrepreneurship Talent Exhibition at Oasis500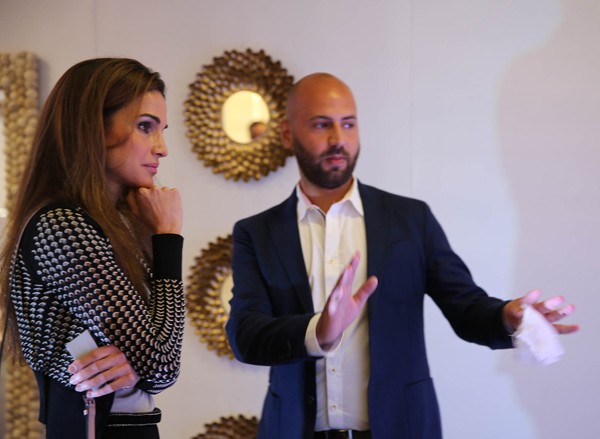 (Office of Her Majesty- Press Department- Amman) Her Majesty Queen Rania Al Abdullah attended today the launch of Oasis500's new investment track, the "Creative Industries Fund", which will support and invest in artistic and cultural entrepreneurship. The fund will target talented entrepreneurs in all governorates of the kingdom, and aims to help them transform their ideas into fruitful projects that can contribute to the Jordanian economy.
Her Majesty also inaugurated and toured the Oasis500 "Entrepreneurial Talent Exhibition", an exhibition which included 20 artistic creations by 20 different Jordanian entrepreneurs. Her Majesty reviewed the ideas behind the different projects which ultimately aim to harvest, through the medium of arts and culture, sustainable and income generating projects that serve economic development in Jordan.
Queen Rania met with the artists who participated in the exhibition and expressed her admiration of their creations, adding that their talent and thirst for success is evident in their work.
The Queen was accompanied by Dr. Omar Razzaz, Chairman of King Abdullah II Fund for Development (KAFD), H.E. Marwan Juma, Oasis500 Vice Chairman, and Mr. Qais Qatamin, Director of KAFD.
Following the tour, Her Majesty watched a presentation explaining the goals and ambitions of the new fund which was launched with the cooperation of KAFD. The fund will be working with around 100 experts and 70 investors which will provide entrepreneurs with the guidance and financial support that they need to complete their projects. The fund currently hopes to invest in 20 companies.
Her Majesty pointed out that the art scene in Jordan has great potential in contributing to the development of the Jordanian economy, stressing the importance of building partnerships between entrepreneurs and investors so that new opportunities in this field may better be explored.
Mr. Yousef Hamidaddin, Oasis500 CEO, stated that the Creative Industries Fund was launched after Oasis500 managed to identify the art market's need for support and investment, as well as the need for expertise, such as that of Oasis500, in the field of business enhancement. Mr. Hamidaddin added that he believes that after spending a little more than three years focusing on projects in the fields of communications, information technology, and digital content, the time is right for Oasis500 to embark onto new adventures exploring new industries, adding that entrepreneurship is not limited to any specific field.
He also pointed out that through this new track, Oasis500 aims at producing arts and media projects to support the economy in Jordan. He stressed that the fund will focus on supporting talented youth in all governorates in order to achieve sustainable development in the kingdom.
Dr. Omar Al-Razzaz said that supporting young entrepreneurs is a top priority at KAFD especially given that the country's future rests on the shoulders of its youth. He added that transforming entrepreneurs from jobseekers to job owners helps decrease unemployment rates and improves the national economy. Dr. Razzaz also touched on the importance of such projects in increasing exports from Jordan to other countries.
Mr. Omar Al-Sharif, the Creative Entrepreneurship Project Director at Oasis500, said that the new investment track will support entrepreneurs in different creative sectors, including industrial design, architectural engineering, fashion and furniture design, publishing and electronic journalism, music, movie making and theatrical arts, digital art and animation, as well as handicrafts industries.
Mr. Al-Sharif explained that this track consists of different programs including: "Training in business skills and professional communication", "Training in the field of the required area of specialization", "Primary investment", "Business enhancement", "Creating new opportunities and launching their companies in global and Arab regional markets", "Identifying new guides within the required scope of specialization", "Introduce participants to publishing houses, and introducing them to new investors".
He also pointed out that Oasis500 has launched a dual language program, in both Arabic and in English, so as to reach as many entrepreneurs as possible across the kingdom.
The "Creative Industries Fund", is the third of two other investment tracks which Oasis500 has been working on since its establishment in 2010. The first two tracks focus mainly on enhancing entrepreneurial business ideas in the fields of communications and information technology.
Featured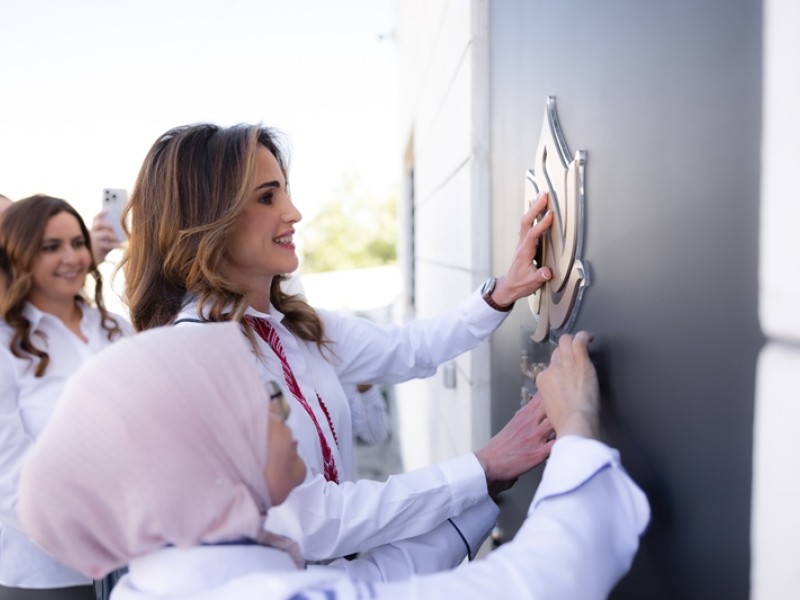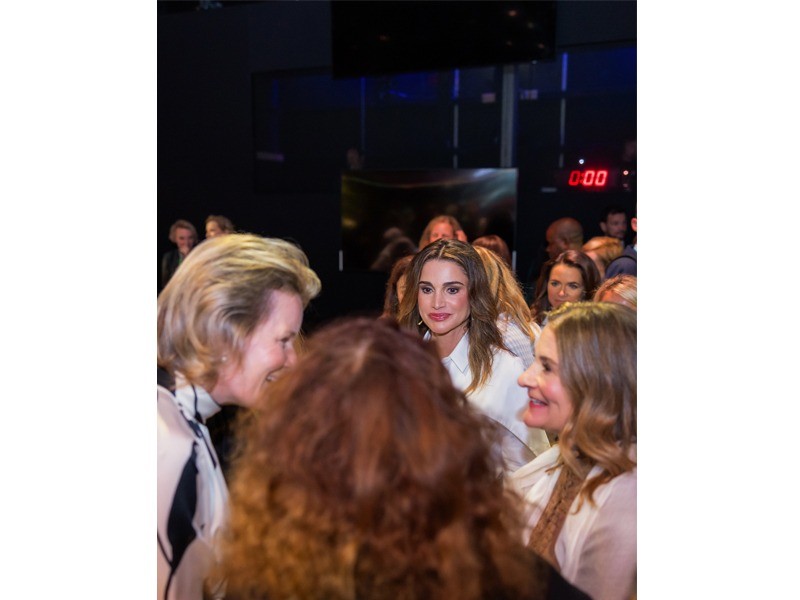 Queen Rania's official website
This website does not support old browsers. To view this website, Please upgrade your browser to IE 9 or greater
Your browser is out of date. It has known security flaws and may not display all features of this and other websites. Learn how to update your browser