Queen Rania Honors Winners of 2019 Queen Rania Award for Excellence in Education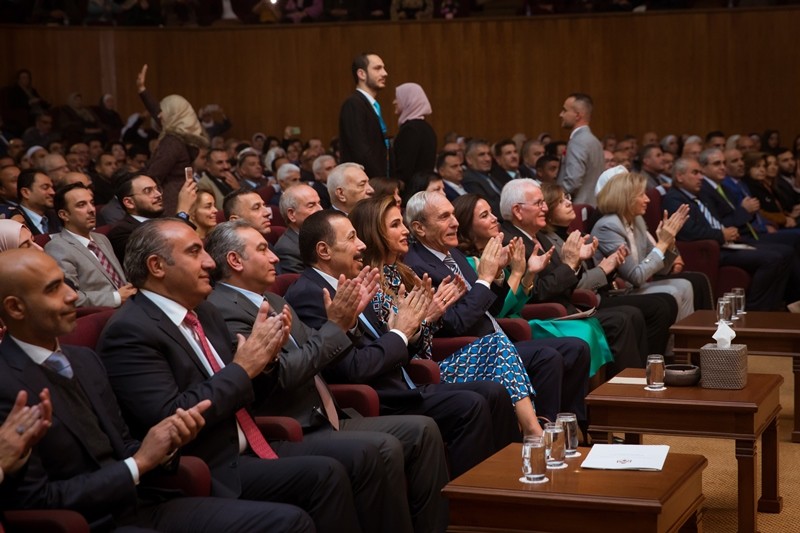 (Office of Her Majesty – Press Department – Amman) - Her Majesty Queen Rania Al Abdullah honored winners of the 2019 Queen Rania Award for Excellence in Education (QRAEE) in its 14th Teacher Award and 6th Principal Award cycles during a ceremony held at the Royal Cultural Palace in Amman on Monday.
In her capacity as chairperson of QRAEE's board of trustees, Her Majesty presented the winners with trophies and certificates and congratulated them on their achievements.
Addressing the Queen in remarks he delivered at the award ceremony, Minister of Education Dr. Tayseer Nueimi said: "His Majesty and Your Majesty have made education your mission and undertaking, in honor of teachers and their indispensable role in shaping the minds of future generations."
"Excellence and innovation are rooted in the Hashemite mindset, as outlined in His Majesty King Abdullah's directives in the Seventh Discussion Paper," he added.
Commending QRAEE's efforts, Nueimi lauded the Queen Rania Award for Excellence in Education's efforts and contributions to advancing education and nurturing a culture of excellence that supports sustainable education practices.
Launched in 2005 by Their Majesties King Abdullah II and Queen Rania in partnership with the Ministry of Education, QRAEE aims to set a national standard of excellence in teaching, and to celebrate and honor educators who work tirelessly to meet it.
This year, QRAEE announced it had received 3,896 applications, of which 3,582 were for the Distinguished Teacher Award, and 314 for the Distinguished Principal Award. QRAEE also noted that there was a 45% increase in applications for the teacher award and a 24% increase in applications for the principal award compared to last year.
Out of thousands of applicants, 29 teachers received the Distinguished Teacher Award, and 11 principals received the Distinguished Principal Award. All winners were handed certificates of excellence, while first place winners among both teachers and principals received trophies as well. Another 30 teachers and 7 principals, who qualified as finalists but did not win, were given certificates of appreciation.
Three educational districts were also recognized for their efforts in spreading a culture of excellence and encouraging educators to apply for the awards. The winners included the Southern Jordan Valley District, the Deir Alla District, and the Marka District.
In her opening remarks, QRAEE Executive Director, Lubna Touqan commended teachers who are acting as role models, and highlighted QRAEE's and the Ministry of Education's joint efforts to invest in distinguished educators. Additionally, Touqan announced the launch of the Education District Supporting Excellence in Education Award targeting educational institutions with its first cycle set to begin in 2020.
Sponsored by Zain Jordan, this year's ceremony was attended by award finalists and their families, previous award winners, QRAEE board members and its public and private sector partners, education ministry staff, media personalities, educators from various educational districts, members of the award judging panel, and presidents of universities.
The ceremony kicked off with a parade in celebration of the finalists and their success in reaching the final stages of the award competition.
All winning teachers and school principals who earned first, second, or third place in their respective categories received monetary awards and certificates. School principals were granted JD 5,000 for first place, JD 4,000 for second place, and JD 3,000 for third place, while teachers were awarded JD 4,000 for first place, JD 3,000 for second place, and JD 2,000 for third place. Finalists who did not win still received rewards of up to JD 500 for reaching this far in the competition.
Winners also received non-monetary awards from the Ministry of Education, including a higher rank, and a chance to improve their academic standing by competing for different scholarship opportunities.
Empowering the winners to serve as role models for their peers, the awards aim to motivate educators to strengthen the educational sector by reinforcing a culture of excellence.

Queen Rania's official website
This website does not support old browsers. To view this website, Please upgrade your browser to IE 9 or greater
Your browser is out of date. It has known security flaws and may not display all features of this and other websites. Learn how to update your browser