Queen Rania Chairs Al Aman Fund for the Future of Orphans Board of Trustees Meeting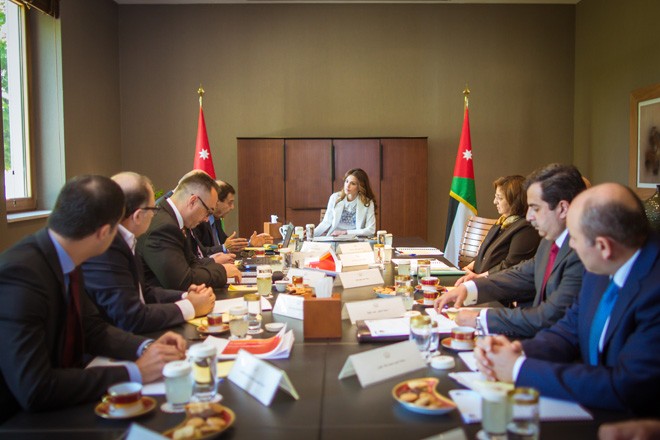 (Office of Her Majesty- Press Department- Amman) Her Majesty Queen Rania Al Abdullah met, today, with members of the Board of Trustees of Al Aman Fund for the Future of Orphans and congratulated the members and the fund's team on the occasion of the 10th anniversary of Al Aman Fund.
Her Majesty expressed her pride in the accomplishments of al Aman Fund, and commended their efforts in serving a segment of our society that is often overlooked once they leave orphanages. She also praised the fund's efforts in providing psychological and social support to the beneficiaries.
Her Majesty also highlighted the importance of expanding the vocational training opportunities in order to well-equip the beneficiaries with the necessary tools to succeed in the workforce.
While the fund has a reached a large number of beneficiaries, Her Majesty highlighted the importance of expanding the Fund's reach and the importance of engaging multiple stakeholder to do so.
Board members also noted that last year's outcome have significantly improved in comparison to the previous year, and adding that the additional funds generated, this year, from new donor streams, will be invested in several new programs that target a larger segment and improve vocational training outcomes.
During the meeting, Mr. Laith Al Qasem, Chairman of the Board of Directors, also spoke and said that the Fund will continue to develop its methodology in order for it to achieve its goals.
Mr. Ibrahim Al Ahmad, Director of Al Aman Fund, presented the Fund's 2014 annual report and a summary of its main achievements. Al Ahmad also informed Her Majesty that donors can now contribute to the Fund online via its website.
Al Ahmad highlighted that, in 2014, 675 new students benefited from the Fund and are now university students. While 114 students are in vocational training programs and 41 have received mid-level diplomas. Overall, the number of beneficiaries reached a total 2559 students, 1488 of which are university graduates; 66% of the total students are male students while 34% are female.
Al Aman Fund for the Future of Orphans is an organization established by the Queen in 2006 to provide orphaned youth in Jordan with the necessary education and skills to become self-reliant members of the community after they turn 18 years old and leave their care centers.


Queen Rania's official website
This website does not support old browsers. To view this website, Please upgrade your browser to IE 9 or greater
Your browser is out of date. It has known security flaws and may not display all features of this and other websites. Learn how to update your browser