Queen Rania Chairs the Annual Meeting of the Board of Trustees of Al Aman Fund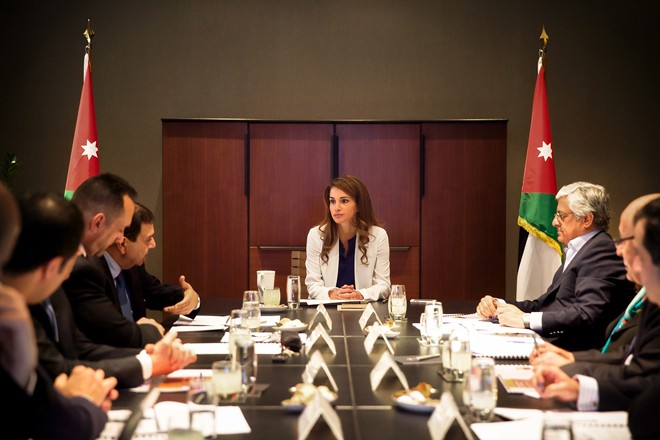 (Office of Her Majesty- Press Department- Amman) Her Majesty Queen Rania Al Abdullah emphasized the importance of guiding youth towards vocational training opportunities that best suit the demands of the current job market.
Queen Rania's notes were made today during the annual meeting of the Board of Trustees of Al Aman Fund for the Future of Orphans; an organization established by the Queen in 2006 to provide orphaned youth in Jordan with the necessary education and skills to become self-reliant members of the community after they turn 18 years old and leave their care centers.
During the meeting, board members discussed achievements made by Al Aman Fund last year, as well as current and upcoming projects. Attendees also talked about possible ways to improve the fund's methodology and programs in order to increase the number of collected donations.

Deputy Chairman of the Board of Trustees, H.E. Dr. Ziad Fareez, said that the fund is looking into offering donors a new set of projects for them to support. He added that the fund is also working on setting new strategies that aim to build solid partnerships with other organizations and individuals concerned with supporting orphans in Jordan.

Chairman of the Board of Directors, Mr. Laith Al Qasem said that in the last few years, youth beneficiaries who have pursued vocational training opportunities have outnumbered peers who have decided to major in different academic streams.

Mr. Ibrahim Al Ahmad, Deputy Director of Al Aman Fund, spoke about the organization's main achievements and successes. He explained that, since 2006 and until last year, the fund's primary beneficiaries, which include orphans who have resided in orphan care centers, has increased by 19.2%, while the number of secondary beneficiaries, which include orphans who live with one parent or with an extended family, has increased by 80% .

Up to date, the number of Al Aman Fund's over all beneficiaries has reached 2,304. Out of those, 1,132 have graduated from various vocational and academic universities and colleges, while 497 of which will start their studies this year.

Queen Rania's official website
This website does not support old browsers. To view this website, Please upgrade your browser to IE 9 or greater
Your browser is out of date. It has known security flaws and may not display all features of this and other websites. Learn how to update your browser