Queen Rania Visits Vocational Training Center in Marka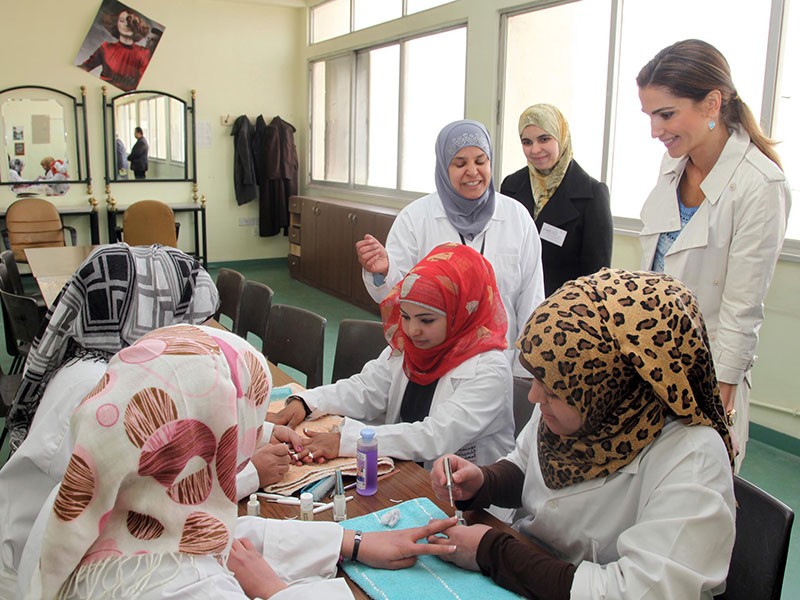 (Office of Her Majesty, Press Department- Amman) – Her Majesty Queen Rania Al Abdullah paid a visit to the Vocational Training Corporation (VTC) center in Marka today where she met with beneficiaries and witnessed new methods adopted by VTC. The Queen checked up on the Center's latest programs and partnerships, aimed at providing youth with new skill sets that give them the opportunity to explore new careers in unconventional fields.
Her Majesty toured several vicinities of the VTC center including the bakery training kitchen and the food production kitchen where hospitality courses tailored to qualify youth for jobs in the tourism industry are offered; the hospitality program is funded by USAID as part of their SIYAHA program.
Queen Rania also visited the sewing classes and a beauty training class.

During the tour, Her Majesty spoke to several instructors and trainees, and stressed the importance of providing alternative opportunities for youth to assume careers in new fields of interest, thus assisting in combating unemployment, especially in fields where opportunities in some industries are increasingly available but are not being filled due to a lack of specific skills tailored towards these growing industries amongst Jordanian youth.
In a meeting with youth beneficiaries, trainees and representatives of the private sector, Her Majesty highlighted the importance of public private partnerships in providing the new generation of job seekers with the soft and technical skills required in the current competitive job market. The Queen commended the private sector for its role in providing qualified trainers, training and job opportunities for VTC trainees.
As part of the VTC training program, youth undergo both theoretical and practical training in the different fields. In their practical training the vocational training center partners them with private companies (relevant to their course) to intern and receive firsthand experience from experts in the field.
There are currently 42 VTC centers in Jordan employing 1300 people and training about 7,500 students on regular 1-2 year programs, in addition to 3,000 students enrolled in short term programs. The most popular specializations include trade areas like electricity, mechanics, and IT.

Queen Rania's official website
This website does not support old browsers. To view this website, Please upgrade your browser to IE 9 or greater
Your browser is out of date. It has known security flaws and may not display all features of this and other websites. Learn how to update your browser