Queen Rania Launches Edraak, an Arab Non-profit MOOC Platform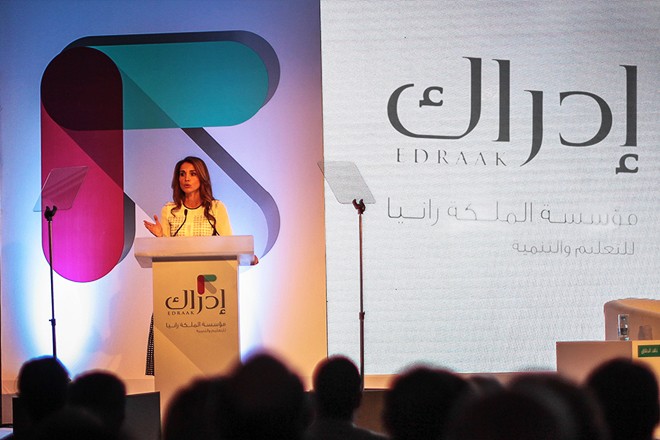 (Office of Her Majesty- Press Department- Amman) Today, Her Majesty Queen Rania Al Abdullah launched Edraak, a not-for-profit platform for Massive Open Online Courses (MOOCs) in Arabic. The platform will bring the education power of MOOCs to the Arab world and is a reflection of Her Majesty's commitment to expanding access to quality education across the region.
Edraak, an initiative of the Queen Rania Foundation for Education and Development (QRF), was developed based on edX technology, a leading global MOOC provider founded by Harvard and MIT. The platform will offer Arab learners access to courses taught at universities such as Harvard, MIT, and UC Berkeley, amongst others, at no cost to the learner, with the potential to earn certificates of mastery for certain courses. In addition, Edraak will develop its own courses in Arabic taught by leading Arab faculty members and well-known professionals in a variety of fields, offering original Arabic content.
The launch ceremony, which took place in Amman, was attended by Minister of Education H>E. Dr. Mohammad Thneibat, Minister of Labour and Minister of Tourism and Antiquities, H.E. Dr. Nidal Al Qatameen, Minister of Higher Education and Scientific Research H.E. Prof. Amin Mahmoud, as well as different local and regional media outlets.
Speaking at the launch, Her Majesty highlighted some of the challenges faced by the Arab world; from poor quality of education and graduates' inability to meet the demands of the job market, to the limited number of global scientific publications released and the scarcity of exports in advanced technology as well as the skills gap in the region.
Queen Rania stressed to the audience that "the world around us is speeding toward a future where ideas, knowledge and skills are the founding blocks of prosperity, while we drift at the bottom of global rankings in terms of knowledge, and in terms of how and what we produce…"
Queen Rania continued, saying that "transformative shifts usually happen when need and opportunity meet. We desperately need quality education, and online learning is our opportunity."
The Queen noted that the Arab world has a chance to acquire capabilities and skills needed to catch up and realize transformative leaps.
"We launched Edraak as a realization of what we have already missed and as a way to catch up to a future befitting of us, of our history and of the message that was sent to us, urging us to "Read"."
Queen Rania noted that there are millions of portals rich with knowledge, and that millions of brains are pouring the products of their research and experiences online from which the world can benefit."Today, knowledge is available for those who seek it, and education is there for those who want it," she added.
"Edraak will broadcast the best in the Arab world and it will translate the best internationally," The Queen pointed out.
"Although online learning is not a solution to all our problems, quality education that is open to everyone is an opportunity to increase our knowledge, and raise the potential of the region," The Queen said. She also noted that what was exclusively limited to "the few that knew" is now open to everybody who wants to know and read.
In her speech, Queen Rania thanked all partners and stakeholders for their support. The Queen expressed her deep appreciation to the Crown Prince of Abu Dhabi, Sheikh Mohammad bin Zayed Al Nahyan for his commitment to education and youth in the Arab world. She also thanked the Mikati Foundation for its support.
Mr. Anant Agarwal, edX CEO also spoke at the event and said "when we launched edX two years ago, we hoped that our mission and work would help drive educational opportunities worldwide."
"With our partner, the Queen Rania Foundation for Education and Development, we have made this dream a reality, and today we realize our shared vision to increase access to education for millions of Arabic-speaking students around the globe with Edraak, which will bring the transformational power of education to the Arab world and intellectually hungry youth," Mr. Anant added.
QRF CEO Haifa Dia Al-Attia said that they are pleased with the enthusiasm the initiative has been received with by youth and Arab academics, who are working at the best universities across the world. She added that in the past 2 weeks, more than 35 thousand users have registered for Edraak's courses which will start next June.
The launch also featured a panel discussion that included Chairman of the Board of QRF HE Said Darwazeh, Advisor to the Saudi Minister of Labor Ms. Maha Al Taibeh, Associate Professor of Practice, Faculty Developer at Center for Learning and Teaching at AUC Ms. Maha Bali, and Assistant Professor in the School of Business and School of Global Affairs and Public Policy at AUC, Dr. Mohammad Al Ississ. The session was moderated by Mr. Nafez Dakkak, Manager of Edraak.
Panelists discussed the advantages of distance learning highlighting the positive effect of such a platform on youth in Jordan and the Arab world. The discussion covered this topic from the perspective of learners, teachers, and the public and the private sectors. Panelists also shed light on the huge opportunities that Edraak will provide Arab youth with.
Edraak will start by providing a number of courses in June 2014, while a new set of courses will be offered towards the end of August. Users can register through the Edraak website www.edraak.org.
The list of ten courses already available on the portal include, amongst others, "Introduction to Computer Science" and "Circuits and Electronics" provided by MITx, as well as "Winning Job Search Strategies", "CV and Cover Letter Writing" and "Personal Branding" courses provided by Bayt.com.


Queen Rania's official website
This website does not support old browsers. To view this website, Please upgrade your browser to IE 9 or greater
Your browser is out of date. It has known security flaws and may not display all features of this and other websites. Learn how to update your browser