Queen Rania Accompanies Duchess of Cornwall to Madrasati School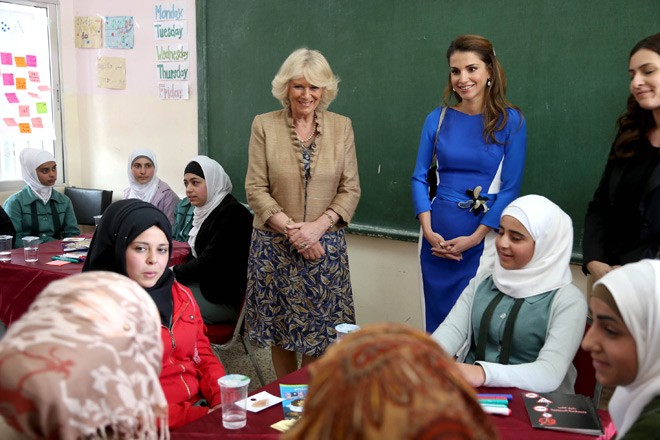 (Office of Her Majesty – Press Department – Amman) - To take a firsthand look at the impact Madrasati and its civil society partners have had on education in Jordan, Her Majesty Queen Rania Al Abdullah accompanied Camilla, the Duchess of Cornwall, on a visit to the Mahis Secondary School for Girls.
Duchess Camilla, who is accompanying her husband Prince Charles, the Prince of Wales, on his three-day visit to Jordan, caught a glimpse of the different elements Madrasati and its partners work on within the schools, such as technology in education, health awareness, and volunteerism which aim to improve the quality of educational programs.
The Queen, Duchess Camilla, and HRH Princess Wejdan Bint Fawaz, who also visited the school, were received with a folklore dance performed by a group of students, then headed to check on the different activities undertaken by Madrasati. Ms. Danah Dajani, Director of Madrasati, and Ms. Razan Al Zo'bi, the School Principal, also accompanied them on their tour.
Dajani gave a brief presentation on the initiative and explained how, since first launched by Queen Rania in 2008, Madrasati has been establishing public-private partnerships that aim at renovating and enriching the learning environment of 500 public schools across Jordan in urgent need of repair.
At the school library, Her Majesty and Duchess Camilla listened to a group of students talk about the use of technology in their classrooms, which is integrated by the Jordan Education Initiative (JEI), an initiative that works along with Madrasati to improve the quality of education in public schools.

Ms. Rana Madani, Deputy Chief Executive Officer of JEI gave a brief about JEI's Discovery Schools which use technology and the internet to engage students in new ways, create learning strategies that are research and project-oriented, and get students involved in shaping their own education.
Launched in partnership with the World Economic Forum in 2003 and Cisco Systems, JEI explores how technology can be effectively used to encourage innovation in both teachers and students. It involves the development and implementation of several e-learning curricula in public schools across the kingdom.
Queen Rania and the Duchess then dropped in on an interactive session about diversity and tolerance. Students explained their take on how diversity enriches communities and helps them progress, adding that Jordan is distinguished because of its open-mindedness, tolerance and ambition.
The Queen and the Duchess also checked on some activities implemented by the Royal Health Awareness Society (RHAS), which was established in 2005 and has been collaborating with Madrasati to improve hygiene, health, fitness, and nutrition among Jordanian children and their families.
RHAS Director General Ms. Enaam Barrishi talked about the Healthy Schools program which is an accreditation program that sets standards for schools to reach in order to foster a healthy environment for living, learning, and working.
Her Majesty and the Duchess also stopped by "Katie's Readers" group, a program founded by one of Madrasati's volunteers, Ms. Angela Ressa. This program encourages students to learn English from native speakers who spend at least 2 hours per week in various Madrasati schools reading stories and playing games with the students.
Also during their visit, the Queen and Duchess watched part of a basketball game organized by IRMAH, an independent youth initiative which aims to bring students together from private and public schools once a week to play basketball.
Mahis Secondary School, which is one of Madrasati phase II schools, has 568 students from 7th to 12th grade, and 40 teachers and administrative staff.

Queen Rania's official website
This website does not support old browsers. To view this website, Please upgrade your browser to IE 9 or greater
Your browser is out of date. It has known security flaws and may not display all features of this and other websites. Learn how to update your browser