Queen Rania Visits Al Tafileh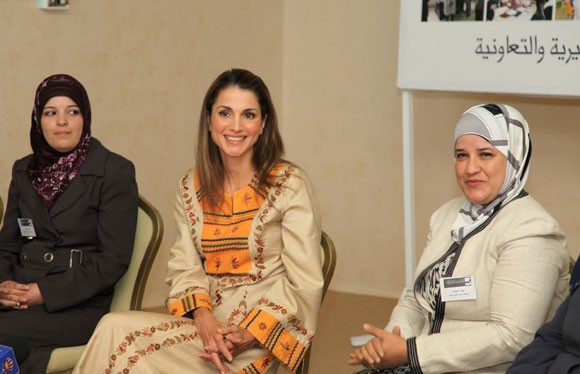 (Office of Her Majesty, Press Department- Amman) – Her Majesty Queen Rania visited Al Tafileh Governorate today to meet with local representatives of cooperative and charitable organizations. She also checked the Jordan River Foundation (JRF) all encompassing capacity building programs which cover an entire governorate.

First stop on Her Majesty's visit was the "Abna'a Al Tafileh" Association for Special Needs, where she was briefed by Eng. Ghaleb Qudah, about the three main components of the Tafileh Governorate intervention programs by JRF. The components include, capacity building training for local cooperative and charitable organizations, rehabilitation of local family and childcare organizations and rehabilitation of local youth programs to increase their effectiveness and feasibility.

During Her visit to the association, Her Majesty participated in part of a training program and capacity building session for 30 community based organizations in Tafileh. During the session, members from the participating associations discussed with Her Majesty some of their proposed projects.

During the discussion Her Majesty thanked the people of Al-Tafileh for their hospitality and hard work. She commended the efforts she saw at play in the governorate, saying they reflected His Majesty King Abdullah II's vision, where active citizens and NGOs participation is shaping the future of sustainable development in the governorate. Her Majesty also stressed the importance of partnerships amongst public, private and local cooperatives to achieve their sustainable development goals.

Her Majesty advised participants to cater to the needs of the consumer when planning their products, insuring demand in the market and thus generating more profit for the local community.

Queen Rania, accompanied by H.E. Suzanne Afanah, Minister of Tourism and Antiquities, stressed the need to develop and promote the governorate's touristic attractions such as the Dana Natural Reserve, to generate more jobs and income for the local communities.

H.E. Jafaar Hassan, Minister of Planning and International Cooperation, stressed the government's commitment to support and fund such successful programs, and continue to help with their expansion.

Her Majesty expressed pride in the achievements and hard work of both JRF and the citizens of Tafileh, that she witnessed during Her visit.

Her Majesty toured the rest of the "Abna'a Al Tafileh" Association for Special Needs facilities, visited the crafts room and a workshop for mothers and teachers from the local community about "learning through play" for children. The participants explained that they learnt skills that they can apply in their homes and schools as well as the whole community at large.

Her Majesty also visited the "Shabat Al Tafileh Youth center" where she met with a group of 27 youth, divided into three groups representing the three main components of a JRF capacity training program in the center. Her Majesty listened to the participants explain the components that include the socio-economic training, the economic training and the sports component.

Queen Rania's official website
This website does not support old browsers. To view this website, Please upgrade your browser to IE 9 or greater
Your browser is out of date. It has known security flaws and may not display all features of this and other websites. Learn how to update your browser