Queen Rania Visits Al Salt and Checks on Madrasati Winter Camp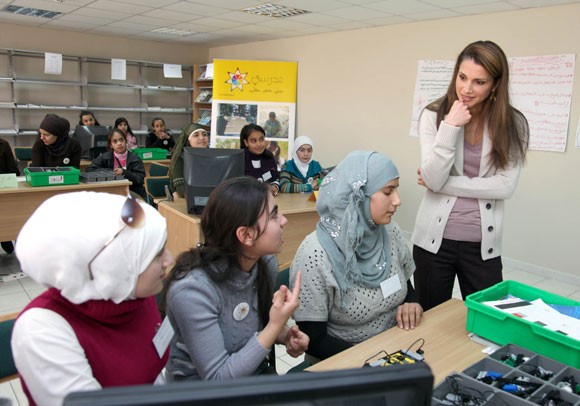 (Office of Her Majesty, Press Department- Al Salt) – Her Majesty Queen Rania Al Abdullah visited Al Balqa' Governorate Headquarters and the Musa Saket Community Center today, where the Madrasati Initiative is hosting winter camps for students from several schools in the area.

At the Balqa' Governorate Headquarters, Her Majesty met with Governor Fawaz Irshaidat, and more than 150 representatives from the governorate representing different community based organizations, local cooperatives and charitable societies. The local community shared with Her Majesty their achievements and challenges.

After meeting with the local representatives, Her Majesty complimented them on their efforts that helped raise the standards of living of local residents. Her Majesty also focused on the importance of sustainable and productive projects that can in turn bring back resources into the community.

Her Majesty also complimented the spirit of giving that She felt from the participants, adding that their best achievements are the ones which involve investing in the citizens themselves through training and building their skill sets.

Local community representatives stressed the importance of sustainable development in their social work, and the need for organizing their efforts to avoid the duplication of initiatives and to better share and combine their limited resources.

The representatives also presented Her Majesty with some of the challenges they face and suggested solutions that can be implemented to better facilitate their work in the area.

The Queen Also visited the Musa Saket Community center, where Her Majesty's Madrasati Initiative is hosting a three day summer camp for public schools students from the surrounding area. The idea of the camps is to provide students with the space to be creative, expressive and gain new skills.

Her Majesty toured the center's facilities where the winter camp activities take place including the Chess, music, critical thinking, animation, LEGO robotics, and the Kan Zamman (cultural and storytelling) Room.

All the activities focus on stimulating the students' intellect and providing them with new information in creative ways. Meanwhile the trainers come from different backgrounds and experiences, thus providing an opportunity for Madrasati to reach out to artists and other professionals in order to encourage a culture of volunteerism and fresh new ideas to be integrated within Madrasati.

The Musa Saket Centre is a community centre that offers various after-school activities for students, youth and the community. Madrasati has a partnership with the Centre whereby they have been hosting the Madrasati Summer Camps in its facilities for the past two years.

Queen Rania's official website
This website does not support old browsers. To view this website, Please upgrade your browser to IE 9 or greater
Your browser is out of date. It has known security flaws and may not display all features of this and other websites. Learn how to update your browser