Queen Rania Visits Ain Al Basha Health Center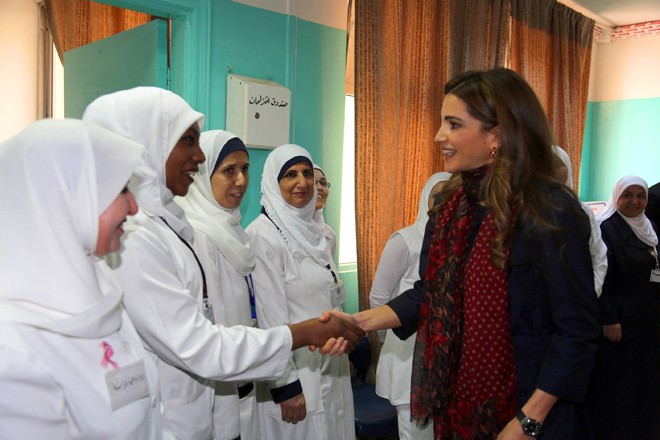 (Office of Her Majesty, Press Department- Amman) – Her Majesty Queen Rania Al Abdullah paid a visit to Ain Al Basha Health Center today where she checked up on the Royal Health Awareness Society (RHAS) programs in the center. The visit marks the launch of the Healthy Community Clinic Project, the first of its kind in Jordan in terms of the kind of services offered.
During the visit, Her Majesty was briefed on the project, met with beneficiaries and toured the center's facilities. She was accompanied by H.E. Abdul Al Lateef Wreikat, Minister of Health; Dr. Jamal Al Dabbas, Director of Ain Al Basha Health Center; and Enaam Barishi, Director of the RHAS.
The Queen had an open discussion with a group of beneficiaries about the benefits of the program and the direct effects of it on the lives of the local community and beneficiaries of the center. The discussion followed a brief presentation about the Healthy Community Clinic Project by RHAS Director.
"I consider this center a role model for other health centers in Jordan in terms of the quality level of services offered," said Her Majesty, adding that she's thankful to all those working tirelessly to keep it at that level.
The clinic project is implemented by RHAS and the Ministry of Health. Minister Wreikat spoke about the importance of such partnerships for the Ministry, adding that such projects complement the services offered by the center and increase health awareness in local communities.
The Healthy Community Clinic Project provides medical practitioners with resources to implement management and prevention-based care to patients in underserved communities. The medical staff is trained on classifying patients according to risk of developing specific preventable conditions, such as diabetes, hypertension and cardiovascular diseases in addition to classifying and managing patients who already have conditions of priority in the area like chronic diseases, reproductive health, dental health, cancer, and asthma. Smoking and obesity are included as risk factors.
After classification, the medical staff proceeds by planning awareness sessions and developing schedules for their patients to follow. Periodic follow up tests and meetings with dietitians and physical trainers are part of the Healthy Community Clinic protocol.
The project has been receiving patients since earlier this year and has benefited more than 200 local residents to date.
Following a comprehensive selection criteria, Ain Al Basha Health Center was selected to serve as the pilot project due to the area's high population density and low incomes. The center provides health services to up to 12,000 patients per month. Her Majesty had visited Ain Al Basha Health Center in 2001 and inaugurated the Mother and Child Clinic, the first of its kind at any health center at the time.

Queen Rania's official website
This website does not support old browsers. To view this website, Please upgrade your browser to IE 9 or greater
Your browser is out of date. It has known security flaws and may not display all features of this and other websites. Learn how to update your browser