Queen Rania Attends Greater Amman Municipality Showcase on Children Programs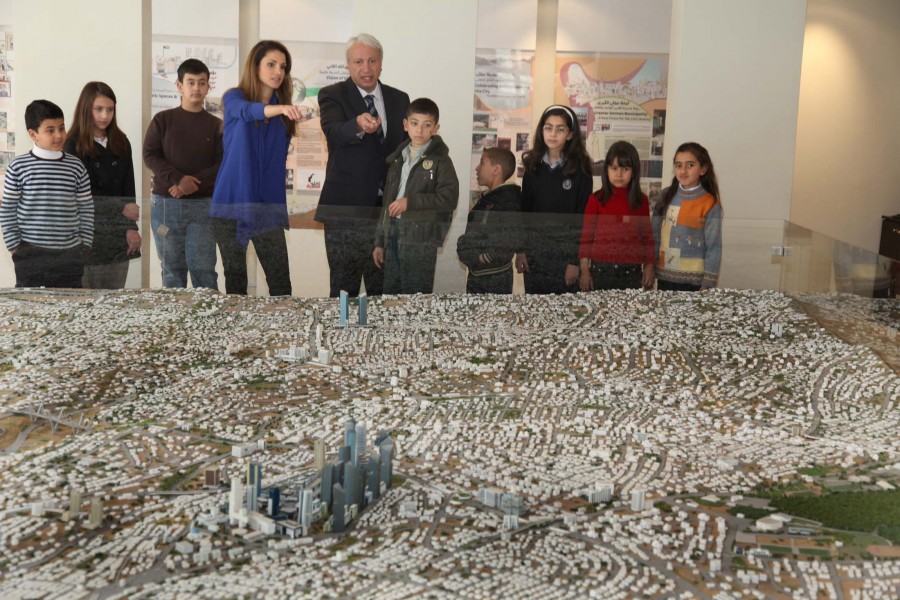 (Office of Her Majesty – Press Department – Amman) - Her Majesty Queen Rania Al Abdullah visited the Greater Amman Municipality (GAM) headquarters today to follow up on its children's programs and inaugurate the "View Amman" project.
Visiting the exhibit area, Her Majesty was briefed by Head of the Provisional Committee of GAM, Ammar Gharaibeh, on the project, the Amman Children's Map, the King Abdullah II House of Culture & Art and GAM's future projects.
The "View Amman" exhibition provides information on today's planning efforts. It's the first permanent exhibition space dedicated to the future of the city's architecture. It documents major developments across the city and demonstrates Amman's existing urban form, highlighting the forthcoming major developments in the city.
The Exhibition explores the city of Amman through the Amman Model, a 6x8 meters representation that covers 99 square kilometers of Amman, highlighting its landmarks; Narrating Amman, which exhibits panels presenting the story of Amman; the Children's Corner which includes the Amman Children Map; and the King Abdullah II House of Culture & Art.
As part of the visit, Her Majesty passed by the "Arts for All" section, where 15 children were participating in a painting workshop for Amman Map.
Her Majesty was briefed on "The Mystery Kite story" publication, which is part of the "Explore My City Program" by the Amman Institute for Urban Development. The Queen met with the eight children who wrote the story, the illustrator, editor, and supervisor, who briefed her on why and how they developed the story ideas.
Queen Rania also stopped by two Mystery Kite story workshops. The first was with a group of children, where a storyteller was reading the story followed by discussion on how they perceived the content of the story. The second was with a group of 20 teachers discussing how they will use it as a tool for educating their students.
"Explore my City" is a new program by Amman Institute for Urban Development dedicated to children, orienting them and teaching them to be active participants in building their community. The program's main aim is to develop a sense of citizenship towards the child's street, neighborhood, and his city as a whole.
Her Majesty stopped by the Children City Council assembly, where members were discussing the Terms of Reference for community committees and their roles in serving communities in districts.
The Council was created to help the children better express their opinions and participate, empowering children and youth to take part of the decision-making process. The council includes 158 elected students from nine areas in Amman, who come from public, private and UNRWA schools.

Queen Rania's official website
This website does not support old browsers. To view this website, Please upgrade your browser to IE 9 or greater
Your browser is out of date. It has known security flaws and may not display all features of this and other websites. Learn how to update your browser