At Education Cannot Wait Conference, Queen Rania Highlights Need for Education During Emergencies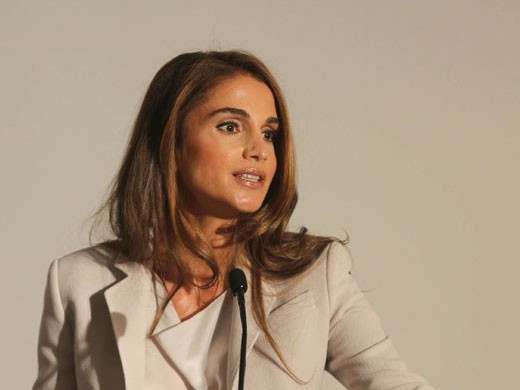 (Office of Her Majesty- Press Department- New York) Her Majesty Queen Rania Al Abdullah addressed, yesterday, the "Education Cannot Wait" conference held in New York for the second consecutive year in support of the Global Education First Initiative (GEFI) launched last year by UN Secretary-General Ban Ki Moon, and attended by Her Majesty.
The conference, which gathered around 150 global leaders from governments, international organizations and civil society to ensure that children and youths' rights to quality education are protected in humanitarian emergencies and conflict situations, warned that more than 28 million children in countries affected by conflict are still being denied access to learning and that they must not be made to wait any longer for an education.
During her speech, Queen Rania assured that the main message behind this conference is that children need education especially in the times of emergency and conflict, because that's when they need it the most.
Her Majesty, who is UNICEF's first eminent advocate for children said: "As a mother, as a proud advocate for UNICEF, and as a member of the global community, it makes me angry that education in emergencies is such a low priority and so terribly underfunded. It's hard to understand the indifference of decision-makers when the evidence for education in crises is so compelling and heartbreaking."
"They need education now," Queen Rania noted, "not only so that they grow up with the tools for good jobs, but so that they grow up to be better people, better global citizens, adults who forgive, tolerate, build bridges, help their neighbours, and live in blessed peace."
In her speech, Her Majesty thanked UNICEF and its partners for being a lifeline for children in the times of conflict and for all the efforts they are making to meet daily challenges inflicted by emergencies.
Queen Rania also took the opportunity to thank Jordanians for the hospitality and warmth they have shown towards Syrian refugees: "I want to record my gratitude to the people of Jordan who, facing hardships of their own, have welcomed thousands of Syrians into their communities and schools. Jordan may be resource poor but our people are rich in human kindness. Jordanian children and Syrian children sit side by side in cramped classrooms, sharing teachers and books."
"But thousands more still need our help," Her Majesty added.
The Queen, also a member of U.N. Secretary General's High-level Panel (HLP) formed to advise on the global development agenda beyond 2015, continued on to say: "More than two years on, we must re-energize global efforts so that no school finds itself on the frontline and no child is deprived of learning. In fact, that's one of our recommendations on the post-2015 High Level Panel."
Before giving Her speech, Queen Rania was introduced by Mr. Gordon Brown who is the United Nations Special Envoy for Global Education, and who thanked Her Majesty for her continuous efforts to advocate for global education.
As revealed by numbers in a recent UNESCO-Global Monitoring Report, the share of funding for education in emergencies has fallen to about 1.4 percent of total humanitarian funding. The report also shows that the number of out-of school children in conflict situations is estimated to have increased from 40 to 50 percent.
Recognizing this and that quality education requires huge investment and planning, leaders at the conference made a united call for more planning for emergency prevention and integration of emergency preparedness and recovery in education sector plans and national budgets, prioritizing education in emergencies by increasing humanitarian aid to education and improving the way its delivered on the ground, and protecting children, teachers and education facilities from attacks.
Leaders also agreed that education must play a central role in any post-2015 development plans.
Other speakers at the conference included UNICEF Executive Director Mr. Anthony Lake, who praised Jordan for what it's doing to help Syrian refugees and thanked Their Majesties King Abdullah and Queen Rania for their efforts to improve education. The conference was also addressed by Director-General of UNESCO Ms. Irina Bokova, Chief Executive Officer of the Global Partnership for Education Ms. Alice Albright, Jordanian UN Special Envoy on Youth Mr. Ahmed Al Hindawi and others.
The list of participating organizations in the conference included UNICEF, Save the Children, Global Partnership for Education, Office of the United Nations Special Envoy for Global Education, International Network for Education in Emergencies (INEE), Education Cluster, UNESCO, UNESCO-IIEP, Global Coalition to Protect Education from Attack, UNHCR and Plan International.
Global Education First Initiative (GEFI) is a five-year initiative launched in September 2012 to give a "big push" to the global movement for education - by 2015 and beyond. It focuses on three priorities; putting every child in school, improve the quality of learning, and foster global citizenship.
Later on today, Queen Rania will also participate in the Clinton Global Initiative's (CGI) broadcast conversation session titled "Advancing Progress: Investing in Health and Education Women and Girls", alongside Ms. Hillary Clinton, Ms. Melinda Gates and Professor Muhammad Yunus.
Moderated by Neurosurgeon Dr. Sanjay Gupta, the session will focus on specific approaches that enable women and girls worldwide to learn, earn, thrive, and control their own destinies and explore critical considerations for achieving the next generation of global developments objectives. The session will be aired on CNN.
Featured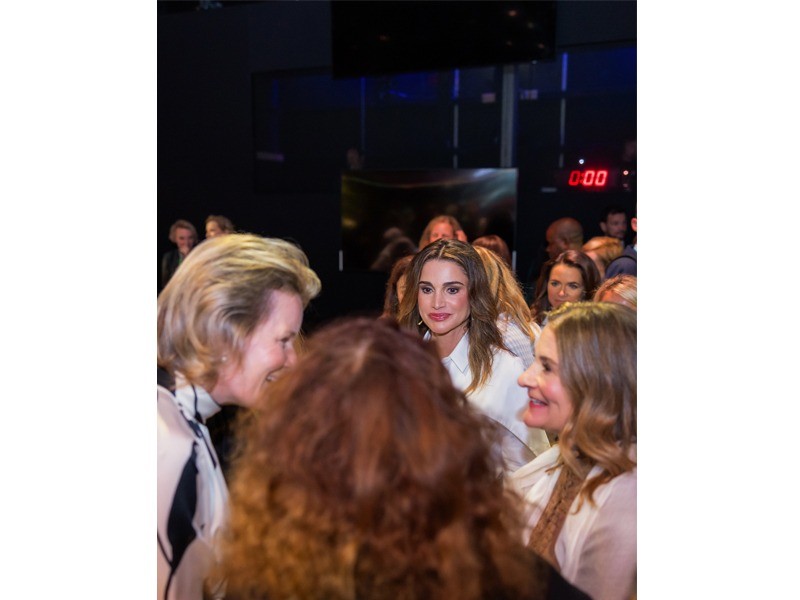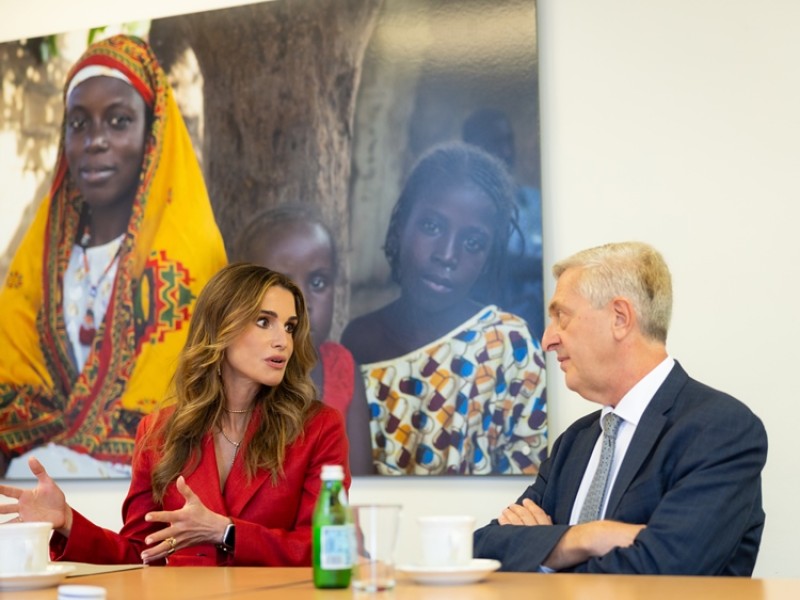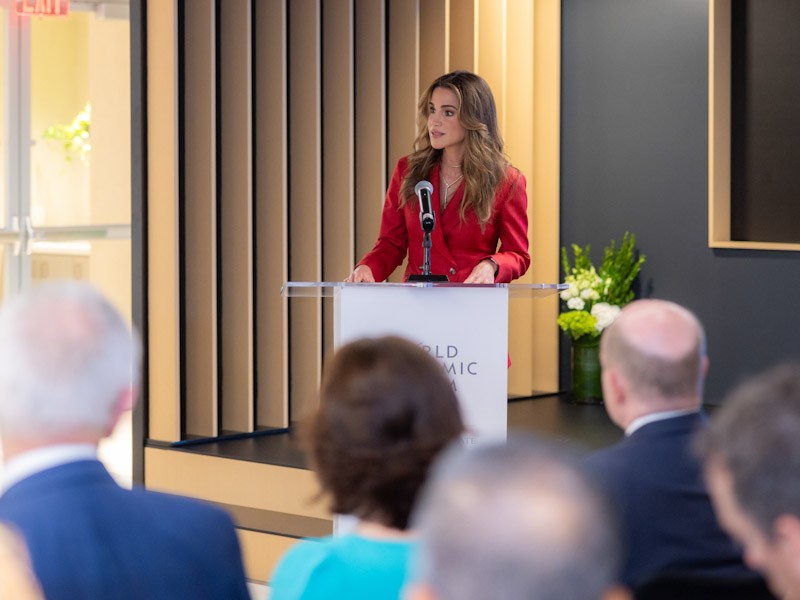 Queen Rania's official website
This website does not support old browsers. To view this website, Please upgrade your browser to IE 9 or greater
Your browser is out of date. It has known security flaws and may not display all features of this and other websites. Learn how to update your browser