1GOAL Welcome's Archbishop Desmond Tutu as Co-chair of the Campaign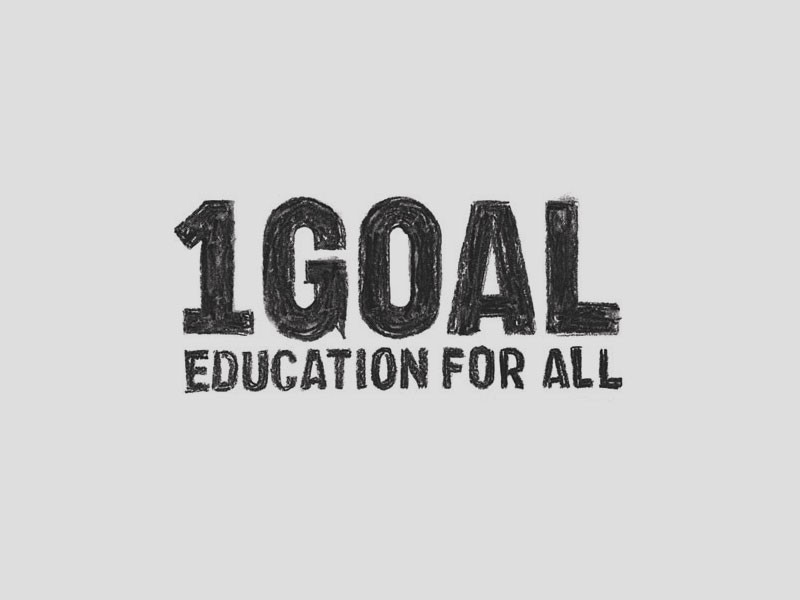 Today, 1GOAL an education campaign backed by over 100 charities and education organisations including ActionAid, Save the Children and Oxfam welcomed Emeritus Professor Archbishop Desmond Tutu as the co-chair of the 1GOAL campaign. He joins Her Majesty Queen Rania of Jordan and President of FIFA Sepp Blatter in leading the campaign as it enters its critical countdown period for the World Cup.
Emeritus Archbishop Desmond Tutu said: "It's a real honour to join Her Majesty Queen Rania and President Blatter in chairing the 1GOAL campaign which strives to get all the world's children into school. Education is the engine through which development can be powered, both for the individual in opening up new opportunities as well as for countries seeking to move out of the fierce grip of poverty. This year's World Cup in South Africa provides a platform to deliver a lasting legacy that will last for generations. I am proud to join this movement and hope lots of others will join me in showing their support for 1GOAL: Education for All."
Archbishop Tutu's support for the campaign will help to raise additional awareness and boost the international momentum behind 1GOAL and its call to ensure that every child on earth has the chance to go to school. Already some 8 million people have signed up to show their support for the campaign which is supported by some of the biggest names in football including Eusebio, Pele, Rio Ferdinand and Alessandro del Piero.
Her Majesty Queen Rania of Jordan Global Co-Chair and Co-Founder of the 1GOAL campaign said: "I'm delighted that Archbishop Tutu is joining me as global co-chair of 1GOAL; the moral gravitas and global respect he brings to the position will undoubtedly raise the profile of the campaign, and bring us closer to getting 72 million children into school."
The football world and FIFA are backing 1GOAL to leave a unique legacy of increasing the investment in education and calling on further investments in aid for education both from the international community to increase funding from $4 bn a year to $16 and for poor countries to increase their spending to 20% of their budgets on education.
President of FIFA, Sepp Blatter and co-chair of the 1GOAL campaign said: "I am delighted that Archbishop Desmond Tutu is joining the 1GOAL team as global co-chair. As well as being a Nobel Peace Prize winner, the Archbishop is renowned for his tireless fight against social inequality, including his commitment to ensuring improved medical care on the African continent.
1GOAL is fortunate to have a man of his stature back our campaign."
People can show their support for 1GOAL by signing up at www.join1goal.org or on facebook or twitter (@join1goal). Thanks to MTN, people in South African can also send a free SMS with the word 'yes' to 30571.
ENDS
For more information contact:
Richard Lee, SA Media Manager for 1GOAL: 082 820 7637, Richard@join1goal.org
Notes to editors: Footage and stills of 1GOAL ambassadors are available.
1GOAL is an initiative to mobilise support to hold world leaders to these promises for 2015 and is run by the Global Campaign for Education and is part of a large global education initiative. In 2000, 164 world governments came together to create the UN Millennium Development Goals. 2 of the 8 goals involve ending poverty through providing education for all which ensured that all boys and girls complete primary schooling by 2015. Since then many countries have abolished school fees, spending was increased by $4 billion and an extra 40 million children are now going to school. However today 72 million children are still unable to go to school and this year 1GOAL and its partners are working to change this www.join1goal.org.

Queen Rania's official website
This website does not support old browsers. To view this website, Please upgrade your browser to IE 9 or greater
Your browser is out of date. It has known security flaws and may not display all features of this and other websites. Learn how to update your browser