Queen Rania Visits the Urban Development Charitable Society in Bait Ras Village in Irbid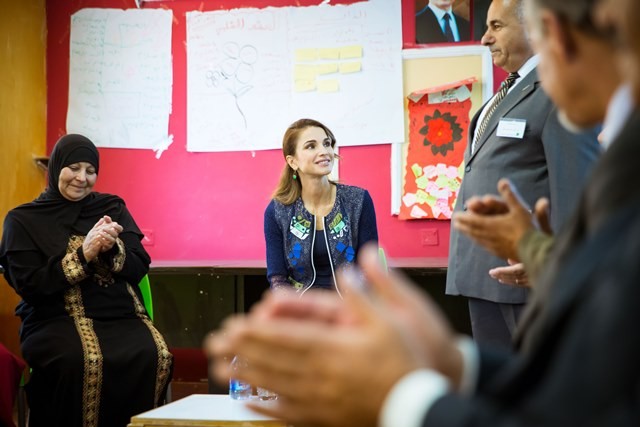 (Office of Her Majesty – Press Department – Irbid) Her Majesty Queen Rania Al Abdullah visited the Urban Development Charitable Society in Bait Ras Village in Irbid on Tuesday, where she met with some of its members and beneficiaries.
Society President Mr. Ahmad Malabeh briefed Her Majesty on the programs and activities offered by the society, in the presence of Irbid mayor Hussein Bani Hani.
Mala'beh explained that the society received a grant from the "Community Based Initiatives for Water Demand Management" Project implemented by Mercy Corps, and funded by USAID, to carry out water efficiency projects. So far 16 water wells have been built in the area.
Her Majesty also received a briefing on the "Makani" (My Space) initiative, which is a project launched by UNICEF in 2014 and implemented across the kingdom. Mala'beh said that "Makani" centers provide a safe environment and a wide range of programs, including informal education to out of school children, as well as psychosocial support and guidance. The center's services are available to both Jordanian citizens and non-Jordanian residents.
During her tour of the facility, Queen Rania also attended part of a civic participation and governance workshop conducted by the National Democratic Institute (NDI) and funded by USAID. The workshop aims to promote community awareness about issues relating to democracy and the decentralization of power.
The Society has also made significant efforts in the inclusion of persons with disabilities by participating in the implementation of a project called "Integrating Disabled Persons within Jordanian Society." The project, which is funded by USAID and Mercy Corps and implemented in cooperation with the Ministry of Social Development, provides support to disabled people to help them to become productive members of their community.
In addition, the society has received a grant to implement "Nubader" youth project. Developed under the "No Lost Generation" campaign, in cooperation with Mercy Corps, and funded by the Department of Foreign Affairs, Trade and Development - Canada (DFATD), the project has provided 43 job opportunities for youth and trained 850 more on life and vocational skills.
The society has also granted 105 revolving loans to members wishing to start small businesses. It has worked with the Jordan River Foundation (JRF) on installing solar water heating systems for 58 homes in the village.
The Urban Development Charitable Society was established in 1998 in Bait Ras Village, Irbid with the objectives of establishing several small to medium-sized projects to improve the livelihoods of its members, holding workshops and awareness sessions, and supporting underprivileged families in the community. The society's general assembly consists of 35 members, seven of whom are members of the board of directors.

Queen Rania's official website
This website does not support old browsers. To view this website, Please upgrade your browser to IE 9 or greater
Your browser is out of date. It has known security flaws and may not display all features of this and other websites. Learn how to update your browser