Queen Rania Visits Technology Startup Mixed Dimensions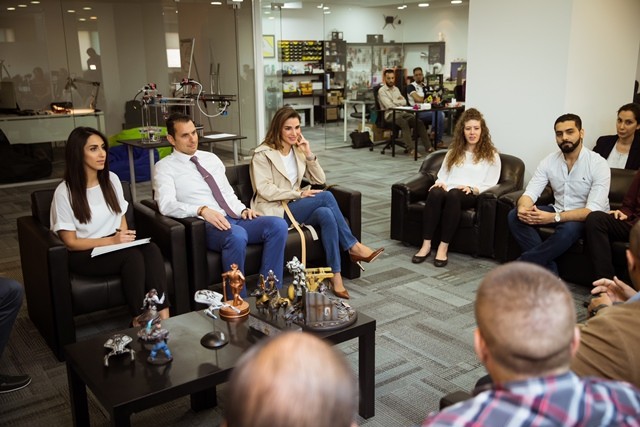 (Office of Her Majesty – Press Department – Amman) - Her Majesty Queen Rania Al Abdullah visited the offices of Mixed Dimensions on Monday, where she met with staff of the software technology company and discussed its successful transition onto the global tech startup scene.
Specialized in 3D printing, gaming, and computer-aided design (CAD), Mixed Dimensions is a U.S.-Jordanian startup that aims to increase the availability of relevant 3D-printable content. The company currently serves more than 100,000 users across the world.
Her Majesty was received at the startup's Amman office by its co-founders, CEO Muhannad Taslaq and Chief Technical Officer Baha Abu Nojaim. She met with members of Mixed Dimensions' management team, who briefed her about the company's services, various challenges faced by the 3D printing and tech industries, and Mixed Dimensions' vision of becoming "the postscript of 3D printing."
Queen Rania commended the startup for demonstrating passion, dedication, and persistence toward achieving its goals. She also described Mixed Dimensions as a model Jordanian success story, which should be taught at Jordanian universities as a case study in how to flourish in the local business environment.
The Queen went on to underscore the importance of bridging the gap between the skills taught in classrooms and those needed in the labor market. She also underlined the need to overcome the pervasive culture of fear, which prevents companies from experimenting and learning from their mistakes in order to build experience and develop successful businesses.
Launched in Jordan in 2009, Mixed Dimension sought foreign investments after facing difficulties in the local marketplace. The startup became an incorporated business in 2013 shortly after joining Alchemist Accelerator, a venture-backed accelerator program based in San Francisco.
Considered a pioneer in its field, the company has registered patents for an automated 3D file reconstruction methodology that reduces the time, cost, and effort needed to prepare content for 3D printing.
During her visit, Queen Rania was introduced to the company's three distinct products: MakePrintable, a cloud-based tool capable of healing 3D models; GamePrint, which uses 3D printing technology to allow video gamers to capture gameplay moments; and 3DCollectible, which transforms 3D models into high-quality customized collectibles.
While touring the startup's offices, Her Majesty chatted with members of the Mixed Dimensions team, who explained to her their ongoing work in 3D design, patents, problem-solving, and algorithms.
Mixed Dimensions is also home to an internship program known as Hackatari, which offers mentorship and hands-on work experience in building and managing software products. Through Hackatari, the startup aims to build the capacity of the next generation of software engineers, nurturing their skills in research and development as well as product and web development.

Queen Rania's official website
This website does not support old browsers. To view this website, Please upgrade your browser to IE 9 or greater
Your browser is out of date. It has known security flaws and may not display all features of this and other websites. Learn how to update your browser