Queen Rania Visits Offices of Youth-led Organization Leaders of Tomorrow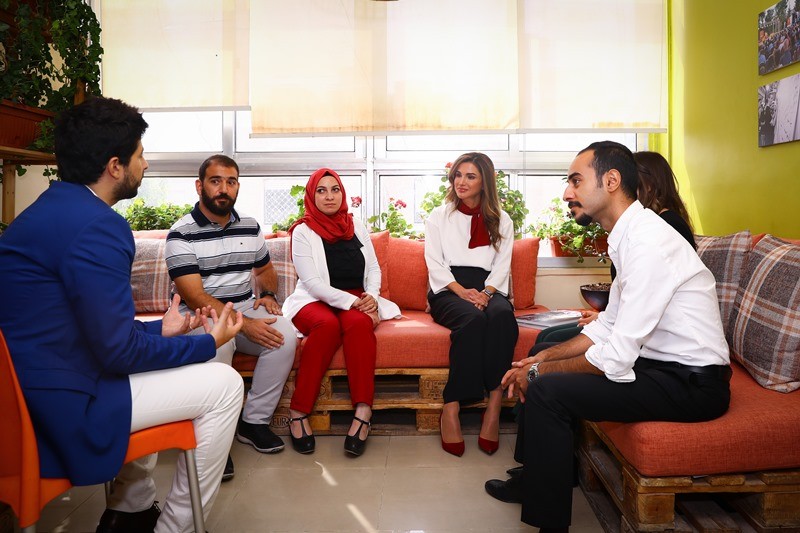 (Office of Her Majesty – Press Department – Amman) - In a visit to the offices of Leaders of Tomorrow on Tuesday, Her Majesty Queen Rania Al Abdullah commended the organization on its efforts to build opportunities and increase youth engagement in the community.
Leaders of Tomorrow has been active in Jordan and across the region since 2007. By reviving public spaces and introducing a number of innovative tools, the organization builds social cohesion among youth from different socioeconomic and educational backgrounds, while also advancing youth development.
In a meeting with the Jordanian non-profit organization's management team, its founder and director, Dr. Sami Hourani, explained how Leaders of Tomorrow aims to build a community of young Arab leaders who are educated, proactive, and capable of serving their local communities creatively through initiatives that promote innovation and social cohesion among Jordan's youth.
These initiatives include 'Diwanieh,' which stages public debates to encourage free and open dialogue between youth and decision makers. Since its establishment two years ago, Diwanieh has hosted 15 youth-led debates, attended by approximately 10,000 people.
Speaking to the organization's youth leaders, Her Majesty underscored the importance of cultivating a culture where open debate and dialogue can thrive, as well as the importance of respecting other people's informed opinions, based on facts and figures.
Other ongoing Leaders of Tomorrow initiatives include 'Fadfed,' a qualitative research methodology that encourages youth to share their thoughts without inhibitions, as well as 'Mo7aka,' which uses an innovative form of role play to deliver gender awareness training and encourage empathy for others.
Her Majesty also met with the team behind FORSA, a free online platform launched by Leaders of Tomorrow in 2011. FORSA reaches more than 2 million youth across the region each week, and provides around 3,500 quality educational and capacity-building opportunities per year, including jobs, internships, scholarships, trainings, and online courses.
The FORSA team briefed the Queen on a number of projects under development, including the launch of aptitude and career tests and plans to use artificial intelligence (AI) to match youth with suitable educational opportunities.
In a meeting with some of its vendors, Her Majesty was also introduced to Souq Fann, a new online platform on which artists and artisans can showcase and sell their handmade local goods. The vendors explained how Souq Fann has opened new doors for their businesses, widening their audience while also ensuring them direct access to the revenue from every sale.
Souq Fann offers its vendors marketing consultations, packaging assistance, and door-to-door delivery, helping them grow their businesses and develop their skills while also giving customers around the world a window into Jordan's rich history and culture.
In the few weeks since its launch, 25 vendors have been chosen to launch online stores on the platform from among 230 applicants. Each application undergoes a review to ensure that all products comply with Souq Fann's quality standards.

Queen Rania's official website
This website does not support old browsers. To view this website, Please upgrade your browser to IE 9 or greater
Your browser is out of date. It has known security flaws and may not display all features of this and other websites. Learn how to update your browser