Queen Rania Visits Back-to-School Health Fair and Women's Association in Al Dulayl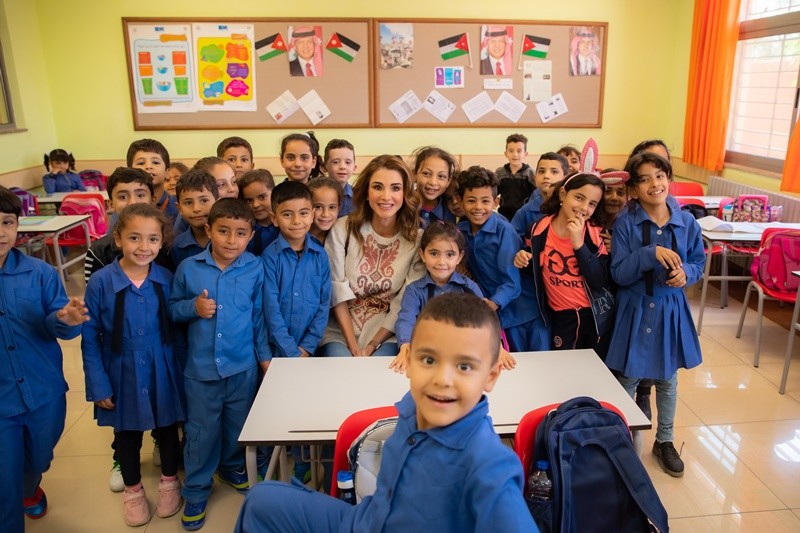 (Office of Her Majesty – Press Department – Zarqa) - Her Majesty Queen Rania Al Abdullah marked the start of the new school year with a visit to Al Dulayl in Zarqa Governorate on Wednesday, where she attended a school fair and learned about the impact of the Royal Health Awareness Society (RHAS) Healthy Kitchen Project on the local community.
Launched in 2015 in collaboration with the Ministry of Education, Ministry of Health, and the World Food Program (WFP), the Healthy Kitchen Project aims to provide nutritious meals to school students and promote healthier eating habits among Jordanian children. The project not only provides students with healthy alternatives, but also creates jobs in community-based productive kitchens.
Queen Rania was welcomed to Prince Abdullah Bin Al-Hussein District Secondary Mixed School by school principal, Rahmeh Mashaqbeh, and RHAS Director, Hanin Odeh, where 670 students from kindergarten to grade six are benefiting from the Healthy Kitchen Project's meals.
The Queen passed by the school's Health Fair, where she joined parents, teachers, and children for a series of fun and informative activities promoting oral hygiene, sports, road safety, and hydration. Organized as part of RHAS' Healthy School Program, the fair also offered free medical testing and awareness sessions on anemia and healthy dietary practices.
A total of 241 schools across Jordan are currently participating in the RHAS Healthy School Program. More than 110 schools received accreditation at the Gold, Silver, or Bronze levels for the 2018/2019 academic year, including 35 that maintained their Gold level accreditation from previous years.
Principal Mashaqbeh noted that her school, which is accredited at the Gold level, has seen positive results after implementing a number of RHAS health awareness projects, including Ajyal Salima, Think First, and Water Education. The Queen also heard from parents, who explained how the school's programs have inspired their families to eat healthier.
Her Majesty also visited Al Dulayl's Healthy Kitchen, operated by Al Dulayl Women's Association for Special Education, where she toured the kitchen's facilities and spoke with its field coordinators and employees. The kitchen provides jobs to 25 members of the local community and supplies nutritious meals to 4,750 students from 22 public schools in the area. It also provides 40 daily meals to students with disabilities.
Established in 2003, Al Dulayl Women's Association for Special Education aims to raise awareness on the rights of people with disabilities, build their skills, and create job opportunities for local community members. It also supports the integration of people with disabilities into society.
Queen Rania wrapped up her visit with a stop at the association's Vocational Training Center for Persons with Disabilities, which offers training programs on marketable skills such as sewing and beauty care.
Association President, Fatmeh Dahamsheh, explained how revenue generated from Al Dulayl's Healthy Kitchen is reinvested into the operations of the kitchen and vocational center, as well as physiotherapy sessions and a financial assistance program, in an effort to extend its impact far and wide across the local community.
Launched in 2015 as part of the Ministry of Education and WFP School Feeding Program, the Healthy Kitchen Project is currently being implemented in 283 schools in Madaba, Irbid, Ajloun, Zarqa, Mafraq, Balqa'a, and Karak, providing balanced meals to more than 57,400 students every school day.
The project has also created more than 300 jobs primarily for women, who are trained on meal production standards and the importance of healthy lifestyles.

Queen Rania's official website
This website does not support old browsers. To view this website, Please upgrade your browser to IE 9 or greater
Your browser is out of date. It has known security flaws and may not display all features of this and other websites. Learn how to update your browser