Queen Rania Visits Amman Design Week Venue in Downtown Amman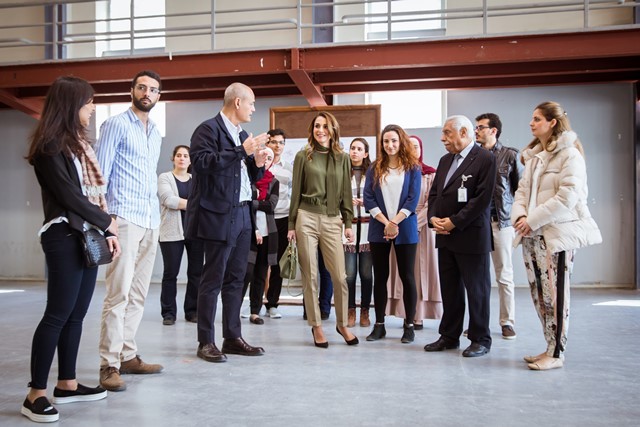 (Office of Her Majesty – Press Department – Amman) Her Majesty Queen Rania Al Abdullah explored on Wednesday the venue where Amman Design Week will be held in downtown Amman in September.
Supported by the Queen, Amman Design Week is an annual event that will bring together local, regional, and international designers to showcase their latest work, share ideas, and promote design and innovation.
Event co-directors Abeer Seikaly and Rana Beiruti briefed Her Majesty on the planned project's progress. Seikaly said the event aims to capitalize on Amman's diverse demographics to build a citywide platform based on forward design thinking and innovation, as key components of Jordanian society and economy.
Seikaly added that the week-long event will feature a series of engaging activities that will host keynote speakers and interactive workshops to highlight the importance of design in everyday life.
Beiruti explained that downtown Amman was chosen as a venue for the event because it combines heritage and modernity. She added that at the same time, the area is in need of creative design ideas that can improve the functionality of its public spaces. The event's various activities will be held in Ras Al Ain Gallery, the Greater Amman Municipality gardens, the Jordan museum, the old city commercial district, and the Raghadan Bus Station.
At the Ras Al Ain Gallery, Her Majesty met with Amman Mayor HE Dr. Aqel Biltaji and a group of seven young Jordanian urban designers and architects, who have volunteered to carry out urban planning research for the city of Amman.
The designers told Her Majesty that they are working with the Greater Amman Municipality on research that produces fresh ideas to revive the area and improve its public spaces.
Part of Amman Design Week will be dedicated to reimagining downtown Amman by carrying out experiments in urban design in order to boost the area's livability and promote it as a cultural hub.
Amman Design Week curator and exhibition designer Architect Sahel Hiyari briefed Her Majesty about his ideas for transforming the space at the gallery into the main exhibition hall, and the potential for the first design event of its kind to take place in Jordan.
Hiyari explained that the event will include works from all design fields including architecture, furniture, fashion, crafts, graphic and digital design by carefully chosen and highly original designers.
Her Majesty walked to the Jordan Museum through the Greater Amman Municipality garden, where she was briefed on suggested plans for upgrading the space there.
The event will also work to establish Amman as a potential hub for exchanging local and global designs, and provide an opportunity for networking among the design community.

Queen Rania's official website
This website does not support old browsers. To view this website, Please upgrade your browser to IE 9 or greater
Your browser is out of date. It has known security flaws and may not display all features of this and other websites. Learn how to update your browser