Queen Rania Urges Boldness in Bringing Hope and Dignity to Refugees at IRC Rescue Dinner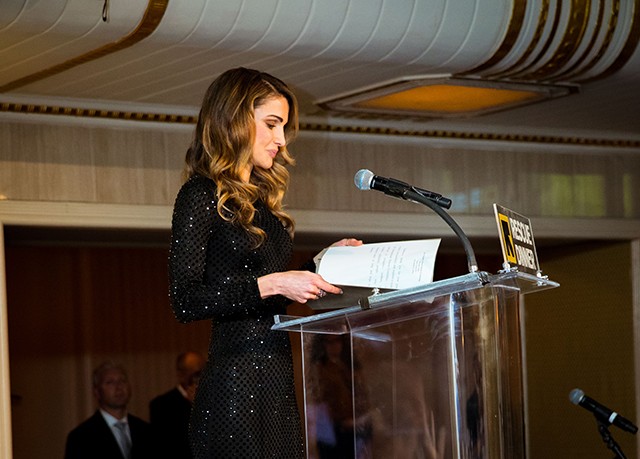 (Office of Her Majesty – Press Department – New York) - Queen Rania urged humanitarian workers to think "in bold and innovative ways" in order to instill new hope and dignity to those who have been affected by crises and conflicts in a speech she delivered at the International Rescue Committee's (IRC) Annual Rescue Dinner in New York.
Insisting that the world has never faced a larger, more urgent, or more heartbreaking humanitarian plight, the Queen called for a paradigm shift in the way the global community supports refugees and host communities.

Her Majesty said aid approaches must focus on long-term and sustainable strategies. She explained that refugees "need more than 'likes' on Facebook or Instagram pictures of their plight. They need results."
Queen Rania added that refugees need well-equipped classrooms "so their children can learn again," hot showers and nutritious meals, as well as training opportunities and jobs. "In short, they need some measure of 'normal' to restore equilibrium to their lives."
Describing the optimism she found in joining the IRC, Queen Rania added that "beyond the headlines of horror and heartbreak, there are so many stories of hope to celebrate." Her Majesty said, "the 'R' in its title might stand for 'rescue' in the short-term. But in the long-term, it stands for rekindling hope...rebuilding lives…and reimagining futures."

Queen Rania, who was appointed on the IRC's Board of Directors last June, commended the organization's inspiring work and its commitment towards aiding "the millions of refugees—mothers, fathers, children, vulnerable people—who are in desperate need of help and hope in equal measure." She also thanked IRC President and CEO David Miliband for his exemplary leadership, "that combines sharp intellect with compassion and political acumen."
In remarks introducing Her Majesty, Co-Chair of the IRC Board of Directors, Katherine Farley described Queen Rania as a powerful voice on refugees with an extraordinary passion for making a difference on behalf of the most vulnerable. She added that the Queen brings a distinctive viewpoint to IRC's board, especially on the vital issue of education for refugees.
Farley also noted that Jordan ranks as the top refugee hosting country in the world, having taken in millions of refugees from Iraq, Palestine, and Syria.

The Rescue Dinner is a fundraiser aimed at reinforcing the IRC's mission and global network, as well as recognizing those who have made distinguished contributions in the field. Mayor of Lesvos Spyros Galinos and the Mack family, which includes former Chairman and CEO of Morgan Stanley, John Mack, were this year's awardees.

Queen Rania's official website
This website does not support old browsers. To view this website, Please upgrade your browser to IE 9 or greater
Your browser is out of date. It has known security flaws and may not display all features of this and other websites. Learn how to update your browser