Queen Rania Receives Walther Rathenau Prize and Gives Speech at Award Ceremony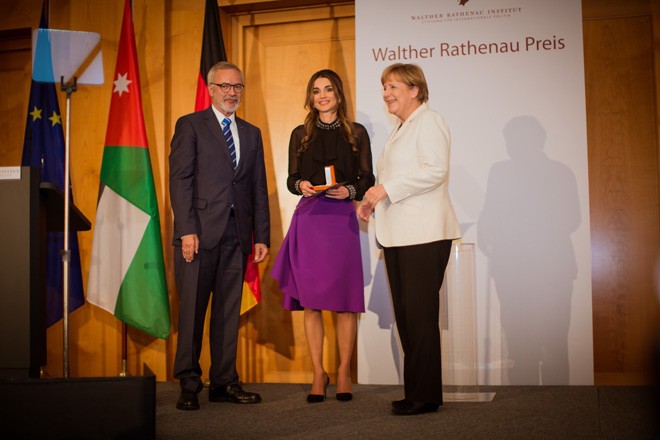 (Office of Her Majesty – Press Department – Berlin) - During her most recent visit to Berlin, Her Majesty Queen Rania Al Abdullah received the Walther Rathenau Prize in recognition of her work as an outstanding advocate for peace and understanding between East and West. She was presented the award by Chancellor Angela Merkel, and dedicated it to the people of Jordan.
The ceremony was held at the Federal Foreign Office in Berlin, and was attended by over 400 influential figures in politics, media, civil society and business.
Her Majesty began her speech and said, "I am humbled to accept this prize. And I do so on behalf of the people of Jordan who, everyday, through their words and actions, demonstrate the values that defined the life of Walther Rathenau. Values such as courage and compassion. Equality and understanding. Tolerance and mutual respect. In other words, basic human decency."
In her acceptance speech, Her Majesty also conveyed the pressing need for empathy and compassion, or "basic human decency," to awaken on a global level in response to the growing crisis of refugees and unnecessary suffering that prevails around the world today.
Queen Rania's speech began by recognizing the people of Germany's humanitarian contributions and relief efforts for those in need, particularly Syrian refugees. "The people of Germany," Her Majesty noted, "are imaging what the refugees have endured and what they have lost." She recalled the ability and power of imagination, combined with the willingness to understand the exhaustion, anxiety, and bewilderment that refugees might feel following their perilous journeys, to rally one's instinct to help.
Her Majesty also described the considerable effort that Jordan has committed to in receiving 1.4 million Syrians in Jordan, amounting to 20% of the population. Queen Rania recognized that, in addition to asylum and access to services like health and education, stood the individual acts of generosity, pointing to the "countless acts of kindness" that have been a part of the response. All this, Her Majesty insisted, "despite the fact, that we're burdened by poverty and unemployment." She noted, "We do our best with what we have. And I could not be more proud of the selflessness and kindness of Jordanians."
Queen Rania's speech called for a more empathetic "global family." She pressed her audience: "Without compassion, we weaken the very foundations of our common humanity," and pointing to the hyper-connectivity of our globalized world, she maintained that "basic human decency is the strongest currency our global family has."
After conveying the values that underpin global citizenship, Her Majesty continued to highlight the forces working against these ideals, among them, destructive and misleading language like the words used in headlines, hashtags, and sound bites that run through social media.
The interchangeability of "migrant" and "refugee" was one example of this violation that does not differentiate between the migrant's agency and the refugee's powerlessness, she noted. Referring to refugees, "They are entitled, under international law" Queen Rania reminded her audience, "to protection and asylum. To justice and dignity."
In the same way, she continued, the misuse and false matching of "Muslim" and "extremist" have caused similar and even vilified misunderstandings —"One is a follower of Islam," she said, "my beloved religion of peace, compassion and understanding." The other, "Irreligious, evil and has no regard for the sanctity of human life."
Referring to the current debate on refugees, Queen Rania added, "Rather than evoke an unprecedented tide of human kindness, some segments of society have, instead, unleashed a new and ugly lexion in our newsfeeds."
Her Majesty expanded on the power of language to influence the thoughts, actions, and prejudices of people, and in that way, its ability to sometimes fuel suspicion, intolerance and fear, build walls and feed into "a downward spiral of mistrust and miscommunication."
Instead of being limited by labels, Queen Rania encouraged her audience to "look beyond" them, beyond names, and beyond stereotypes, and discover the basic humanity that joins people and unites them in their common needs and aspirations. Recalling the image of Aylan, the Syrian child refugee whose dead body washed onto a beach in Turkey, "forever seared into our consciences," she insisted:
"Let it remind us that no matter where we come from…how we dress...or what language we speak. Who we worship or how we got here. That, in the end, we share the same dreams and want the same things."
To find a sustainable solution to the problem, Queen Rania said that it must also be viewed from the vantage point of Europeans and stressed that much of the unfortunate reactions that have emerged towards refugees find their roots "not out of malice but out of fear of the unknown." Here, Queen Rania urged, is where much work remains to be done to dislodge prejudice and, using language and actions based in basic human decency, approach the crisis as an opportunity for the global community to forge a greater collective response.
"Today, we face a crisis of exceptional magnitude. One that demands exceptional solutions."
These solutions, Queen Rania maintained, require creativity, expanded vision, and open hearts. Building on that foundation, "Let us all imagine a sustainable solution to the crisis we face today," she said. To end her speech, Her Majesty returned to Aylan, proposing to re-write a narrative where his legacy can be found in "a tide of human kindness lapping gently at our shores and at our borders."
The Walther Rathenau Award has been presented annually since 2008 to honor outstanding personalities who have made remarkable contributions to international politics and dialogue. It commemorates a Foreign Minister of Germany who was killed by opposition who rejected his foreign policy of reconciliation.
While presenting the prize to Her Majesty, Chancellor Merkel called Her Majesty a "bridge builder," highlighting Queen Rania's work in building bridges between cultures, describing her as a shining role model who deserves worldwide recognition.
The Chancellor continued to say that Her Majesty's work encourages dialogue, empowers women, reforms education, protects children, and empowers and prepares youth for the labor market.
Chancellor Merkel, also, praised Jordan's humanitarian efforts in addressing the refugee crisis and described Jordan is a safe haven and a sanctuary in an unstable region.
Earlier at the ceremony, Dr. Werner Hoyer, Chairman of the Walther Rathenau Institute, also spoke and said that he is honored to welcome Her Majesty, who raised her voice courageously above cultural boundaries and advocated for better education and for tolerance, especially for the young generation, and her voice is internationally heard.
In his speech, he shed light on the common challenge Jordan and Germany faced in receiving refugees.
Prior to the ceremony, Queen Rania had also met with Mr. Gerd Müller, German Minister of Economic Cooperation and Development, during which they discussed areas of cooperation between the two nations, while the Minister praised Jordan's efforts in carrying the burden of hosting a large number of refugees during the current crisis, he called on the international community to support Jordan and to stand by it during these turbulent times.
During her stay in Berlin, Her Majesty attended part of the G7 Forum for Dialogue with Women from politics, business and civil society, hosted by Chancellor Merkel, to discuss the empowerment of women and girls worldwide. The Queen also visited Fab Lab Berlin, an open digital fabrication studio that seeks to educate the public in machine-related skills, linking craft-making with technology.

Queen Rania's official website
This website does not support old browsers. To view this website, Please upgrade your browser to IE 9 or greater
Your browser is out of date. It has known security flaws and may not display all features of this and other websites. Learn how to update your browser