Queen Rania Receives Honorary Doctorate in Rome, Calls for Unity in Response to Common Enemy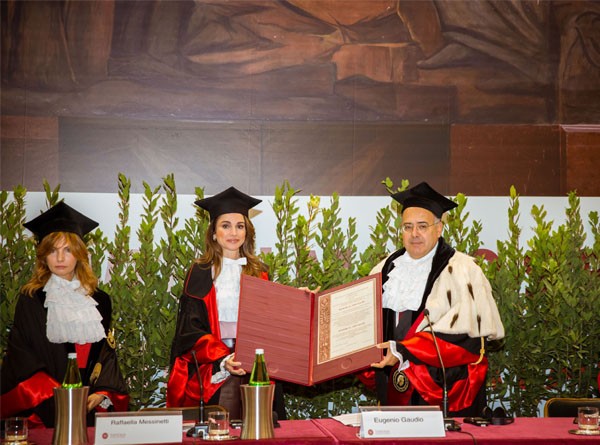 (Office of Her Majesty – Press Department – Rome) During an official visit with His Majesty King Abdullah II to Rome, Her Majesty Queen Rania Al Abdullah accepted an Honorary Doctorate in "Science Development and International Cooperation" from Sapienza University, one of Europe's most prestigious universities.
Her Majesty received the degree in recognition of her activities in promoting peace and cross-cultural dialogue and her efforts against religious and gender discriminations.
At the award ceremony, attended by more than 300 scholars, students, and influencers, the Queen gave a speech that emphasized the need to unify against a common enemy of "irreligious terrorists whose sole aim is to destroy the civilized world."
Her Majesty pointed to the extremist group's efforts in destroying ancient monuments and obliterating grand archeological landmarks, thousands of years' worth of archaeological heritage and human co-existence. She cited examples such as the ancient city of Palmyra, the 12th century Khudr mosque in Mosul, and the 7th century St. Ahoadamah church in Tikrit.
"They're targeting our collective history…the foundations of our civilization… In essence, humanity's very memory."
Her Majesty described the ugliness of the world that Daesh has painted; a world which has brought only displacement, death, and "entire nations on edge." "We've been haunted by scenes from Syria and Iraq…communities robbed of life, livelihoods destroyed, childhoods lost, schools and hospitals deserted, torture, and mass murder," she added.
Her Majesty termed the haunting images of extremists' inhumane actions and their consequences as a "glimpse" of what their dark world would look like.
Her Majesty added, "They're deluded enough to think that they can author a new era, AD, After Daesh," and underlined the urgent need for a response to this multi-faceted attack.
"It must be a turning point for humanity," she urged, explaining that this is every country's war. Queen Rania called for a concerted response, "Because for the first time in history, the civilized world has a common enemy"—one which is destroying the past and threatens the future.
Further, Her Majesty called for "a can-do coalition" of political and religious leaders, as well as populations all over the world uniting against extremist groups. She said this alliance will require courage to do things different, "to work with people of whom we were once suspicious," and form "new coalitions between lapsed friends, old foes and untapped resources."
"This is more than just a physical war," she added. "We have to fight on many fronts. And defeating Daesh depends on understanding their tactics and twisted mind sets." Her Majesty pointed to the group's use of psychological warfare with fear as its designated weapon, "the ultimate weapon of mass destruction," and a most contagious one, she added.
Queen Rania went on to note that courage was just as contagious, and said that ordinary acts, from going to the cinema and bazaars, to making beautiful art, are a defiance to the group's attempted intimidations and show that the world will not be intimated.
Queen Rania also touched on the extremist groups' invocation of Islam and reaffirmed "There is nothing Islamic about these terrorists." "The more they attribute their actions to Islam," Her Majesty said, "the more they provoke intolerance against all peace-loving Muslims." Queen Rania added that ultimately, what this leads to is an increased and misplaced fear of one another, rather than of the terrorists.
The moment suspicion takes grip, Her Majesty said, the battle is lost, and asked her audience, "Please, let's continue to treat each other with respect and openness. As you're doing today by honouring an Arab…Muslim…Woman."
Queen Rania pointed to the necessity of adopting respect and openness as guides moving forward. "Let that be the final irony," she added, "The extremists who sought to tear apart our social fabric and turn us against each other, actually bring us closer together."
To conclude, Queen Rania referred to Rome, the "eternal" city, "a city where scholarship and science, culture and creativity, art and architecture, have endured and thrived for centuries," as an exemplary blueprint of hope. She ended her speech with an encouraging note, affirming that "Together, we can ensure that the future that passes here, and everywhere, is a safe, and secure and beautiful one for all of us and for our children."
Receiving the Honorary Doctorate from Sapienza University places Her Majesty among a community of notable alumni that include Maria Montessori, founder of the Montessori method of education, Mario Draghi, President of the European Central Bank, Sergio Balanzino, Deputy SG of NATO, and Federica Mogherini, High Representative of the European Union for Foreign Affairs and Security Policy. Past recipients of Honorary Doctorates from the university have included Mohammed Yunus, Bolivian President, Evo Morales, the Pope John Paul II, and Dr. Nkosazana Dlamini-Zuma, Head of the African Union Commission.
Sapienza University was founded in 1303 and is the oldest university in Rome as well as one of the largest today, with over 120,000 students, 8,000 of which are international students.

Queen Rania's official website
This website does not support old browsers. To view this website, Please upgrade your browser to IE 9 or greater
Your browser is out of date. It has known security flaws and may not display all features of this and other websites. Learn how to update your browser