Queen Rania Presents Chancellor Angela Merkel with Golden Victoria Honorary Award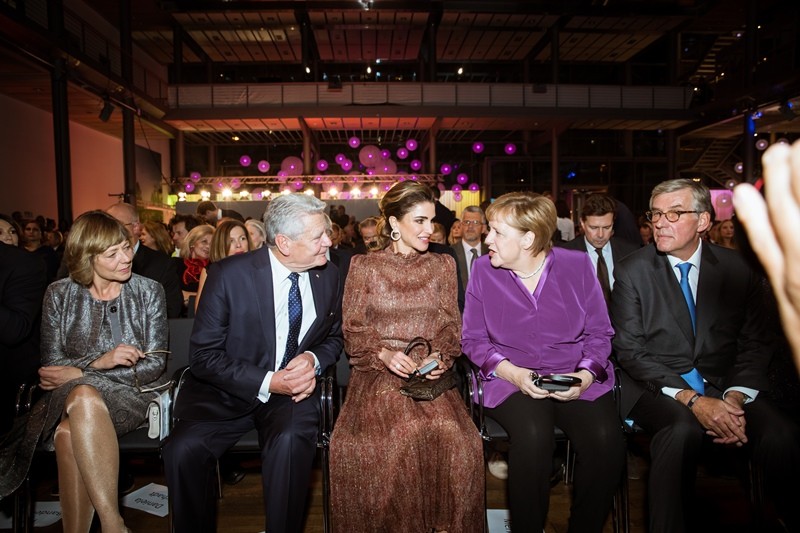 (Office of Her Majesty – Press Department – Berlin) - Her Majesty Queen Rania Al Abdullah presented German Chancellor Angela Merkel with a Golden Victoria Honorary Award for Political Leadership in Berlin on Monday, hailing the Chancellor's moral courage and steadfast commitment to delivering stability, prosperity, liberty, and peace.
Speaking at the Association of German Magazine Publishers (VDZ) Publishers' Night, the Queen lauded Merkel's leadership style, highlighting her many contributions to addressing global challenges, including the refugee crisis, financial turmoil, terrorist attacks, and violent conflicts.
"Despite her many years in office, her brand of leadership seems more unique today than ever. It is also more desperately needed, and more valuable," Her Majesty said, explaining that the Chancellor's "calm resilience and resolve have enabled Germany not just to chart a safe course but to help guide the global community through the storm."
Describing Merkel as a fighter for "dignity, diversity, humanitarianism, and compassion," Queen Rania commended the Chancellor for working to bring people together instead of pitting them against one another.
Hailing the Chancellor for rallying Germany to welcome more than a million refugees in 2015, Her Majesty expressed her gratitude, as well as that of the Jordanian people, for German leadership on this critical global issue. "For me and all of us in Jordan, it was a moment of great pride in our nations' friendship," Her Majesty explained.
"We too have opened our neighborhoods, our hearts, and our means to those in need," the Queen noted. "Today, one out of every seven people in my country is a refugee. We could not shoulder this duty without Germany's solidarity and support."
Her Majesty called on an audience of 800 journalists, politicians, diplomats, and public figures in attendance to imagine how different the global landscape might look if the Chancellor's moral compass were the norm.
"Imagine the rights that might have been protected… the suffering that might have been avoided… the crises that might have been averted… the lives that might have been saved," the Queen added.
"She leads as she lives: trusting her intellect, experience, and conscience to light the way. In the process, she has helped this extraordinary country reveal the best of itself to the world," Her Majesty concluded.
VDZ, which represents approximately 500 German publishing houses comprising more than 6,000 brands, chose to award Merkel with the Golden Victoria Honorary Award for Political Leadership in recognition of her successful management of the financial crisis, leadership in a turbulent Europe, and promotion of Germany's economic strength and democracy.
During her speech, Queen Rania thanked the association's journalists and members of the press for giving voice to the voiceless, highlighting the importance of their role in the modern age.
"Bigotry and hatred are not new ideas, but they have gained new momentum and reach in our digital age, where outrage sells and is amplified and spread with every click," she said.
Her Majesty and Chancellor Merkel also met on the sidelines of VDZ Publishers' Night ahead of the award ceremony.
Since 2006, VDZ has annually presented Golden Victoria awards in three categories: Press Freedom, Entrepreneurship, and Lifetime Achievement/Leadership. Other honorees this year included Nestle CEO, Béatrice Guillaume-Grabisch, as well as the late Daphne Caruana Galizia and Ján Kuciak, two European journalists who recently lost their lives.

Queen Rania's official website
This website does not support old browsers. To view this website, Please upgrade your browser to IE 9 or greater
Your browser is out of date. It has known security flaws and may not display all features of this and other websites. Learn how to update your browser