Queen Rania Meets with Beneficiaries of Family Empowerment Project in Tafileh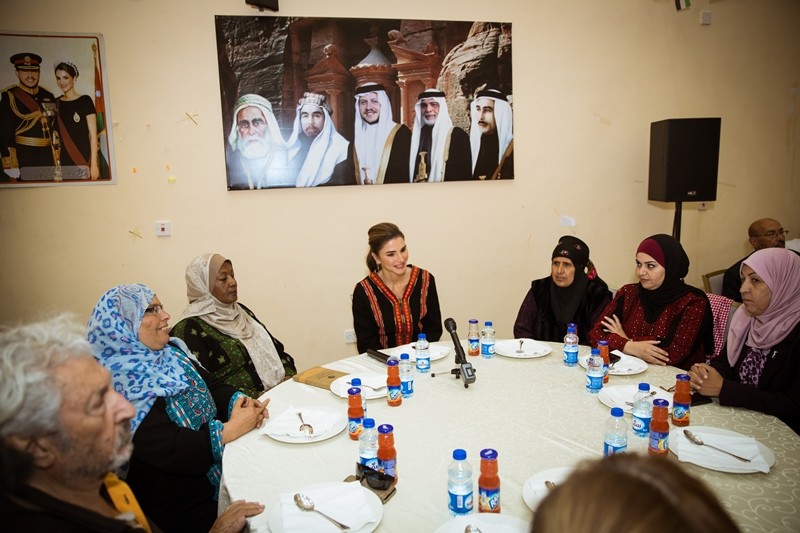 (Office of Her Majesty – Press Department – Amman) - Her Majesty Queen Rania Al Abdullah visited Al Hasa on Wednesday, where she met with the beneficiaries of a project aiming to improve the conditions of low-income families in the governorate of Tafileh.
Launched following directives from His Majesty King Abdullah II, the project is funded by the Royal Hashemite Court. Implemented by the Community Center Association (CCA) in cooperation with 16 local societies, the project has so far resulted in the launch of 213 income-generating projects in Tafileh.
The Queen was welcomed to Al Hasa Young Women Center by Tafileh Governor, Husam Tarawneh, the center's director, Manal Al Hajaya, as well as CCA Founder, Dr. Sari Nasser, and CCA President, Dr. Firyal Saleh.
During the meeting, Her Majesty commended the ambition and commitment of the men and women of Tafileh, noting that its people do no wait for opportunities to arise, but instead seek them out. "Through your hard work and ambition, you have succeeded in realizing your potential and bringing your businesses to life," the Queen said.
Her Majesty thanked the CCA and local societies for their role in empowering their communities and linking projects with suitable stakeholders. She also highlighted the importance of benefitting from local knowledge and insight while implementing empowerment projects.
"The projects that are generated from within a community are always the most successful," Queen Rania explained. "You know best what your community needs and what obstacles you will face along the way. And, most importantly, no one knows more about your capabilities and how to best utilize them."
Her Majesty was briefed on the project's progress by Dr. Firyal Saleh, who presented the criteria used to choose participating families and local societies for the project.
Beneficiaries were selected based on a thorough field survey, through which the CCA identified eligible families living below the poverty line, interviewed them, and assigned them a suitable project. Following an economic feasibility study, family members were trained on how to start their projects in order to enhance their standards of living.
Through the establishment of loan portfolios, the project has resulted in the launch of 140 commercial projects, 64 vocational projects, four service-based projects, and five agricultural projects.
The Queen also heard from several of the project's female beneficiaries, who explained how the projects they launched have improved their living conditions and their families' wellbeing. In turn, Her Majesty expressed her pride in their achievements, commending their determination and creativity, and describing them as examples for Jordanian working women in all fields.

Queen Rania's official website
This website does not support old browsers. To view this website, Please upgrade your browser to IE 9 or greater
Your browser is out of date. It has known security flaws and may not display all features of this and other websites. Learn how to update your browser