Queen Rania Marks Birthday Today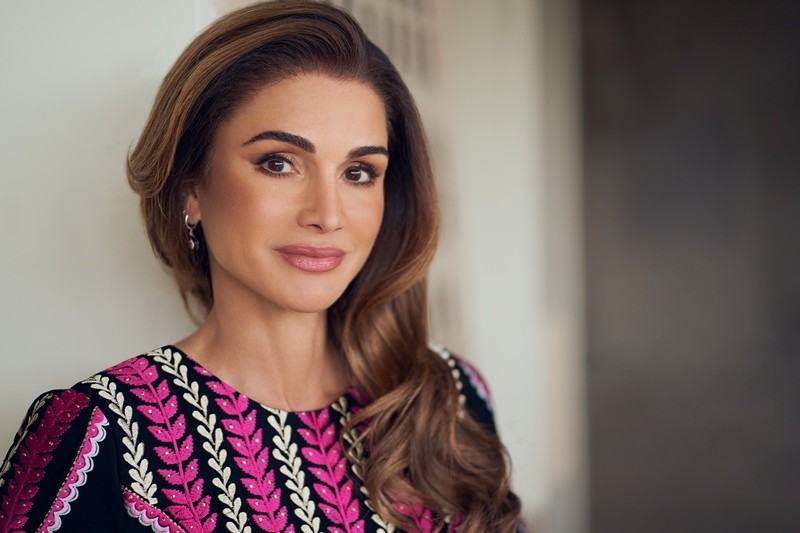 (Office of Her Majesty – Press Department – Amman) - Her Majesty Queen Rania Al Abdullah celebrates her birthday today, marking the start of another year in her life-long journey as the partner and companion of His Majesty King Abdullah II.
Throughout her public life, Queen Rania has strived to contribute to the achievement of His Majesty's royal vision for a thriving and prosperous Jordan, channeling her humanitarian spirit and commitment to youth into national efforts to uplift the Jordanian people.
As a princess, Her Majesty established the Jordan River Foundation (JRF) in 1995 with the blessing of His Majesty King Hussein bin Talal, may his soul rest in peace. A non-profit working to promote child safety and community empowerment, JRF provides employment opportunities for local and refugee women, while also focusing on efforts to tackle the issue of child abuse.
Stemming from her firm belief in the transformative power of education, one of her earliest efforts as Queen was the launch of The Children's Museum – Jordan (CMJ), which aims to instill a lasting love for learning in children. CMJ's Mobile Museum has since toured schools across the country as well, providing Jordanian children everywhere with the opportunity to experience the museum's educational exhibits and to learn through play.
A mother of four, Her Majesty is deeply concerned with the wellbeing and happiness of Jordanian orphans, visiting orphanages regularly and hosting many events in their honor. In 2003, Queen Rania established Al-Aman Fund for the Future of Orphans, a non-profit organization that helps adult orphans after their graduation from public care centers at the age of 18. Al-Aman supports older orphans' efforts to pursue higher education and vocational training, putting them on the road to self-reliance.
Queen Rania has visited hundreds of schools across the country, speaking to students and teachers in every governorate. Inspired by these conversations and her observations of conditions on the ground, Her Majesty initiated several projects and initiatives to empower students through education.
These initiatives include Madrasati, which has brought together partners from the public, private, and civil society sectors to renovate hundreds of underserved schools. She also joined His Majesty King Abdullah II in launching her eponymous Excellence in Education award, which recognizes the achievements of the country's most distinguished teachers, principals, and counselors.
The Queen has also worked to establish partnerships with leading international educational institutions in order to bring world-class expertise to the Queen Rania Teacher Academy (QRTA), which, in partnership with the Ministry of Education, aims to equip aspiring educators with the skills they need to help students realize their potential. Initially launched to provide teachers with short and free training courses, the Academy launched its leading pre-service training program in 2016 in line with the recommendations of the National Strategy for Human Resource Development 2016-2025.
On the global level, Her Majesty has been recognized repeatedly for her advocacy and humanitarian work, particularly her efforts to draw attention to the plight of the world's refugees, improve access to education, and promote acceptance between all cultures. The Queen also serves as a member on the United Nations Foundation and the World Economic Forum's Board of Directors, and the International Rescue Committee's Board of Advisors.

Queen Rania's official website
This website does not support old browsers. To view this website, Please upgrade your browser to IE 9 or greater
Your browser is out of date. It has known security flaws and may not display all features of this and other websites. Learn how to update your browser