Queen Rania Launches Kindergarten to Fifth Grade Mathematics Curricula on Edraak K-12 Platform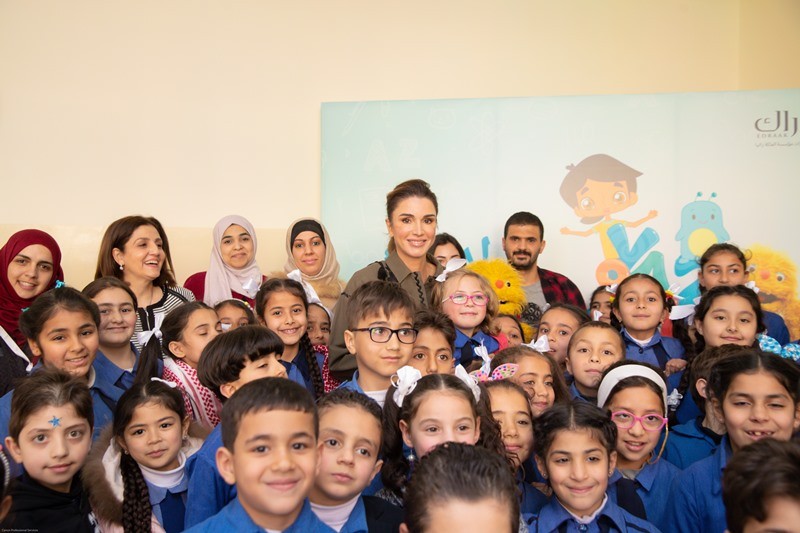 (Office of Her Majesty – Press Department – Amman) - Her Majesty Queen Rania Al Abdullah launched online educational platform Edraak's mathematics curricula for kindergarten to grade five (K-5) at Sweifieh Secondary School for Girls on Wednesday, thereby making comprehensive mathematics materials available for free to school learners of all ages on the Edraak K-12 platform.
The introduction of K-5 mathematics materials follows the Queen Rania Foundation for Education and Development's (QRF) successful launch of the Edraak K-12 platform in September 2018, which saw the release of mathematics materials for grades six to 12. The platform's now completed K-12 mathematics materials include over 1,200 instructional videos and 7,500 exercises that range in difficulty, and apply motivational gamification strategies.
Her Majesty joined Minister of Education and Minister of Higher Education and Scientific Research, Dr. Walid Maani, Edraak CEO, Shireen Yacoub, and the school's principal, Laila Shobaki, for a focus group discussion with teachers, students, and parents who have benefited from the K-12 platform.
The Queen asked the students about the impact the platform has had on their performance and grades. Parents and teachers also shared their experiences with the K-12 platform with Her Majesty, explaining how it has allowed them to support children's learning journeys.
Queen Rania then met with former Tawjihi students who completed mathematics, English, chemistry, and physics secondary stage courses on Edraak in previous years, and were present to guide current students on the platform's courses. She also attended a training course, where Edraak experts instructed teachers on how to use the K-12 platform and create virtual classrooms.
Building on the success of Edraak's Continuous Learning platform for adults, the Edraak K-12 platform caters to school-aged children throughout the Arab world, providing students, as well as their teachers and parents, with digital open educational resources (OERs) in Arabic. The platform makes free, high-quality education accessible to millions of children across the region, including those who are out of school due to conflict or displacement.
The platform's mathematical content was created following research conducted by Edraak on how to appeal to young learners in a relatable, easy, and seamless manner.
Based on Edraak's findings that Arab children between first and third grades spend much of their time watching cartoons, its team incorporated several cartoon characters into its mathematical stream to assist children as they solve problems. However, for Arab fourth graders, who typically experience an educational decline during this transitional year, Edraak designed a puppet named Kurkum to serve as a fun and engaging bridge between teachers and students.
Speaking at the event, Yacoub highlighted Edraak's efforts to provide free, high-quality education that caters to the needs of school learners across the Arab world. "This achievement would not have been possible without the collaborations and efforts of various experts from QRF, Queen Rania Teacher Academy, and Google.org," Yacoub said, adding that Edraak aspires to forge new partnerships to expand the platform's scope and cover other subjects.
Yacoub also thanked Edraak's partners in the local telecommunications sector – namely Zain Jordan, Orange Jordan, and Umniah – who allowed access to the K-12 platform using minimum internet data, making it accessible to those living in remote and disadvantaged areas, including refugees.
The Edraak K-12 platform was established as a joint effort between QRF and Google's philanthropic arm, Google.org, which has supported the project with a USD 3 million grant as well as the technical expertise of Google employees. In the future, QRF and Google.org aim to offer resources offline, thereby granting vulnerable children easier access to Edraak's educational content.
Edraak is currently in the process of developing its K-12 English language curricula in cooperation with the Jack Ma Foundation in China, which will be followed by other core subjects in the future.
Launched in 2014, Edraak's adult-targeted Continuous Learning platform is a leading Arabic massive open online course (MOOC) platform, whose free Arabic online learning courses have reached over 2 million learners across the region. Edraak aims to revolutionize access and delivery of education in the Arab world by providing high-quality learning opportunities for both adults and school students.

Queen Rania's official website
This website does not support old browsers. To view this website, Please upgrade your browser to IE 9 or greater
Your browser is out of date. It has known security flaws and may not display all features of this and other websites. Learn how to update your browser