Queen Rania Inaugurates QRTA's Pre-service Professional Diploma Program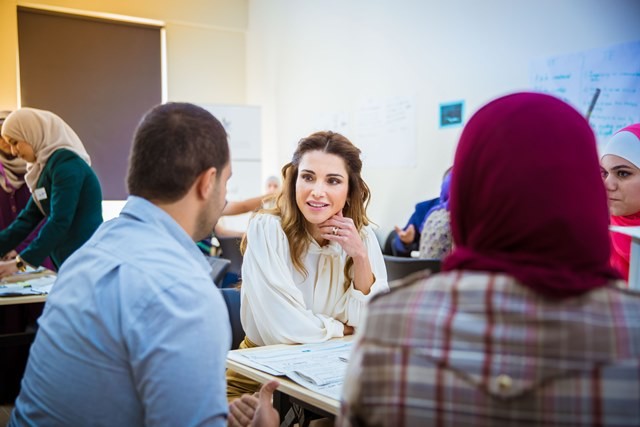 (Office of Her Majesty – Press Department – Amman) - Her Majesty Queen Rania Al Abdullah said that teachers who work hard to improve their skills and seek progress are those most capable of instilling commitment and dedication in their students.
She made these remarks while addressing student teachers at the launch of the first national pre-service teacher training program at the Queen Rania Teacher Academy (QRTA) headquarters in Amman on Wednesday.
The Queen congratulated the first batch of two hundred teachers on being selected to enroll in the training program, and vowed to work towards providing this quality training opportunity to all teachers in Jordan "so that they are equipped with the knowledge and advanced skills and techniques they need to do their noble jobs."
She explained that teacher training is one of the most significant pillars of education reform, as reflected in the recommendations of the National Committee for Human Resource Development. Queen Rania described teachers as "our partners in the education reform process," and the "guardians of this profession," adding that it is her hope to see all the recommendations fulfilled.
"All we need is to be serious and ethical in implementing every step of every recommendation in this roadmap and we want to do this in partnership with you so that you can reach the goals we aspire to and the goals we want our students to achieve."
The Initial Teacher Education Diploma (ITED), which is in line with current reforms in education, offers an encompassing teacher training that recognizes merit and passion in teachers, and gives novices the opportunity to practice and refine their teaching skills before being tried in the field.
With an initial cohort of 200, this program reflects the first phase of a comprehensive plan that is expected to expand in numbers and eventually cover all subjects in the curriculum.
Enacted in partnership with the Ministry of Education, and Jordan University, with technical support from the University College London (UCL)'s Institute of Education (IOE), ITED plans to train between 5,000 and 7,000 "Student Teachers" over the next five years.
The program is designed with a rigorous and modern curriculum for teaching, in addition to offering hands-on 20-week teaching practicum in placement schools. Upon graduation, student teachers will receive a diploma from Jordan University.
During her visit to QRTA, Queen Rania dropped by two classrooms in session. One explored criteria in assessments, the value of peer and self-assessments in the process of active learning environments, while the other comprised of Student Teachers sharing their experiences as students in Jordan and their perspectives on teaching.
In the presence of Minister of Education HE Mohammad Thuneibat, Queen Rania also met with CEO of QRTA Mr. Haif Bannayan and QRTA staff members, as well as CEO of the Queen Rania Foundation Haifa Al-Attia, and IOE's Pro-Director Norbert Pachler, and University of Jordan President Dr. Azmi Mahafza.
Mr. Bannayan explained that the ITED comprises of three modules, which included "Productive and Effective Pedagogy for Learning and Teaching," "Subject Didactics: Teaching English, Mathematics, Science," and "Working with Students: School Experience."
Bannayan also outlined the selective process in which student teachers are selected for the training program, which is offered on a scholarship basis to candidates nominated by the Civil Service Bureau. Requirements include a minimum Tawjihi grade of 80, good command of both written and spoken Arabic, and an undergraduate degree in Mathematics, English, or Sciences with satisfactory results.
Additionally, eligible applicants, who must be under 30 years old, must also submit a personal statement, a subject-related task, as well as participate in a group task, and be interviewed.
Upon completion of the nine-month 24 credit hour Diploma, student teachers will commit to a teaching job with the Ministry of Education for four years, and receive a monthly salary during the training period in accordance to its regulations.
Using contemporary learning approaches, sophisticated technology and the most up-do-date findings in international research in education, "Student Teachers" have the opportunity to engage in a dialogue with thinkers at the forefront of education training.
Shifting the teacher recruitment policies across the kingdom has been one of priorities on the agenda of current efforts in educational reform. The launch of the ITED reflects QRTA's commitment to creating and sustaining a pipeline of highly qualified and motivated teachers in Jordan, who view the classroom as a birthplace for innovation, leadership, and civic participation among Jordanian youth. The launch of the 10-month pre-service professional diploma is a historical turning point for Jordanian teachers, as well as education policy in Jordan.
Since its launch in 2009 under the patronage of Her Majesty Queen Rania Al Abdullah and in partnership with Columbia University's Teachers College (TC), Columbia University Middle East Research Center (CUMERC), and the Jordanian Ministry of Education, QRTA has worked to develop training programs for teachers to meet contemporary educational needs in Jordan and the Arab world. Its mission is to enable educators to positively influence future generations in Jordan and the Arab World by spearheading education policy reform and teacher professional development.

Queen Rania's official website
This website does not support old browsers. To view this website, Please upgrade your browser to IE 9 or greater
Your browser is out of date. It has known security flaws and may not display all features of this and other websites. Learn how to update your browser