Queen Rania Joins Participants of Thru Hike 2017 in a Visit to Dana Village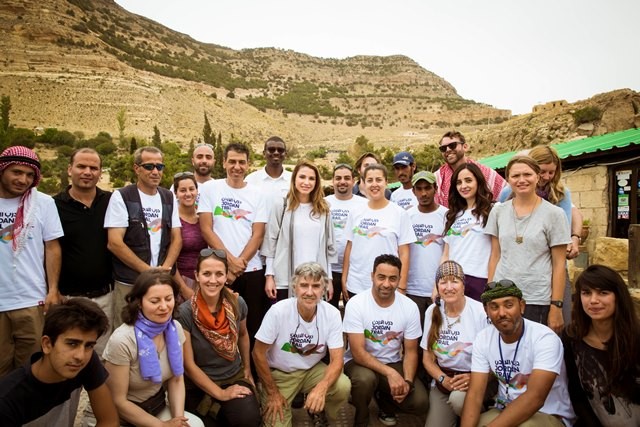 (Office of Her Majesty – Press Department – Tafileh) - Her Majesty Queen Rania Al Abdullah visited Dana Village, on Monday, taking part in a portion of the Thru Hike program organized by the Jordan Trail Association (JTA).
Her Majesty's visit comes in support of local tourism initiatives that aim to improve the livelihood of local communities and encourage eco-tourism.
Queen Rania was welcomed by Ms. Muna Haddad, the President of the Jordan Trail Association, and Mr. Bashir Daoud, the General Manager of the association.
The Queen then joined Mr. Andrew Evans, a National Geographic writer, and Tony Howard and Di Taylor, Authors of three outdoors books on Jordan and the first to conceive of the idea of the Jordan Trail, along with other internationally renowned writers and Jordanian volunteers for a walk towards the village.
At the village, Her Majesty stopped by Dana Shop and the Mini Souq where she watched local women bake traditional "shrak" bread using a "saj" oven.
She also took part in conversations with local community members about the touristic programs that help bolster their economic opportunities.
Her Majesty then met with some of the Jordan Trail Association staff members, attendees from the local community, volunteers, and hikers who have previously crossed the Jordan Trail.
At the meeting, the Queen commended all ideas contributing to the creation of exceptional local innovations like the Jordan Trail.
She also stressed the vital role that the Jordan Trail plays in promoting tourism and giving participants a distinct view of Jordan and its local communities, while creating income-generating developmental opportunities.
The meeting was moderated by Mr. Daoud, who along with Ms. Haddad, discussed the objectives of the Jordan Trail Association.
Beneficiaries of the trail shared some of the positive socio-economic impacts that the project has had on local communities situated across its various stops.
Hikers who have previously walked the trail also shared their experiences with Her Majesty. Speakers included the first three women to hike the entire trail.
The Jordan Trail Association was established in July of 2015 with the aim of developing and maintaining The Jordan Trail and supporting the development of economic opportunities along its 52 participating villages.
Since its inception, the association has received support from the Ministry of Tourism and Antiquities, the USAID Building Economic Sustainability through Tourism project, the Jordan Tourism Board, and various local companies and individuals.
The trail constitutes a 650 kilometer path stretching from Um Qais in the north of Jordan to Aqaba in the south. It requires a total of forty continuous days of walking to be completed.
The first official Thru Hike – the crossing of the entire trail – commenced on March 31st, and will end on May 13th. The Thru Hike is intended to become a yearly event open for public participation.

Queen Rania's official website
This website does not support old browsers. To view this website, Please upgrade your browser to IE 9 or greater
Your browser is out of date. It has known security flaws and may not display all features of this and other websites. Learn how to update your browser