Queen Rania Joins Teachers and Parents at a Panel Discussion on Education Development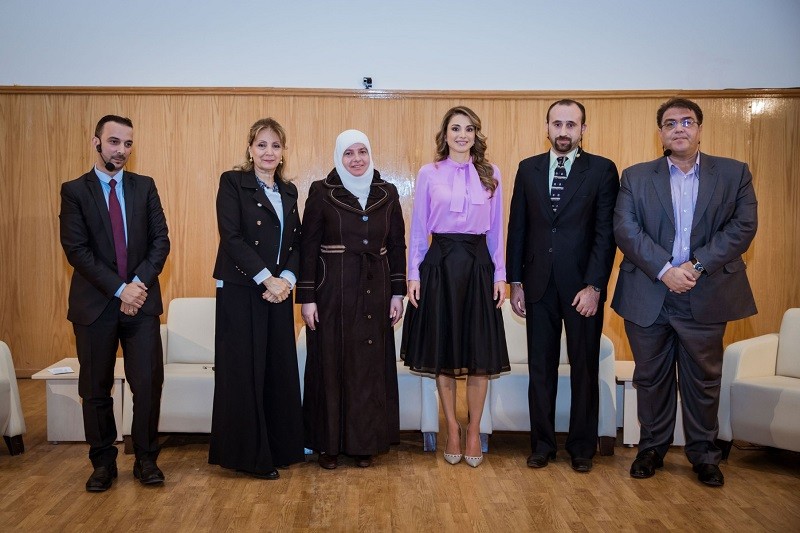 (Office of Her Majesty – Press Department – Amman) - Her Majesty Queen Rania Al Abdullah joined a panel discussion on education development in Amman on Wednesday, where she called for a long-term social movement to guide education reform.
The Queen stated that there is a general understanding that education is imperative for national progress "because we always say that the human being is our most valued possession."
At the session that was moderated by Founder of awa2el.net Mr. Hussam Awwad, and attended by education experts, teachers, parents, and youth Queen Rania said: "we need a social movement for education, aided by activists and experts who are willing to make the discussion about education a long-term priority, not just something that only causes an uproar every once in a while."
Commenting on the ongoing debate about curriculum amendments, Her Majesty added that "the issue of the school curricula cannot be reduced to only one topic, so we need a core group of people who are interested in participating in the procedure and in making their voices heard by officials because this is a consultative process."
The Queen explained that the outcomes of education are embodied in the strong personalities and characters shaped by a committed national process that has academic and non-academic components, stressing that "talent is the most valuable commodity in today's world and what will help us advance."
Referring to the experiences of countries like Finland, South Korea and Singapore, the Queen said that effective teaching techniques can be developed even with in countries strained by limited resources. "Many countries that lack natural resources and share our challenges were able to excel because they directed their efforts towards building productive and talented human beings," she explained.
While moderating the session, Awwad said that a student's twelve year educational journey must be an exciting one that leads to quality outcomes. He explained that when that is not the case, the nature of the curricula being taught must be reassessed. He added that only this can change students' negative attitudes towards school subjects, questioning the selection criteria of the current curricula.
Awwad also highlighted the importance of training teachers and refining their skills, as well as tying student assessment to their knowledge and talents, and not just their grades.
For his part Professor of Education at Al Albayt University Dr. Nart Qakhoun said that school curricula and textbooks that are heavily based on rigid information and memorization force any student to hate a certain subject.
He described the current debate about textbook amendments as a superficial one that only scratched the surface because it did not go as far as focusing on their actual content, or the pressing objectives of education reform, and what students need from a curriculum.
Teacher Training Expert Ahmad Abdallah highlighted what he described as "flawed outcomes" when students spend most of their day at school and aren't engaged in the educational process. He explained that school textbooks are only part of the curriculum and that teaching mechanisms and teacher qualifications are an equally important area in which Jordan must invest.
Curriculum Development Expert at the United Nations Relief and Works Agency (UNRWA), Dr. Rounahi Majdalawi explained that building a curriculum should be based on a group social effort, where the textbook is only part of the curriculum and other important components, like school activities supplement it. Majdalawi noted that huge efforts are needed to design student-friendly textbooks that encourage them to think, research, and analyze, to replace the ones that frustrate them.
Commenting on early education, Early Childhood Development Expert at the Modern Montessori School Thihni explained that this kind of learning is instrumental in gradually developing a child's problem-solving and critical thinking skills. She added that a child must be treated as a human being with feelings and relative capabilities, and not as a memory.
The Queen thanked the panelists and the audience for the time they dedicated to the discussion and described them as partners in a vital course that will deliver an educational process Jordanian children deserve.
The aim of the discussion was to raise public awareness about the importance of education reform in Jordan through an open, comprehensive, and wide-ranging plan that includes all stakeholders relevant to the educational process.

Queen Rania's official website
This website does not support old browsers. To view this website, Please upgrade your browser to IE 9 or greater
Your browser is out of date. It has known security flaws and may not display all features of this and other websites. Learn how to update your browser