Queen Rania Highlights Technology's Role in Closing Hope Gap at Misk Global Forum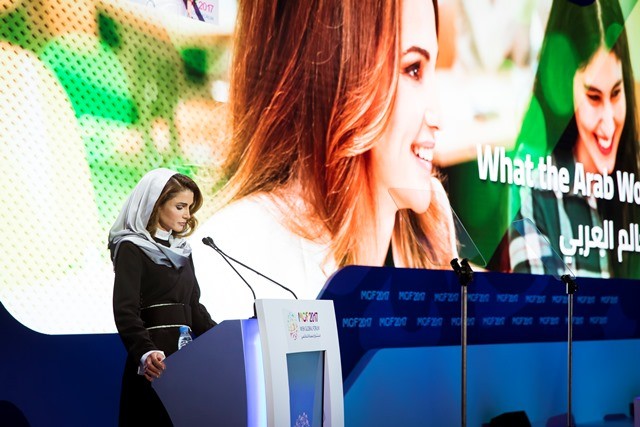 (Office of Her Majesty – Press Department – Riyadh) - Contrasting humanity's advances in science and technology with a global "scarcity of hope," Her Majesty Queen Rania Al Abdullah highlighted the paradox of people starving "in the age of abundance," as well as children being out of school "in an era of free education."
Her Majesty made her remarks at Misk Global Forum (MGF) in the Saudi capital Riyadh, where she joined senior Saudi officials, young leaders, and established global innovators to explore the event's 2017 theme, 'Meeting the Challenge of Change.'
Other speakers included Bill Gates, Co-chair of the Bill & Melinda Gates Foundation; Jonas Kjellberg, Co-creator of Skype; and Allen Blue, Co-founder of LinkedIn.
In her speech, Queen Rania highlighted the "hope gap" experienced by the disadvantaged, both within the Arab region and the world at large.
Recalling a recent trip to Bangladesh, Her Majesty described the pain she witnessed among Muslim Rohingya refugees who had been forced to flee their homes from across the border in Myanmar.
"I spoke with people who seemed hollow from shock. In their eyes, I saw the death pits where their children were thrown, and the flames that ravaged their bodies," she said. "War has overwhelmed their lives, just as it has overwhelmed the lives of millions in the Arab region."
Her Majesty explained that, in spite of their harsh circumstances, refugee and other vulnerable children demonstrate a "boundless ability to dream." However, she added that this positivity often diminishes with time.
"As they grow older, their horizons narrow, closing up due to fear, obstacles, and helplessness," Her Majesty said. "After all, a mind full of fear has no room for dreams."
According to the Queen, a third of the Arab population is directly affected by conflict, and "millions of others have been driven from their homelands." Meanwhile, 13 million Arab children are out of school, and the region has one of the highest unemployment rates in the world today.
Arguing that innovation and technological advances alone have not alleviated the suffering of refugees and others combatting "illness, poverty, ignorance, and exclusion," Her Majesty called for a reevaluation of motives behind acquiring technology.
"Rather than a race to the top for the privileged few, our priority should be employing technology to empower entire societies," she said.
"Is it not a paradox for us to become disconnected from our most critical humanitarian ideals in the age of connectivity? And for us to turn our backs on, and even fight, diversity instead of building tolerant and safe societies?" the Queen asked.
"What we need is technology with a heart – one that beats for us. We need technology that is not measured in bits and bytes, but by its ability to close the gaps that stand between us and the self- realization of our people," Her Majesty added.
Citing divisions along the lines of "group, sect, religion, and ideology," Queen Rania underscored the importance of dialogue and accepting differences, stating that people from all walks of life share a universal need "to feel that our life has value, and is valued by others."
"If differences are the first thing we see, security will remain the last thing we enjoy," Her Majesty added.
Queen Rania went on to call for the adoption of technologies "that add value to our lives and keep hope alive in our Arab youth," whom she described as the region's source of pride. "Let us broaden their horizons, and provide them with opportunities to realize their potential and achieve their ambitions," she said.
The Queen also thanked Crown Prince of Saudi Arabia, His Royal Highness Mohammad bin Salman bin Abdulaziz, for establishing the global gathering, commending him for his "bold vision that carries appreciation and support for innovation and science."
The Crown Prince is Founder and Chairman of Misk, a non-profit foundation established in 2011 to cultivate learning and leadership in Saudi Arabian youth and empower them to become active participants in the knowledge economy. Now in its second year, MGF 2017, the foundation's flagship global platform, is a two-day forum, to be attended by an estimated 2,500 people from around the world.

Queen Rania's official website
This website does not support old browsers. To view this website, Please upgrade your browser to IE 9 or greater
Your browser is out of date. It has known security flaws and may not display all features of this and other websites. Learn how to update your browser