Queen Rania Calls for Inclusive Future of Work at EBRD Annual Meeting and Business Forum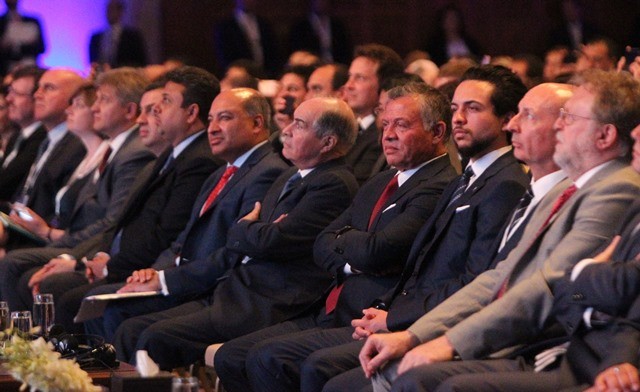 (Office of Her Majesty – Press Department – Dead Sea) - Addressing the role of automation in transforming future jobs, Her Majesty Queen Rania Al Abdullah stressed that inclusivity is essential for the success of the future of work.
Speaking in the presence of His Majesty King Abdullah II and His Royal Highness Crown Prince Hussein bin Abdullah, Her Majesty explained that "machines and robots will supplement people, but they will not supplant us."
Her Majesty delivered her remarks at the European Bank for Reconstruction and Development (EBRD) 27th Annual Meeting and Business Forum, which convened at the Dead Sea on Wednesday, bringing together 2,500 international participants, including government representatives, businessmen, and academics.
His Majesty gave the keynote address at the start of the annual meeting.
Expanding on the idea that automation and artificial intelligence (AI) complement human potential rather than substitute it, the Queen stressed that innovation is an exclusively human trait.
"Human beings have original ideas. We perceive without needing to be told. And even when AI is loaded with data, creativity is still a human gift."
While recognizing the unpredictability of what is to come due to automation, and the apprehension it has caused nations, Her Majesty reassured the audience that crossing from the known to the unknown cannot be done incrementally.
"If we are to make it across the chasm, we cannot do it one small step at a time. Living on the edge means being bold – with new partnerships, new playbooks, new resources – and most of all, the confidence, courage, and commitment to take a flying leap."
Expanding on the insecurities that accompany rapid automation, the Queen pointed out that while automation and AI might be threatening jobs, and mainly entry-level positions, this drastic transformation does not have to come at the expense of young people.
She added that this can be alleviated through "reimagining education," and "leveraging technology to give all people access to knowledge." She also highlighted the importance of teaching people "not just how to pass exams, but how to be critical thinkers, so they can adapt along with the times, without ever having limits on their growth."
Her Majesty went on to explain that automation will provide countless opportunities, including, "an explosion of innovation," as machines take over routine tasks. "Yes, some jobs will disappear, but others will evolve or emerge," she said.
She also said that AI promises to offer "exciting new tools to improve people's lives," from "providing early and accurate diagnosis of disease" to "assisting with surgery," and underlined how technology can "help us make big gains in productivity, generating economic growth and spurring new demand."
Yet despite these favorable consequences, Her Majesty cautioned against excluding certain groups from its potential benefits, stating that the MENA region has only realized 62 percent of its human potential, because "we are leaving people, notably women, out of the workforce."
Her Majesty also stressed that technological advancement cannot replace dependable basic human nature and instincts.
"As we grapple with digital codes that are redefining our lives in real time, there are older codes that still require our attention. Human codes like empathy, compassion, understanding, that can influence and guide our actions," she said.
"Artificial intelligence is no match for lived experience. No algorithm's power will ever equal a human heart. And I am convinced that if we attack our challenges with human imagination, and compassion, the future workplace could be a better one for us all," she concluded.
The panel discussion which Her Majesty opened with her remarks was held under the title of "The Future of Work: Addressing Tomorrow's Skills and Jobs Challenges," and discussed the challenges facing labor markets and ways to strengthen their resilience and adaptability.
The EBRD Annual Meeting and Business Forum brings together many participants including governors and heads of delegation, government representatives, business people, policy-makers, academics, and opinion leaders. Wednesday's meeting was the first meeting to take place in the most recent region covered by EBRD – the southern and eastern Mediterranean.
The EBRD is an international financial institution founded in 1991 as a multilateral developmental investment bank, using its investment as a tool to build market economies.
Jordan joined the EBRD in 2011 and became a country of operations in 2012. In Jordan, EBRD focuses on supporting sustainable energy, direct and indirect financing of private enterprises, and promoting infrastructure reform as well as facilitating non-sovereign financing.

Queen Rania's official website
This website does not support old browsers. To view this website, Please upgrade your browser to IE 9 or greater
Your browser is out of date. It has known security flaws and may not display all features of this and other websites. Learn how to update your browser