Queen Rania Calls for Global Response to Education Crisis at XIN Philanthropy Conference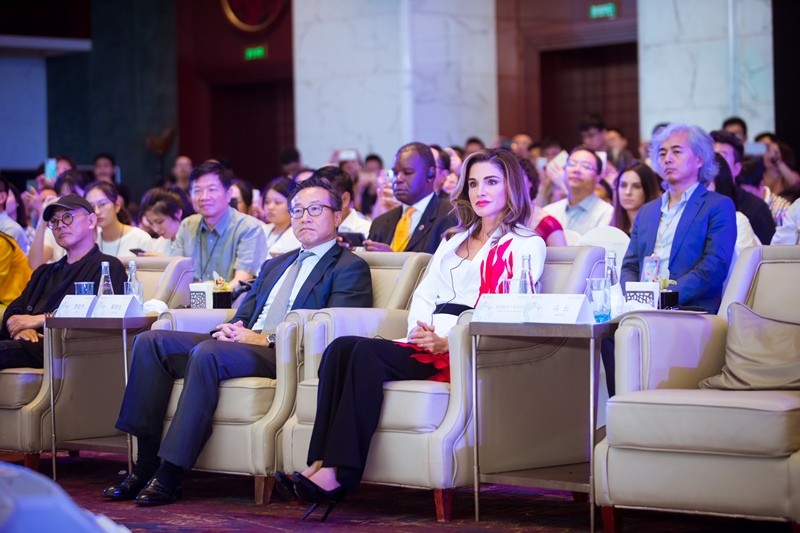 (Office of Her Majesty – Press Department – Hangzhou) - Her Majesty Queen Rania Al Abdullah underscored the intrinsic benefits of philanthropy and its potential to address some of humanity's greatest challenges, describing the instinct to give to others as "a central piece of what makes us human."
Delivering the keynote address of the XIN Philanthropy Conference in Hangzhou, China, on Wednesday, Her Majesty noted that generosity is not merely a virtue, but also vital to our species' survival. "In fact, the latest science suggests it is actually hardwired into our biology," she said
Acknowledging the modern world's many challenges, including hunger, climate change, and extremism, Her Majesty asserted that the global community has the potential to overcome the obstacles it is facing.
"Human beings are capable of extraordinary things because we are driven by the impulse to try. And when it comes to giving, that impulse to try transcends cultures, generations, and geographies," Her Majesty stated.
She also expressed her gratitude for the close relationship between China and Jordan, particularly China's strong support of refugees in Jordan.
"Giving isn't only the right thing to do, in the sense of helping others. Giving is also the best thing to do, in the sense of helping ourselves," the Queen explained. "It is the product of our heads and of our hearts. It is the expression of both logic and love. It is where passion meets purpose."
Her Majesty went on to identify education as a key area in which both logic and love are needed today, particularly in the Middle East, which is currently facing an education crisis.
"Civil war and armed conflict dominate the news headlines, but hidden behind them is another tragedy; violence and forced displacement are preventing more than 15 million of our children from attending school," Queen Rania disclosed.
In light of the Syrian refugee crisis, Jordan has welcomed more than 155,000 school-age refugees, significantly impacting the country's schools. "Our public education system has been strained to breaking point, and many of our own children are not learning the skills they will need to meet the demands of tomorrow's job market," Her Majesty said.
The Queen hailed education as the "source of all human progress, the antidote to extremism, and the foundation of any peaceful society." She also explained that the critical role of education is widely understood in Jordan, which does not produce oil and is one of the world's most water-poor nations.
"Our single greatest natural resource has always been our human capital. But the crisis in our education system has put that resource in jeopardy," Queen Rania said, calling on the international community to "to bring the same sense of urgency, innovation, and generosity to this issue as it has to other international emergencies."
Highlighting the education crisis' far-reaching implications beyond Jordan and the Arab World, Her Majesty explained that the potential of the region's youth has been limited due to constraints on their education. "They can help the world combat climate change, poverty, terrorism, and disease. But only if they are given a fighting chance to participate," she said.
"Solving this crisis will take a global movement fueled by logic and by love. Cultivating this movement has become my most passionate pursuit," the Queen added.
In 2013, Her Majesty founded the Queen Rania Foundation for Education and Development (QRF), which serves as a launchpad for the Queen's efforts to advance education and a hub for new educational models and partnerships.
"Two years later, we partnered with Harvard University and MIT to launch Edraak, a free, open-source, online learning platform that brings quality education to Arabic-speaking students everywhere—including those confined to conflict zones and refugee camps," she stated.
During a visit to Jordan in May 2018, Jack Ma, Co-founder and Executive Chairman of Alibaba Group and Founder of the Jack Ma Foundation, announced a 3 million USD grant from his foundation to support the mission of QRF and its work in education in Jordan.
The grant will be directed toward the Queen Rania Teacher Academy and Edraak, which has recently debuted a K-12 platform accessible to more than 100 million children across the region. The platform will offer Arabic-language tools and resources for students, parents, and educators in all major subjects.
Also speaking at the conference, which was hosted for the second time by Alibaba Group, Mr. Ma described public service as the accumulation of "small, thoughtful, and compassionate" acts from individuals, and the best medicine for all ailments. "Public service is about giving one's time, actions and heart. It is a passion and force that come from within," Mr. Ma stated.
The 2018 XIN Philanthropy Conference brought together 600 participants from Chinese and international philanthropy and charity organizations, as well as VIPs in the fields of science and technology, education, environmental protection, sport, entertainment, and media.

Queen Rania's official website
This website does not support old browsers. To view this website, Please upgrade your browser to IE 9 or greater
Your browser is out of date. It has known security flaws and may not display all features of this and other websites. Learn how to update your browser