Queen Rania and Duchess of Cornwall Visit Family and Child Center Run by Jordan River Foundation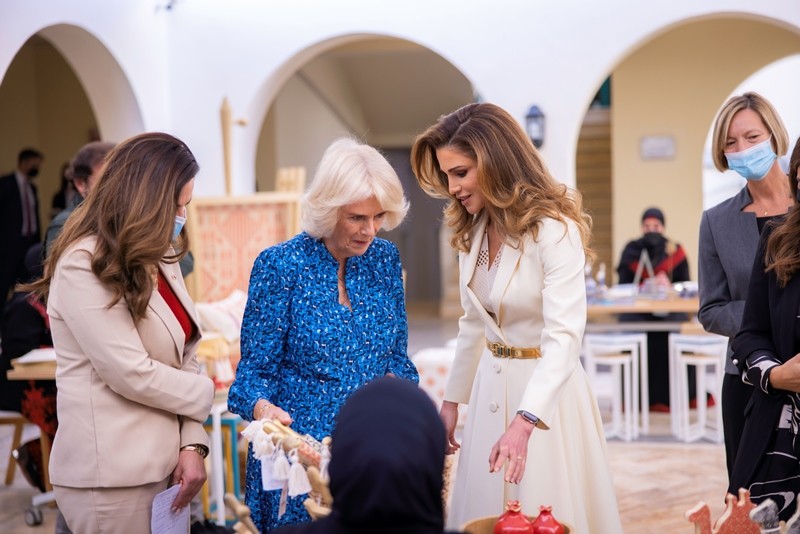 (Office of Her Majesty – Press Department – Amman) - Her Majesty Queen Rania Al Abdullah accompanied Her Royal Highness Camilla, the Duchess of Cornwall, on a visit to the Queen Rania Family and Child Center (QRFCC) in Jabal Al Nasr in east Amman on Tuesday, where the Queen introduced the Duchess to the center's various programs that focus on empowering women and children.
The Duchess is currently accompanying her husband, His Royal Highness Prince Charles, the Prince of Wales, on a trip to Jordan celebrating Jordan's centenary as well as 100 years of UK-Jordan bilateral friendship. The visit marks the couple's first major overseas tour since the onset of the COVID-19 pandemic in 2020.
Run by the Jordan River Foundation (JRF), the QRFCC was established in 2005 under the foundation's Child Safety Program, which promotes child protection and wellbeing. Located in the Jabal Al Nasr neighborhood, the community-based center offers holistic services to combat child abuse and strengthen the family unit.
Her Majesty and Her Royal Highness were welcomed to the center by JRF Director General Enaam Barrishi, who took them on a guided tour of the center's programs and interventions targeting children, youth, and women.
Their first stop was at "Beit Sgheer," or "My Little Home," a simulated home environment using hands-on activities to teach children and parents the basics of healthy home dynamics, positive childcare practices, and child abuse prevention measures.
Queen Rania and Duchess Camilla observed as young children moved between the six different rooms of the "Little Home," performing a different interactive activity at each station. The simulation encourages children to develop a sense of agency and independent decision-making skills, and to discover their purpose and potential.
The Queen and Duchess next proceeded to QRFCC's Creative Space, where they joined a group of adolescent girls in a session on building self-esteem and assertiveness. Activities held in the Creative Space include a range of basic life skills and expressive art workshops benefiting both girls and boys between the ages of 12 and 17.
In the center's courtyard, the Queen and Duchess stopped by a small exhibition of local Jordan River Design handicrafts, meeting a group of the women artisans who handcrafted the items as part of JRF's Social Enterprises project. The items on display included several from a collection launched in collaboration with multinational furniture group IKEA, which currently sells the Jordanian collection in a number of its stores around the world.
The women explained how the foundation's employment and training programs have transformed their lives by enabling them to earn a living through their handicrafts, and empowering them to support their families.
Queen Rania and Duchess Camilla also sat in on an expressive art therapy session for survivors of gender-based violence. They joined the survivors in making hand prints from clay, which were gifted to the QRFCC to commemorate their visit.
Launched in 2016, JRF's Expressive Art program offers a healing outlet for female victims of different forms of violence, helping them overcome their trauma and set their life goals.
JRF also runs a toll-free Families and Children Helpline, which provides children and adults with emotional support, assistance, and referral services, linking families to existing services at QRFCC or to other relevant public services. Launched in 2007, the helpline is part of the global Child Helpline International (CHI) network, and is reachable in Jordan at the number "110."
JRF is a non-governmental organization established in 1995 with a focus on both child safety and community empowerment. Chaired by Queen Rania, the foundation provides home-grown solutions to some of Jordan's most pressing challenges, and works to ensure the implementation of child rights and the reinforcement of positive child-rearing methods within families in Jordan.

Queen Rania's official website
This website does not support old browsers. To view this website, Please upgrade your browser to IE 9 or greater
Your browser is out of date. It has known security flaws and may not display all features of this and other websites. Learn how to update your browser