Queen Rania Visits IBDAA Expo 2017 Displaying Inventions by Jordanian Youth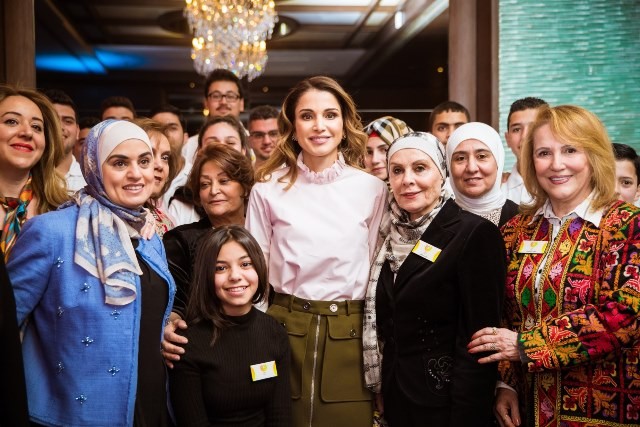 (Office of Her Majesty – Press Department – Amman) - Her Majesty Queen Rania Al Abdullah opened the IBDAA Expo 2017, which was launched under her patronage on Tuesday.
The exhibition held at the Crown Plaza Hotel in Amman aims to showcase outstanding work produced by Jordanian youth, and features numerous innovative projects that provide solutions for social, scientific, and environmental problems.
Accompanied by President of IBDAA Society Ms. Maha Darwish and Society Vice President Ms. Hadeel Al Dineh, Her Majesty began her tour of the exhibition hall by stopping at the 'Hekayati' booth, a group of interactive Arabic stories focused on enhancing children's critical thinking and creativity.
She also stopped at a booth for projects by participants from Al Karak, which boasts an electronic printer, a micro J.A.M pencil, a self-charging car, an anti-asphyxiation machine, and an ethical hacker software capable of outsmarting hackers.
The Queen also spoke to youth who built a car with an environment friendly engine that uses water to increase efficiency in the vehicle's operating system, as well as an oxygen-recycling vending machine.
Queen Rania listened to the participants explain how their projects and inventions came into fruition, and expressed her gratitude to their parents and teachers who encouraged them to come this far.
The Expo also showcased a booth for inventions from Al Baq'aa featuring a robotics team, which recently won an award for best mechanical robot design. Additionally, the exhibition it featured 'Fatabaino', a youth initiative that challenges myths in science and religion, the Phi Group, which has worked to promote creative scientific thinking, as well as two projects by cancer researcher Ahmad Sharabi, and an exhibit of hydroponic and aquaponics farming technology.
Established in 2008, IBDAA is a non-governmental non-profit organization whose mission is to support Arab youth's creative talent by supporting their innovative projects. Its long-term goal is to prevent talented youth from emigrating abroad in search for better work opportunities. Since its founding, the organization has supported one hundred projects.

Queen Rania's official website
This website does not support old browsers. To view this website, Please upgrade your browser to IE 9 or greater
Your browser is out of date. It has known security flaws and may not display all features of this and other websites. Learn how to update your browser