Queen Rania Marks Her Birthday This Month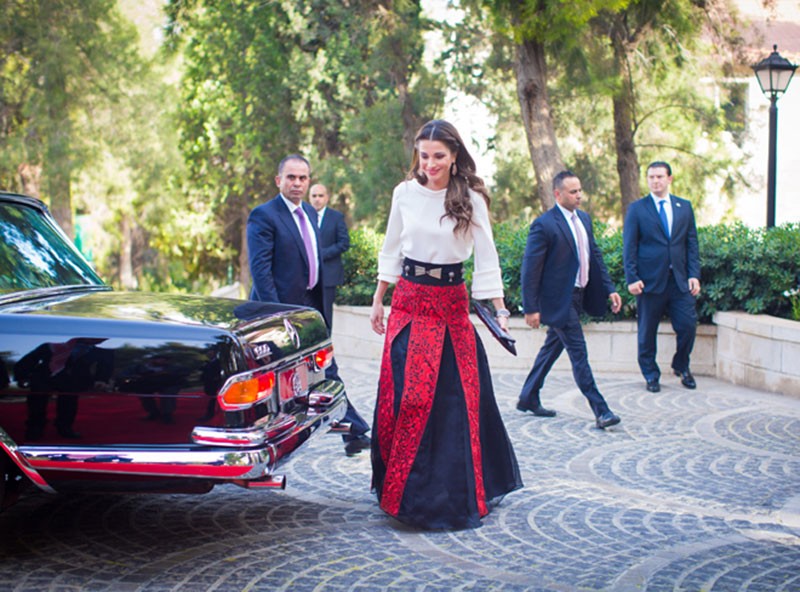 The 31st of August marks Her Majesty Queen Rania's birthday.
Over the past year, the Queen, an outspoken advocate for education in Jordan and around the world, and a promoter of peace and coexistence, continued to reach out with a message of understanding and tolerance across the world and media platforms.
At the Abu Dhabi Media Summit earlier in November of 2014, Queen Rania caught the world's attention by speaking out on behalf of Islam and the Arab World, addressing more than 500 leaders in the media industry from around the globe. Her speech carried a clear message: the Arab world must reclaim its narrative from extremist groups in the region.
"A minority of irreligious extremists is using social media to rewrite our narrative… hijack our identity and rebrand us."
With images of violence and destruction from the Arab world monopolizing projected on a screen behind her, Her Majesty insisted that these images do not represent the vast majority of Arabs and Muslims. She urged industry leaders and individuals from the across the region to rewrite the narrative by speaking up about who we are and what we stand for: instead of hate, tolerance, and instead of destruction, to emphasize a region rich in potential, individuality, and ambition.
"We can spend our lives letting others dictate our narrative… and cast ourselves as the victims. Or we can realize the truth: that we are the creators of our own story. For the sake of each one of us…for Islam and the Arab world…for the future of our young people."
2015 was a year of mourning for Jordan as the death of the Hero Pilot, slain AirForce Captain Muath Kasasbeh who was killed by ISIS, shook the world and hit close to home. To honor his memory, Her Majesty Queen Rania Al Abdullah joined thousands of Jordanians in downtown Amman after Friday noon prayers in a communal unity march to honor his memory.
Speaking briefly to the BBC during the march, Her Majesty insisted that Jordanians were united, not only in their grief, but in their rejection of extremism. She said, "Today I am just like every other Jordanian. We're all united in our horror, in our grief, in what we saw. Through their heinous acts, I think they're trying to frighten Jordanians, but all they did is make us angry and united and very determined to rid this world of this evil… This is not Islam; we have to reclaim our religion from these people."
Earlier this year, during a special Q & A session in London with Arianna Huffington, editor in chief of The Huffington Post, Queen Rania reaffirmed to an audience of influencers and decision makers that there is nothing Islamic about the self-proclaimed Islamic State: "They have nothing to do with faith and everything to do with fanaticism…What the extremists want is to divide our world along fault lines of religion and culture."
Her Majesty also utilized her global reach to advocate for youth, in Jordan and across the Arab world.
Earlier this year, Her Majesty, a member of the UN chief's high-level advisory panel (HLP) on the Post-2015 Development Agenda, also joined fellow members along with several high profile activists in addressing a letter to world leaders, urging them to create positive change in the world in order to secure a better and safer future for all.
In addition to all this, the Queen has been an outspoken advocate for children's rights. Following this year's tragedies she spoke out against the heartless targeting of children, including the Yemeni school bus attack and an attack in Pakistan took the lives of 132 children, as well as Nigeria's kidnapped girls.
On the 17th of December, 2014, Her Majesty condemned these attacks in an op-ed for the Huffington Post titled 'Extremism's Innocent Victims: Children and Islam' saying, "These atrocities are difficult for us to process; they're simply incomprehensible. I don't have answers; I only have questions. When did children become legitimate targets for radicals? When did global human rights treaties designed to protect children cease to matter? When did a child's safe return from school each day become something to celebrate? And until when will children pay the price of extremism?"
In another op-ed - 'What Good Is Technological Progress without Moral Progress?' - Her Majesty discussed the juxtaposition of large strides made in technological advancement in contrast with global moral downfall. She talked about the flat value of technological progress if it cannot be enjoyed by everyone in the world, especially those who could benefit from the most; individuals who live in war torn and distressed areas, individuals for whom technology has the potential to offer drastic solutions
"Somewhere in our fast-paced world, crammed full of the latest gadgets, the alleged hallmarks of 'progress', too many people have forgotten the values on which our global family is built," she said.
At home, Her Majesty continued to oversee and support education efforts in Jordan, from school renovations, the development of healthier schools, and better teacher trainings, to learning outcomes in general. Most notably, this year, Her Majesty inaugurated the Teachers Skills Forum, the first regional forum of its kind, which aims to address the most pressing needs of the educational sector in the Arab World.
Her Majesty stressed that teachers are at the heart of the educational process, and that investing in teachers and their training is a top priority. At the Forum, Queen Rania addressed teachers and said, "You need to constantly broaden your knowledge, adopt new techniques that are better suited for this day and age, and be fully aware of what influences your students."
On a more personal note, throughout the past year, Her Majesty shared several insights into her personal and family life through social media platforms.
Commenting on her use of social media in an interview with Mashable this March, Her Majesty shared views with readers on social media's power to connect people across borders: "I hope to reach people who care about change, people who are not afraid to step out of the comfort of the familiar who want to see and strengthen the universal threads and common experiences that connect us — irrespective of age or geography."

Queen Rania's official website
This website does not support old browsers. To view this website, Please upgrade your browser to IE 9 or greater
Your browser is out of date. It has known security flaws and may not display all features of this and other websites. Learn how to update your browser