Queen Rania Opens MEDEF Summer University Forum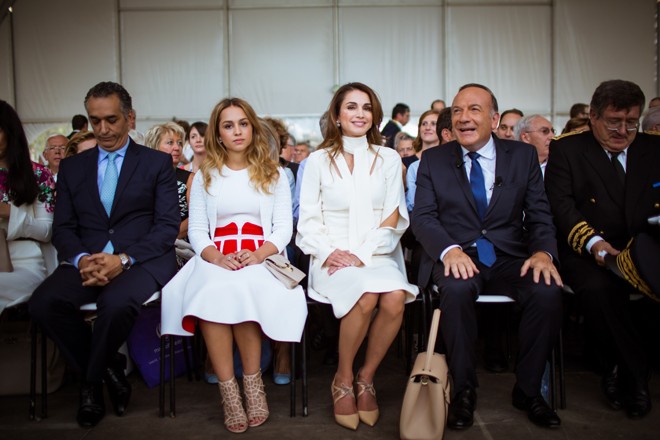 (Office of Her Majesty – Press Department – Paris) Her Majesty Queen Rania Al Abdullah spoke today at the opening of MEDEF's youth-themed Summer University in Paris. The Queen urged an audience of 2,000 top French and European decision makers and influencers to recognize the promise and potential of the Arab world, particularly its young people, and resist the extremists' efforts to brand the region as violent and lawless.
Her Majesty, accompanied by Princess Iman Al Abdullah, began the speech by recalling His Majesty King Abdullah II's keynote address at MEDEF Summer University 2008 where he shared his vision for Jordan and the region. Queen Rania emphasized that His Majesty's vision– of peace and prosperity for all– remains steadfast; as does Jordan's friendship with the people of France.
Her Majesty added that a lot has changed since, "the geo-political landscape of the Middle East has undergone seismic shifts…threatening not just our region but way beyond our borders." Instability and conflict have affected the region deeply, she explained, especially in the tourism sector and trade income, not to mention record numbers of displaced refugees, which alone are a burden to host countries. She further warned that extremists groups are not only creating havoc in the region, but also negatively influencing global perceptions of the region.
"The so-called Islamic State," she said, "continues to spread its evil ideology with terror tactics, not only maligning Islam and Muslims at every turn but changing global perceptions of our region."
To prove this point, Her Majesty asked audience members to participate in a word association game and challenged her listeners to think of the first thing that comes to mind when they hear the words "Middle East" and "Muslim."
Her Majesty insisted that although there is a military effort to defeat Daesh, Muslims must do more on the ideological front. "We're not actively helping Daesh," she told the audience, "but we're not actively stopping them either. And we can't stand against them until we, as Muslims, agree on what we stand for… …and how we tackle this extremist ideology growing on the fringes of our peaceful, compassionate faith."
Queen Rania acknowledged that negative perceptions of the region compound what is already a harsh reality on the ground. She told her audience that the Arab region is facing a time of great peril. Quoting French poet and novelist Victor Hugo's words "Great perils have this beauty, that they bring to light the fraternity of strangers.", she urged the audience to reach out to the Arab world: "My region needs that global fraternity, now more than ever."
In particular, the region's youth need the world to believe in them, and in their power and potential to transform the region. Her Majesty emphasized that young people are driving the region forward, and discussed how many are taking initiative and starting their own businesses as a way to overcome high unemployment rates, among other obstacles. She described the young entrepreneurs and innovators as "hungry for success and eager to leverage the new digital landscape," naming a few examples of Arab websites, apps and platforms that have made a global impact.
Her Majesty said that although some are making their way to the top and succeeding despite the many hurdles, "For our young people to be truly fabulous and to realize fabulous futures, they need three things: education, opportunities, and jobs" and, she added, a fourth requirement: "a bit of luck, and someone to believe in them."

Being an outspoken advocate for education, Her Majesty said, "Hands down, the best start in life for every child is education." Citing high registration rates on the Arabic Massive Open Online Courses platform, EDRAAK, which Her Majesty launched last year, Queen Rania told the MEDEF audience that young Arabs are eager to learn, "Our young people are hungry for knowledge and skills. Give them an opportunity… and they'll run with it."
Her Majesty urged investors to invest in more opportunities, internships, business incubators, and other opportunities that will help the youth take their first steps towards success and self-reliance.
Her Majesty shared with the audience her faith in the region's youth:"…it is Arab Youth who will… reshape and rebrand the Middle East. They are the entrepreneurs and innovators. The mediators and peace-makers. The CEOs and social media influencers. They are the people who will lay the foundations of a more stable, a more safe and prosperous tomorrow for us all."
Her Majesty warned that creating opportunity in the region was not an "ideal" but an "imperative". Elaborating further, she said, "Failure is not an option. Because if we fail. The extremists win. And if they win, the region unravels. Fast. And if the region unravels, the world will feel the aftershocks for a long time to come."
The Queen insisted that there is no better time than now to invest in the Middle East, further stressing that "the returns are high. Financially… socially…politically…and morally." She added: "In fact, the only losers are the extremists."
Referring back to His Majesty's speech at MEDEF Summer University, and His insistance that instability and crises should not shape the region's future, Her Majesty Queen Rania closed on a hopeful note: "And with your support, with the fraternity of strangers, soon to be friends, it won't. Rather, our fabulous young people will be torchbearers of a brave new Middle East."
MEDEF Summer University is a yearly conference organized by France's largest employer federation. This year's conference is themed "Fabulous Young People" and includes a line-up of speakers and panels on a variety of topics ranging from digitization and society, challenges in schools and unemployment rates, to the promise of science, the state of mind of youth, and other youth and business-related issues.
After the event, Queen Rania, accompanied by Princess Iman, visited a museum in the suburbs of Paris and toured the various museum galleries.

Queen Rania's official website
This website does not support old browsers. To view this website, Please upgrade your browser to IE 9 or greater
Your browser is out of date. It has known security flaws and may not display all features of this and other websites. Learn how to update your browser