Queen Rania Shares Madrasati Success Stories and Meets with Students from Various Madrasati Schools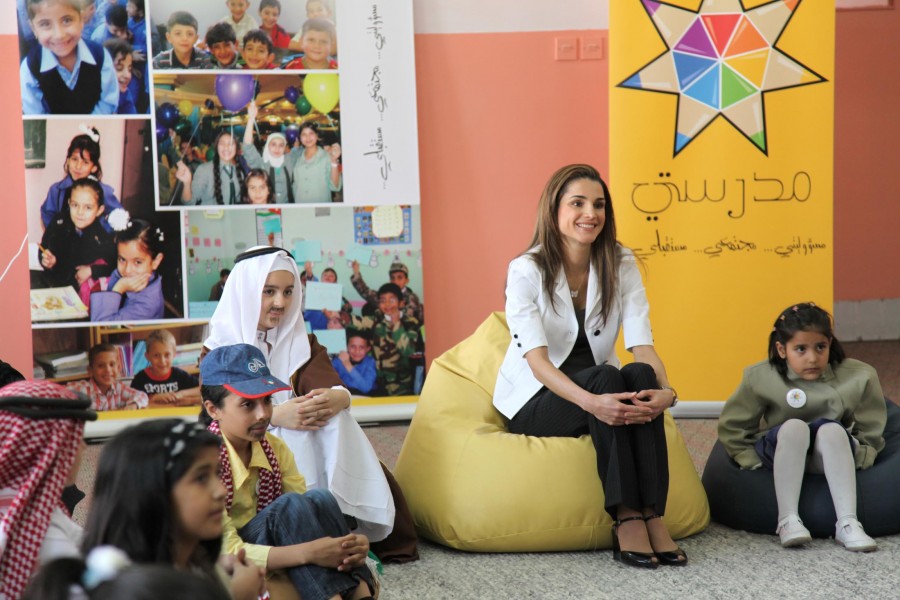 (Office of Her Majesty, Press Department - Amman) The success of Madrasati's educational programs could easily be seen and heard during today's gathering at the Um Al Manee' School in Sweileh, when Queen Rania listened as students highlighted the benefits brought about by the initiative.
Checking in on the progress achieved during the first and second phase of the Madrasati initiative, Queen Rania said: "The change you see in your schools today is the result of a new spirit of collaboration and camaraderie between teachers, parents, students, and community, and that makes me very proud. These inspiring success stories illustrate the transforming power of Madrasati."
Since its launch in 2008, Madrasati has not only worked to restore school facilities but also focused on upgrading the quality of education, by enhancing existing initiatives in areas such as child safety, healthy schools and skills' training.
Whether students took the stage to present a series of sketches on the detrimental effects of tobacco or told Queen Rania about their latest recycling project, it was clear that all of them were keen on demonstrating just how much they had learned from the Health Awareness sessions and other Madrasati programs implemented in their respective schools by local partners.
Accompanied by Madrasati Director Danah Dajani and the School Principal, Queen Rania also listened to teachers and parents as they highlighted ways in which the Madrasati program has impacted schools and enhanced their children's educational development.
One of these, a mother representing the PTA at the Khawla Bint Al Azwar School in Ashrafieh, highlighted the principles of successful practice for road safety education and described how she helps children develop road and traffic awareness as part of the school's child safety program.
"Another sign that we're turning a corner is that parents who used to have reason to complain, now have much to commend. And more than that, they infuse the school with creative ideas for further improvement," added Her Majesty.
Sharing his experience on the benefits of attending a QRTA training offered in partnership with Madrasati, a science teacher from the Jaber Bin Hayan Elementary School for Boys, told the Queen his confidence increased and teaching skills improved, following the course.
A teacher from another Madrasati school then spoke about how her school succeeded in raising funds to build a theatre, by mobilizing staff and parents, much to the joy of drama students.
"What this shows us is that when ideas are homegrown, generated within the local community, by those who know it best, they flourish and blossom," said Queen Rania.
In addition, Her Majesty watched two students, who learned how to fence at the Madrasati Summer Club this year, proudly wield their swords and newly found skills in a special demonstration.
The Um Al Manee' School, Her Majesty visited on Sunday, is a phase one Madrasati school sponsored by the University of Jordan with approximately 1,460 students and 50 teachers.
Madrasati partners that have worked in the school include the Jordan River Foundation, the Royal Health Awareness Society, UNICEF, and the Jordan Education Initiative.
The school recently purchased musical instruments, following a donation made by the Young Global Leaders, who visited Jordan last May.
Please visit http://www.madrasati.jo

Queen Rania's official website
This website does not support old browsers. To view this website, Please upgrade your browser to IE 9 or greater
Your browser is out of date. It has known security flaws and may not display all features of this and other websites. Learn how to update your browser